Whether you're traveling with kids and need something indestructible or want to explore beneath the ocean's surface, there's a camera out there just for you.
1. Best Instant Camera: Instax Mini 11
If you like having print copies of your photos, Fujifilm's brightly colored Instax Mini 11 is a must. This easy-to-use camera turns a simple roll of film into a collection of 2-by-3-inch keepsakes.
2. Best Video Camera: GoPro HERO9
A GoPro is an amazing little gadget that snaps onto your gear and records unique POV videos. Carry it on boating adventures, skydiving excursions, hiking trips, and more — all while staying hands-free.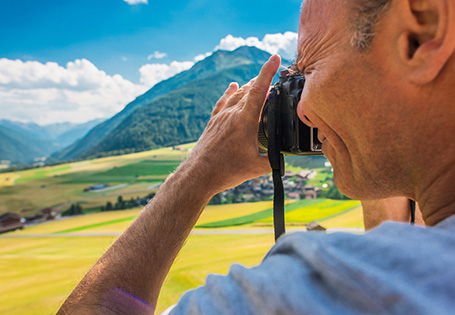 3. Best Kid-Friendly Camera: LittleLens Kids Digital Camera
Is there a budding photographer in your family? The LittleLens is designed for tiny hands and made of soft, shockproof materials, so you won't have to worry about breaking expensive parts.
4. Best Clip-On Lens For Your Phone: Xenvo Pro Lens Kit
Smartphone cameras are incredible on their own, but it never hurts to add a professional touch. Use a pocket lens like Xenvo to take high-quality close-ups and wide-angles with your iPhone or Android. Discover more about how to use your phone's camera modes to the max.
5. Best Underwater Camera: Nikon COOLPIX W150
The Nikon W150 is a small point-and-shoot camera with big capabilities. It's waterproof up to 33 feet and even has built-in Wi-Fi, making it easy to share your underwater findings to your smartphone.
Ready to plan your next photo-worthy trip? RCI Weeks and Points members, log in to RCI.com. Clubs members, click here to find your vacation club site.