Getting away to spend quality time with the family may typically include retreating to the peace and quiet of the mountains or digging your toes into a sparkling shoreline. But cities can offer a unique experience that brings everyone together with a burst of culture, plenty of activities, and adventurous new foods to try. Consider a metropolitan vacation in Las Vegas, Pasadena, or New York City for a change of pace!
1. Skip Bourbon Street and head to Frenchmen Street in the Marigny district a block from the French Quarter for the city's best music. Kick up your heels to old-time jazz at The Spotted Cat or sway to funky fusion at Café Negril.
2. Enter the offbeat world of JAMNOLA, short for Joy Art Music, New Orleans. This experiential attraction in the Marigny offers visitors close encounters with giant crawfish, a feather forest, and buckets of bling. Take tons of colorful selfies to share with friends.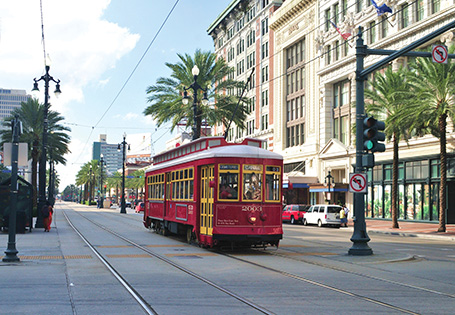 3. Meet penguins, sharks, and jellies at the Audubon Aquarium of the Americas. Then hop on the St. Charles Avenue streetcar to the Audubon Zoo, where you can stroll among the animals. Afterwards picnic in Audubon Park under the shade of centuries-old live oaks.
4. Discover the Greatest Generation and the far-reaching impact of WWII at the National WWII Museum, which tells the emotional story of those who fought in the war, as well as the folks back home who supported the war effort.
5. Watch the sunset from one of New Orleans' trendy rooftop bars. Rosie's on the Roof in the Arts & Warehouse District offers colorful cocktails and tasty appetizers — plus an amazing view of the city.
6. Learn about New Orleans' haunted houses, voodoo traditions, and legendary stories of misfortune during the French Quarter Ghosts & Legends Tour. You'll see a whole different side to the city and may even meet a ghost!
7. Savor a different kind of spirit with a complimentary tour of the gorgeous Sazerac House on Canal Street, where interactive exhibits reveal the secrets behind your favorite beverages. Sample a cocktail, then browse gifts and accessories in the shop.
8. Take the Canal Street streetcar to City Park, and explore the Sydney and Walda Besthoff Sculpture Garden next to New Orleans Museum of Art. Spread throughout eleven leafy acres are 90 sculptures, each with a compelling story. Grab lunch in the museum's chic Café Noma.
9. Glide past ancient cypress trees in the Manchac Swamp on an eco-tour with New Orleans Kayak Swamp Tours. Flat water ensures easy paddling, and who knows? You might come face to face with a real gator!
10. Revel in fine dining at Breakfast at Brennan's, where you'll swoon over decadent dishes like Eggs Sardou and Brioche French Toast. Order a bottle of bubbly — and for dessert, the world-famous Bananas Foster is the perfect ending to your over-the-top meal.