The key to traveling light is bringing the right layers. Add these five wardrobe standbys to your travel clothing packing list and see how easy mixing and matching outfits can be on your next vacation with RCI.
1. Slide-On Shoes
Breeze through airport security with shoes that slide on and off with ease. Laceless sneakers, huarache sandals, ballerina flats, and slides are all good options for travel.
2. Casual Blazer
For both men and women, a casual blazer in a solid color can be dressed up or down. Wear it on the plane for warmth and you'll save space in your checked luggage, too.
3. Neutral T-Shirt
A high-quality, fitted T-shirt is a layering essential. Choose a neutral color — white, cream, navy, or black — you'll wear again and again, with jeans, a skirt, or shorts.
Pro Tip: Accessories like hats, jewelry, and sunglasses add personality to your look.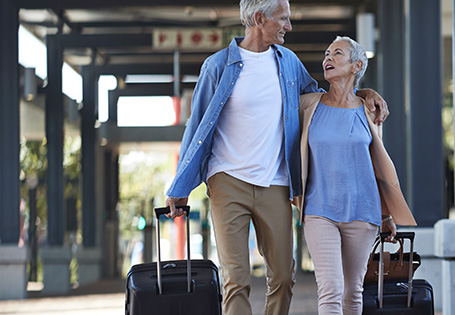 4. Scarf
Anyone who's ever tied one around their neck knows the power of the simple scarf to dress up your look or just give a touch of character. You can go bolder with patterns and colors here, but pick a scarf that matches with several outfits. Bonus: Used as a wrap on the plane, it can help keep you warm.
5. Joggers
Fitted joggers are a casual, unisex look that are comfortable and put on a contemporary, casual-cool vibe, too. Opt for black since it can be dressed up or down.