Visiting a local museum is one thing, but what if that museum was beneath the surface of the ocean? There are few concepts as fascinating as an underwater museum, and few excursions as unique. Located on the floor of a natural body of water, underwater museums traditionally consist of man-made, marine-friendly sculptures designed to coexist with the surrounding ecosystem. In some cases, underwater museums can even increase an area's   biomass by creating safe spaces for marine life to dwell and procreate. If you tend to favor the road less traveled (or in this case, the depths less swam), be sure to add a trip to one of these extraordinary underwater museums to your bucket list.
1. Underwater Museum of Art
Walton County, Florida
Located 58 feet into the Gulf of Mexico and less than one nautical mile from the shore lies Florida's Underwater Museum of Art, a vast sculpture park featuring over a dozen unique works of art. The site in the Florida Panhandle is North America's first permanent underwater sculpture exhibit, and was created with the growth of marine habitats and cultural enrichment in mind. Book your trip of choice departing from Grayton Beach State Park, and don't miss the museum's famous centerpiece sculpture: The SWARA Skull.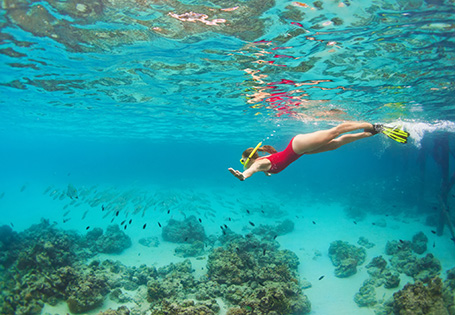 2. MUSA Mexico
Cancun/Isla Mujeres, Mexico
Mexico has long solidified itself as one of the world's most beloved beach destinations, but a trip to the Museo Subacuático de Arte (MUSA) in the Cancun National Marine Park is the cherry on top. The innovative underwater museum in Cancun now boasts over 500 life-sized sculptures anchored to the seabed of Isla Mujeres, each one with a story to tell. Start your day by taking a deep dive (literally) into one of Mexico's not-so-hidden gems, and don't forget to wave hello to the man watching TV underwater!
3. BREEF Coral Reef Sculpture Garden
Nassau, Bahamas
Known as a living, breathing art gallery, the BREEF Coral Reef Sculpture Garden off the coast of Nassau is home to the world's largest underwater sculpture, Ocean Atlas. The project, led by Bahamas Reef Environment Educational Foundation (BREEF), fuses artistic expression with marine conservation in a truly breath-taking way. If your list of things to do in this tropical paradise isn't long enough already, add a trip to this underwater marvel — you won't regret it. 
4. Shipwreck Trail
Florida Keys
Museums aren't the only underwater attractions begging to be explored. A group of historic shipwrecks sprinkled across the depths of the Florida Keys make up what is now known as Shipwreck Trail — aka an adventurer's dream come true. From the sunken San Pedro, a member of the 1733 Spanish treasure fleet, to the remains of the U.S. Coast Guard cutter Duane  — there is no shortage of captivating sites along this stretch of sea nestled within the Florida Keys National Marine Sanctuary. If you're looking to experience an unforgettable journey through ocean and time, look no further than these nine fascinating shipwrecks stretching from Key Largo to Key West.
As to be expected, underwater museums aren't exactly the most accessible attractions. Scuba diving is the most common way to explore them, but if you're not an experienced diver or adverse to the idea, don't worry — there are other ways to get your fix. Most of these attractions can also be viewed via glass-bottom boat tour or by snorkeling. For site-specific instructions, equipment/certification requirements, and all other important information, be sure to visit the attraction's official website ahead of your vacation.