More and more travelers are getting travel inspiration straight from their Instagram feeds — even arranging their itinerary around trending travel photo opportunities. Crossing the most popular spots off your must-post list is one thing, but what if you could be the trendsetter to influence the Insta-world to snap a moment under a sky of neon umbrellas? Capture the next round of selfie-worthy vacation destinations by visiting these five spots below.
1. Blackwater Falls State Park In Davis, West Virginia
Located in the Allegheny mountains, a 57-foot waterfall cascades into an eight-mile long gorge to provide the ultimate backdrop of amber-infused waters with golden-hour lighting. The tannic acid of fallen hemlock and red spruce needles create picture-perfect hues for your next photo opp. Stop by the Blackwater Falls viewing center for a first look at the falls from top to bottom. From here, make your way to one of the 20 scenic hiking trails that range from easy to difficult.  In true "almost heaven" style, West Virginia offers an abundance of country roads, fresh air, and mountain views to fill out your itinerary.
2. LightRails In Birmingham, Alabama
What better way to make a railroad underpass more aesthetic? Color it. Light it. Make it picture-worthy. That's exactly what San Antonio light artist Bill FitzGibbons accomplished when he designed LightRails, a rainbow-lit color tunnel located at 18th Street in Downtown Birmingham, Alabama. The tunnel's installation includes thousands of eco-friendly LEDs that illuminate the concrete passageway for pedestrians and cyclists with color and patterns in true Art Deco style. The innovative archways provide a vibrant snap and are quickly becoming an Instagram feed favorite.
3. Umbrella Alley In San Francisco, California
Located in Fisherman's Wharf, a group of colorful, interactive murals, a floating balloon ceiling, and a view above of bright umbrellas make Umbrella Alley the top visitor destination in San Francisco. There are six murals complete and at least three more in progress, painted during the pandemic shutdown to bring joy and bring brightness to the area. Local artist Maxfield Bala's "Greetings From San Francisco" mural gives off vintage postcard vibes while measuring an impressive 13' tall by 18' wide. The area is easily accessible via public transportation. Hop on the Hyde Street Cable Car or take a popular sightseeing tour for an authentic Northern California experience. Best of all, the alley is a free attraction supported by donations to the local artists.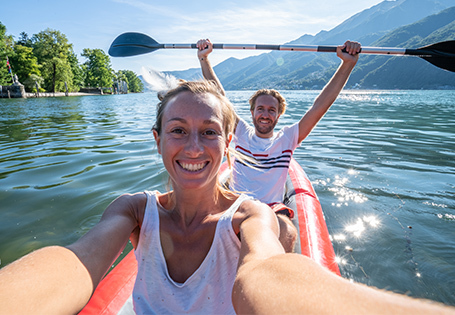 4. Acorn Street In Boston, Massachusetts
Nestled just south of Louisburg Square, in Boston's Colonial chic Beacon Hill neighborhood, you'll find this iconic street chock full of architectural photo opportunities. Original, rounded, and irregularly shaped "cobs" are what make this cobblestone street so rare and unique. The surrounding area features historic buildings dating back to the 1700's. Take a walk back in time  down a narrow little street that's big on charm –– and Instagram-able moments.