It's easy to spend all your time in Las Vegas inside, taking advantage of the endless entertainment options—glitzy shows, bottomless buffets and, of course, the gambling. But there's more to do in the Capital of Second Chances—a lot more if you know where to look.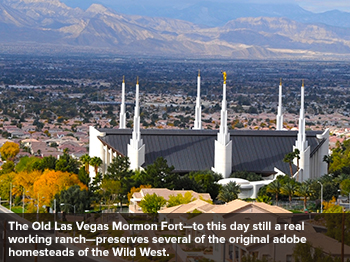 EXPLORE THE LINQ DISTRICT
The team behind the High Roller, at 550 feet the world's tallest observation wheel, wanted to also create a walkable neighborhood with a trendy vibe, much like New York's Meatpacking District. The Linq fits the bill, having 30 shops and restaurants, including an outpost of Brooklyn Bowl. One standout spot is Chayo Mexican Kitchen & Tequila Bar, where you can ride a mechanical bull before sampling beer-battered lobster tacos on the leafy patio.
OLD LAS VEGAS MORMON FORT
Centuries before Vegas became, well, Vegas, it was home to one of the only free-flowing creeks around, so it was a lush sanctuary for the Paiute tribe and, later, settlers. You can learn how to cook in a Dutch oven and even make adobe bricks at Old Las Vegas Mormon Fort, a state park that has preserved and rebuilt a few of the original adobe homesteads. If you squint you can almost imagine what the city was like when it was a 1,000-acre working ranch with melons, apricots and peach trees in every direction.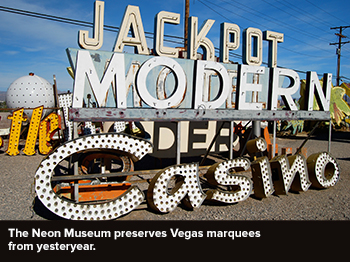 EYEBALL OLD-SCHOOL NEON SIGNS
Let's admit it: Neon signage is a big part of what makes Vegas cool. Some of the most eye-catching marquees from yesteryear have been preserved at the Neon Museum, where you can see true classics, from the gigantic Jetsons-esque Stardust sign to the historically momentous Moulin Rouge sign, from the city's first racially integrated casino. It's unofficially the most Instagram-able spot in Nevada.
RIDE INTO THE SUNSET
Just past the city limits, the Nevada desert teems with life: coyotes, black-tailed jackrabbits, bighorn sheep—even roadrunners. You'll have the chance to spot them with Wild West Horseback Adventures, which organizes sunset dinner rides through a private ranch in the Moapa Valley. John Wayne himself would appreciate the meal—your choice of steak, chicken or salmon and cowboy-friendly sides (baked beans, corn on the cob) served around a roaring campfire. The best part: They'll pick you up at (and return you to) your choice of most of the hotels on the strip.
THE DETAILS
Brooklyn Bowl: 3545 Las Vegas Blvd. S.; 1.702-862-2695; vegas.brooklynbowl.com
Chayo Mexican Kitchen & Tequila Bar: 3545 Las Vegas Blvd. S.; 1.702-691-3773; chayolv.com
The Linq and the High Roller: 3545 Las Vegas Blvd. S.; 1.866-328-1888; caesars.com/thelinq
Neon Museum: 770 Las Vegas Blvd. N.; 1.702-387-6366; neonmuseum.org
Old Las Vegas Mormon Fort: 500 E. Washington Ave.; 1.702-486-3511; parks.nv.gov
Wild West Horseback Adventures: 2470 Chandler Ave.; 1.702-792-5050; wildwesthorsebackadventures.com
NOTE: Information may have changed since publication. Please confirm key details before planning your trip.