With oceans surrounding our country's borders and lakes, rivers, and streams dotting our landscape, there's no shortage of water playgrounds in the U.S. And these five water-inspired adventure ideas are bound to make a splash with the family on your next summer vacation. Here's where to go and what to do this summer.
1. Sail Into Newport, Rhode Island
As host of America's Cup for more than 50 years, Newport invites you to explore its coastal scenery with a sailing adventure. For a hands-on experience, become a temporary crew member through Sail Newport. Its award-winning instructional programs in Newport Harbor will teach you how to rig the boat, tack and jibe, and trim the sail. For laid-back sailing, try seasonal voyages (July through September/October) aboard the Schooner Aurora from The Newport Experience. The Wine and Cheese Sail makes a great date night, the Mimosa Sail appeals to brunch lovers, and the Dockside New England Lobster Boil provides on-the-water sunset views.
2. Explore Sea Life In Fort Pierce, Florida
A stunning stretch of sand along Florida's Atlantic coast, Fort Pierce Inlet State Park draws in scuba divers and snorkelers looking to explore the reef and shipwrecks located 100 yards from shore. Underwater, look for bluefish, snook, red drum, flounder, pompano, and trout as you swim to the reef. On the beach, be careful of the egg nests made by loggerhead and green sea turtles. In the sky, spot black skimmers, egrets, terns, roseate spoonbills, and wood storks.
3. Get Launched In Hood River, Oregon
If you're looking for outdoor summer adventure, head to Columbia River Valley for some gusty, on-the-water thrills. Try windsurfing in Viento State Park, a breathtaking green space that sits on the site of a former railroad station. The Hood River Waterfront offers popular launch sites for kiteboarding and windsurfing, including the Event Site, the Hook, and the Sandbar. Ready for rapids? Book a whitewater rafting trip (available for all skill levels) through Zoller's Outdoor Odysseys. Looking for a softer water adventure? Try stand-up paddle boarding and kayaking, with rentals available at Gorge Paddling Center.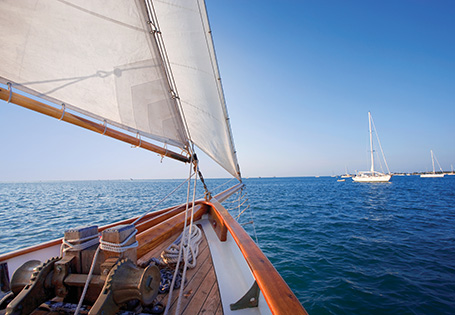 4. Catch A Wave In Oahu, Hawaii
Considered the surfing mecca of the world, Oahu, Hawaii, delivers waves for surfers of all skill levels. For an authentic North Shore experience, head to Haleiwa Beach Park — perfect for beginners in the summer (when the waves are usually smaller) and seasoned surfers in the winter. If you want to watch the experts hang ten, head to one of spectator-friendly beaches at the Banzai Pipeline, Sunset Beach, or Waimea Bay.
5. Take A Riverboat Cruise In Savannah, Georgia
Visitors might flock to Savannah for its history, town squares, and Southern charm, but this Georgia destination boasts plenty of fun on the water, too. Explore this historic waterfront city on a Savannah River cruise aboard the Georgia Queen for a guided harbor tour filled with intriguing tales and trivia from the captain. With brunch, lunch, and dinner cruises available, savor scrumptious local flavors while you soak in the sights along this iconic riverfront area.