Think it's too cold to visit a Florida beach during the winter? Think again! Thanks to fewer crowds, stunning natural scenery, and year-round balmy temperatures, the colder months are actually a terrific time to visit the miles of beaches stretching along the Sunshine State. While daytime temps can dip into the 40s and 50s during the winter, the average winter temperatures hover in the upper 60s to low 70s. The key to a successful sandy adventure lies in a little prep before you go. Let these travel tips guide your next winter beach vacation in Florida.
1. Manage Expectations
The ocean water will deliver a brisk chill, with winter water temps of the Gulf of Mexico around 61 degrees. If you don't go swimming in the water, you can still have fun on the water (think boating, jet-skiing, and fishing). Winter offers the perfect opportunity for outdoor adventures — no need to deal with oppressive heat, humidity, afternoon thunderstorms, or hurricanes.
2. Dress Appropriately
Oceanside means a wet, breezy environment, so consider wearing synthetic fabrics (such as nylon) to block wind and stay dry. Wear layers, as temps can sometimes swing 20-30 degrees in a single day. If the day warms up, shed your layers to end up in shorts, a tank top, and flip-flops — the quintessential Florida beach experience!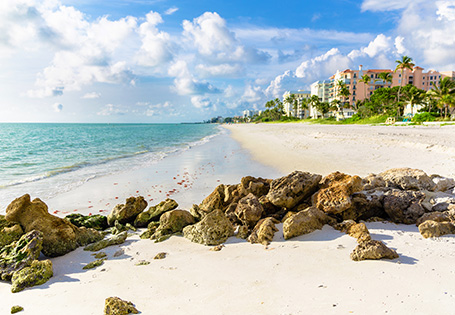 3. Slather On The Sunscreen
Protect yourself from Florida's strong UVB rays, even in winter, with coral reef-safe sunblock. A bad sunburn from too much sun exposure can ruin your vacation.
4. Bring Entertainment
Windy day? Grab your kite and set it free in the ocean breezes. Feel like a kid? Pack shovels and buckets to build sandcastles. Looking to relax? Dive into a summer beach read. Visiting with a group? Bring a volleyball (some beaches boast sand courts), football, or Frisbee.
5. Check Out Seasonal Activities
Florida transforms into the Funshine State during winter! Don't miss the Florida Keys Seafood Festival, Tampa's Gasparilla Festival (a pirate-Mardi Gras fusion), and Naples National Art Festival. Or enjoy Blue Angels practice maneuvers, history reenactments, heritage festivals, stargazing parties, craft beer fests, and wine walks.
6. Go On A Wildlife Scavenger Hunt
Bring a pair of binoculars to zoom in on dolphins as they arc out of the ocean. Look for dive-bombing pelicans or elegant great blue herons along the shoreline. Explore estuaries to spot snapper, snook, and spotted sea trout, and head to natural springs to view manatees seeking warmer waters.
Need some ideas for beach-worthy hot spots to visit this winter?
Fort Myers/Naples: The calmer waters of both the Gulf Coast and Naples Bay draw watersports enthusiasts for parasailing, stand-up paddleboarding, and kayaking. Naples historic downtown delivers upscale shopping and sophisticated dining.
Marco Island: Known for its sugar-white sand, this Gulf Coast island beckons visitors looking to Plus, its proximity to the Florida Everglades, Collier Seminole State Park, and Briggs Nature Center lures in wildlife lovers.
Daytona/Orlando: With a boardwalk, pier, Ocean Walk Shoppes, restaurants, arcade, and bandshell, Daytona Beach buzzes with activity. Or throttle up the thrills at the iconic Daytona International Speedway complex or Central Florida's world-famous theme parks.
Sanibel Island: Seashells wash ashore by the thousands here, and breathtaking sunsets over the Gulf of Mexico cap off the end to a perfect beach day. Soak in the natural beauty of nearby J.N. "Ding" Darling National Wildlife Refuge.
Siesta Key: The brilliant quartz sand and turquoise water serve up a slice of Florida paradise for the perfect winter getaway. Nearby, check out the thriving cultural hub and nightlife in downtown Sarasota.