Get spooked, cultured, or entertained at this historic destination, which has a variety of evening things to do in Williamsburg for the 21-and-older crowd. Once the young'uns are in bed, it's time to experience a grown-up version of Colonial Williamsburg's 18-century lifestyle — no waistcoats necessary.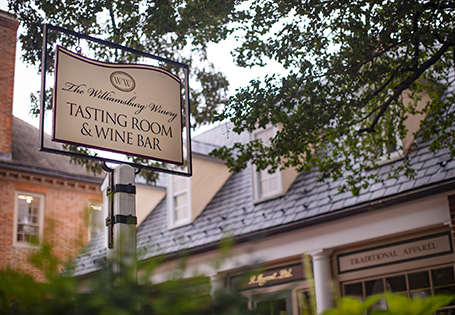 Take A Flight: Williamsburg Winery Tasting Room & Wine Bar
Order a flight of wines or attend a wine seminar at this wine bar located in Merchants Square, adjacent to the historic center. You'll have the opportunity to learn about Beaujolais or bubbly, or reserve wines or sweet ones, as you gather around a barrel-shaped table. The pours are all from the local Williamsburg Winery, and savoring a glass or two is one of the most popular things to do in Williamsburg.
Toast The Town: Revel At Chowning's
Clank frosted mugs of spiced ale while belting out lively tunes, playing dice, or laughing heartily at age-old tales on select evenings at Chowning's Tavern, where merrymaking is the ultimate expression of Colonial Williamsburg nightlife. Costumed entertainers join guests at candlelit communal tables and set the pace with singalongs, story-telling, and comical conversation. The setting is a reconstructed 1776 tavern, and snack options include a crock of cheese or Welsh rarebit. This is one of the most popular things to do in Williamsburg. 
Set Sail: Sunset Yorktown Schooner Cruise
Board a schooner as Captain John Smith did 400 years ago and see Virginia's Historic Triangle —Yorktown, Williamsburg, and Jamestown — in the glow of the setting sun. Sip wine or beer while you take in the York River scenery during this two-hour excursion. Available seasonally April through October.
Act Out: The Historic Kimball Theatre
Watch a drama, opera, or holiday show at this 410-seat theater, which has been bringing cultural enrichment to Williamsburg since 1933. Located in the historic red-brick Merchant's Square, the Kimball Theatre is also home to all stage shows produced by the William & Mary Department of Theatre & Dance.
Be A Ghostbuster: Spooks & Legends Haunted Williamsburg Tour
Because of its long history, Colonial Williamsburg has its share of ghosts. Knowledgeable guides will escort you through Williamsburg's most notorious haunts, including the Peyton Randolph House, where Revolutionary War soldiers are among the deceased. Each candlelit Ghosts, Witches, and Pirates Tour shares real-life stories of long-passed people, from 18th-century so-called witches to captured pirates, and their afterlife behaviors. You're likely to see or hear something you'll never forget on the spookiest of all Williamsburg activities.
Listen To Old-Time Tunes: Colonial Williamsburg Evening Programs
Watch musicians in white wigs play centuries-old chamber music at the Palace, hear colonial instrumental renditions of seasonal songs in the House of Burgesses, or listen as historians regale you with intriguing details from the city's earliest days. Colonial Williamsburg is all about education, so find the most adult-oriented and take a seat in the audience. You can even participate in a re-enacted trial of pirate Israel Hands, helping to decide his fate.
Light My Fire: Lighting Of The Cressets
Immerse yourselves in life before electricity as you join the crowd watching costumed characters light the cressets — essentially open metal-basket street lanterns that hang from poles six feet in the air. Musicians offer entertainment, perhaps singing an early American ditty or playing the fiddle or guitar. This is one of the most authentic Colonial Williamsburg activities. Available select evenings in fall and winter.