Take some time to surround yourself with nature and soak up stunning waterfront views on your next vacation. When you're looking for a unique getaway where you can truly disconnect from your daily life, look beyond your usual condo vacation and spend time together on a luxurious houseboat.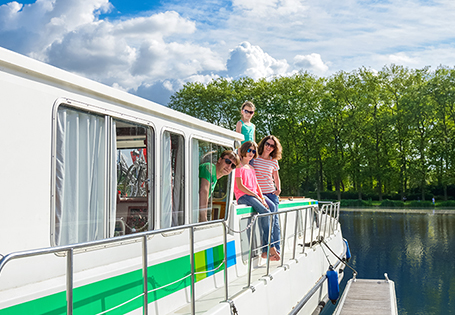 The Holly Bluff Marina
Located between Daytona and Orlando on the beautiful St. Johns River, you'll find Grand Lakefront Resort Club USA / Holly Bluff Marina and houseboat #4876. This modern, fully-equipped, and air conditioned houseboat provides space to spread out and incredible water views right outside your door. With room for six and a full kitchen, you'll have all the amenities you need for a comfortable and memorable vacation.
Get out on the water even without a boating license, and enjoy fishing, kayaking, canoeing, as well as swimming and snorkeling in the nearby Blue Springs. Or just kick back, soak up the sun, and listen to the relaxing sounds of nature.
The Healing Power Of Nature
As you cruise down the river, you'll see wildlife in their natural habitat: From great blue heron, egrets, and ospreys, to alligators sunning on the banks. You'll also see endangered manatees, which spend winters in the crystal clear waters. And, when you're ready to get back out on your land legs, you'll find state parks, hiking trails, and more outdoor adventures right near the marina.
Adventures Near The St. Johns
The St. Johns is the longest river in Florida, and one of only two rivers in the world to flow south to north. Starting in the Orlando metro area and up to the Atlantic coast through Jacksonville, this river travels through historic Florida towns that provide exciting day trips from your houseboat vacation.
Discover the cobblestone streets of St. Augustine, browsing the local museums, and soaking up the Spanish colonial charm. Or, head out to the coast for adventures in Daytona Beach, home to NASCAR, beaches, and excellent dining and more.