Do you fondue? Let these petite and pretty European spots wow you with a delightful mix of old and new. Feel more like a local than a tourist at this trio of Alpine destinations, where small-time pleasures offer huge rewards. Bonus — these Alpine getaways are all in close proximity to some cozy RCI resorts.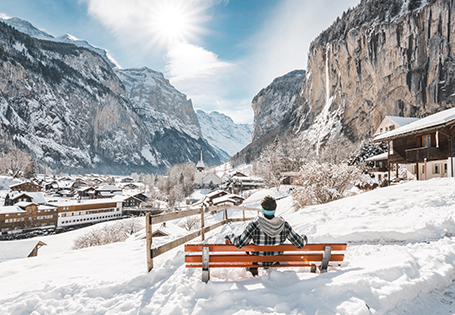 Lauterbrunnen, Switzerland
Lauterbrunnen is a Swiss Alps valley that's lushly green in summer and pristinely white in winter — the perfect Alpine getaway. Dramatic soaring rocky walls tower overhead, and some of the area's 72 waterfalls are a short walk away. Cute cafes and shops line the main road. Stroll, cycle, or drive to buy a wedge of cheese from a self-service kiosk vending local farmers' goods. Or stop for a quiet game of miniature golf.
Hop on a train, cable car, gondola, funicular, or tram, and sip an Aperol spritz or share gooey fondue in a car-free village while peering down into the scenic valley. Hike alongside wildflowers and grazing cows that have sonorous bells around their necks. Watch the kiddies climb on a playground with a floral or cow theme. Paraglide down from mountaintops. Walk at cliffs' edge via a rugged trail in the Swiss Alps. Or get a thrill on a mountain kart or zip line.
If you have more time, travel by rail up to Jungfraujoch, a mountainous area home to the highest railway station in Europe. There you can frolic in the snow, even in summer, then walk through an ice cave and have a sweet visit to a chocolate store.
Where To Stay: Les Naturelles in Leukerbad, Switzerland; Aparthotel Helvetia Intergolf in Crans-Montana, Switzerland; Montana Resort & Spa in Crans-Montana, Switzerland
Gruyères, Switzerland
Gruyères is a walled medieval town in the foothills of the Swiss Alps, and outside the wall you can see how the namesake cheese is produced at La Maison du Gruyère.
Step through the gate and seek out Burnt Beard Tower, where long-ago punishments involved fire and facial hair. Then wander. Built 800 years ago, the sprawling Gruyères Castle housed noblemen for ages. Stained-glass windows date to the Middle Ages. You'll also find priceless art, and at times presentations by storytellers in medieval dress.
Visit a local museum featuring the other-worldly works of Swiss artist H.R. Giger, known for designing the biomechanical xenomorphs for the movie "Alien." The ceilings, floors, and furniture are all in his distinctly supernatural style. Another museum honors Himalayan art from Tibet; it's located inside a former chapel. As you stroll, you'll also come across storefronts that give short lessons on Swiss Alps fondue and chocolate.
Lunch on a creamy tartiflette or raclette, each involving the town's namesake dairy product prepared with boiled tender potatoes. This Alpine getaway is nothing but delicious.
Where To Stay: Residence Chamossaire in Leysin, Switzerland; Leysin Parc in Leysin, Switzerland; Résidence Diablerets - Parc A in Les Diablerets, Switzerland
Annecy, France
Europe's purest lake meets up with the historic center of Annecy, less than an hour's drive from the Swiss Alps, where modern art adds whimsy to the ages-old buildings. Contemporary murals, sculptures, and even artistic elements in the lake itself bring a jolt of 21st-century creativity to the environs, which date back to Roman times. Flowers are seemingly everywhere in this Savoy city, which is rich with châteaus and castles.
Three mornings a week you can peruse fresh foods at the market, including artisan Haute-Savoie regional cheeses and spicy saucisson — the free samples are all you'll need for lunch. You'll find unique merchandise too, such as cut-to-order oilcloth in bold prints.
Lunch on a savory galette along Old Town cobblestone streets, or splurge on a Michelin-rated dinner at a sleek restaurant. Ride a bicycle around the lake, stopping to watch paragliders descend from high peaks. You'll pass friendly cows and petite retail strips. It's an Alpine getaway you'll never forget.
Where To Stay: Lagrange Les Chalets d'Emeraude in Hauteluce, France; Maeva Clubhotel Megève Mont D'Arbois in Megève, France; Lagrange Les Fermes Emiguy in Les Gets, France