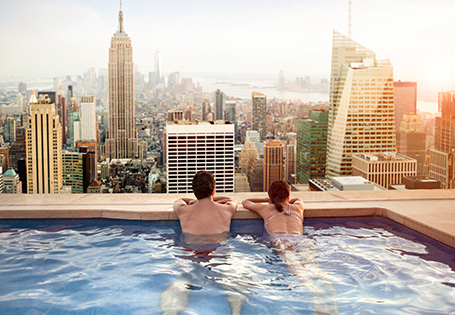 The hustle and bustle of the big city will keep you on your vacation toes. If relaxing by the beach all day with a cocktail and a magazine is what you want, then move on, this isn't your scene. If you like to be on the go, seeing the top sights, eating the best food, and never having a dull moment, a big city vacation should suit you perfectly. These six top cities are historic, mysterious, and full of adventure. They're so big they never sleep, but you'll have to because you'll be worn out after long days spent exploring all of the city's amazing sights. Get ready for a vacation in the fast lane at one of the best places to visit in the world.
1. Paris — The City Of Light
There are only a handful of places in the world that are on (literally) everyone's bucket list, and Paris is one of them. Paris is a city of romance, of culture, of gastronomie, and of beauty. Doris Day may have loved Paris in the springtime, and Frank Sinatra may have loved it in the summer when it sizzles, but you'll love it no matter when you visit because Paris is impossible not to love.
What To See: Starting with the obvious, no trip to Paris would be complete without seeing the iconic Eiffel Tower (and snapping a selfie or two). The City of Light is brimming with museums, but the world-famous Louvre and the lesser-known Musée d'Orsay are two of the city's finest — see impressionist works by Monet and Renoir, the Venus de Milo, and of course da Vinci's Mona Lisa. Napoleon's Arc de Triomphe is a monument well-worth seeing, as is the exterior and infamous gargoyles of the renowned Notre-Dame Cathedral (which isn't set to reopen to the public until 2024 following the 2019 fire). Enjoy a lunch or dinner cruise on the River Seine, and don't forget to see a cabaret show at Paris's iconic Moulin Rouge. 
What To Eat: Croissants are a Parisian staple, and you haven't lived until you've tried one from a French boulangerie (bakery). Visit the patisserie (pastry shop) and make sure to sample French macarons in a variety of flavors — try chocolate, raspberry, pistachio, or whatever strikes your fancy at the moment. France is known for its more than 300 varieties of fromage (cheese) and many restaurants will serve a cheese course in between the meal and dessert, so you can sample local brie and roquefort to your heart's content.
Where To Stay: Appart' City Grande Bibliotheque #RH25, Appart'City Paris La Villette** #RE09, Novotel Suites Paris Montreuil #6206, Novotel Suites Paris Nord 18 #8465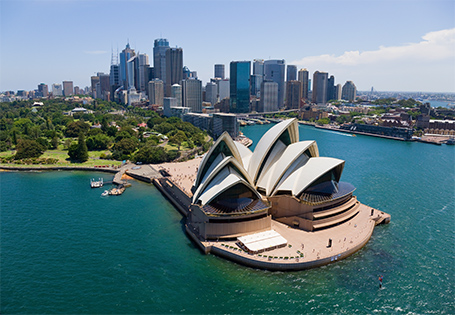 2. Sydney — The Harbour City
Australia's largest city began its life as a penal colony for convicted criminals from England in the late 1700s. More than 200 years later, Sydney has evolved into one of the most multicultural top cities in the world. Its temperate climate and friendly atmosphere make it ideal for visitors, and the fact that there are more than 100 beaches within the city's limits is pretty enticing as well. The land down under will amaze you as it's one of the best places to visit in the world — just watch out for all the poisonous creepies.
What To See: The iconic Sydney Opera House is a great place to start — since being formally opened by Queen Elizabeth II in 1972, the opera house has hosted more than 1,500 performances annually, from plays to concerts and more. The Sydney Harbour Bridge is the largest steel-arch bridge on the planet, and the bridge climb is a Sydney must-do. Visit Bondi Beach and catch a wave, shop and dine in Darling Harbour, and learn Sydney's sordid history on a tour of the Rocks, a historic neighborhood dating back to the penal colony days. Visit the Australian Museum to learn more about the history and culture of the area's indigenous people, and snorkel with sharks at the Sydney Aquarium.
What To Eat: It's hard to beat fresh-caught local seafood, and in Australia that means barramundi. Barramundi is a white fish that is native to Australia and the South Pacific, and has a mild flavor that pairs well with anything. If you're brave, vegemite on crackers or toast is a die-hard Australian favorite, but remember, a little bit goes a long way. The iconic Lamington is Australia-born, and is considered by many to be the national dessert of Oz. It's a moist, sweet sponge cake soaked in rich chocolate sauce and then rolled in flaky coconut — to an Aussie, it's bonzer (excellent)!
Where To Stay: Club Wyndham Sydney #8728, Oaks Goldsborough - 5 Nights #RH36, Travelodge Sydney Hotel #R784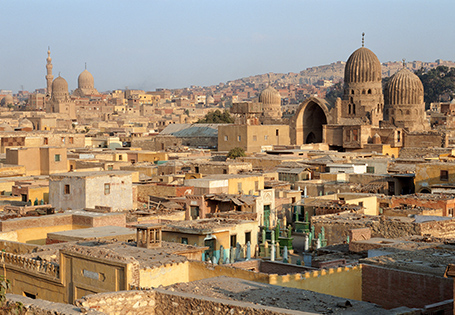 3. Cairo — The City Of A Thousand Minarets
Ancient Egypt is full of magic and mystery, and its capital, Cairo, is the gateway to all its archaic secrets. The City of a Thousand Minarets is aptly named because its population is predominantly Muslim, and there are mosques of all shapes and sizes on every street corner. From ancient tombs and mummies to modern museums and laser light shows, Cairo's mystique is sure to surprise and delight all who visit. 
What To See: Naturally, the highlight of this city is the pyramids. The pyramids at Giza are one of the most iconic sights in the world, and if you're there in the evening, the sound and light show is an interesting visual telling of the pyramids' history. For more on ancient Egypt, visit the Egyptian Museum, home to the largest collection of Egyptian antiquities in the world, including the contents of King Tut's tomb. Visit Khan Al-Khalili, an open-air bazaar filled with unique and exotic wares like spices, perfumes, oils, and other items of interest. For a peek into the religious culture, visit Cairo's largest mosque, Ibn Tulun, which dates back to the 9th century, or the Hanging Church, a 3rd century Coptic site built on the ruins of a Roman citadel. Make sure to enjoy a sunset cruise on the Nile and watch for crocodiles.
What To Eat: Although it is a staple food item throughout the Middle East, falafel was born out of Egypt and remains a mainstay of Egyptian street food. Made of ground chickpeas, fava beans, and spices, falafel is rolled into balls and fried, then served in pita with tahini, tomato, and onions. Pigeon is a delicacy in Egypt, and you'll find it on almost every dinner menu. Hamam mahshi is a beloved dish made of roasted pigeon stuffed with local grains and spices — definitely not something you'll find anywhere else in the world. For a sweet local treat, try basbousa, an Egyptian favorite dessert. Basbousa is a sweet, syrup-soaked cake made from semolina sweetened with orange flowers or roses.
Where To Stay: Pyramisa Cairo #4126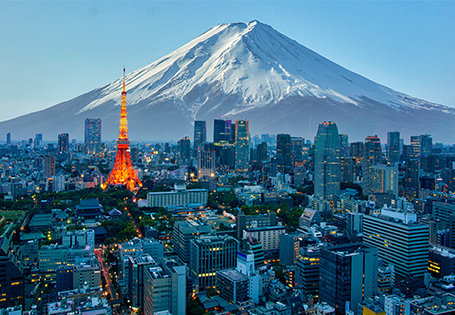 4. Tokyo — The Land Of The Rising Sun
Japan's capital city is a flawless blend of a modern metropolis and an ancient royal seat. Tokyo's skyscrapers and bright lights are seamlessly intermixed with ancient shrines and temples in a beautiful way. It's also the home to the world's only living emperor and empress, and the descents of the oldest continuous hereditary monarchy in the world. Known for its exquisite cherry blossoms, Tokyo is reputed to be one of the cleanest, safest top cities and is also one of the most-visited cities in the world. 
What To See: For a glimpse into Japan's Shinto history, Tokyo's Meiji Shrine is the most famous shrine in Japan, and is situated in the middle of a 170-acre forest. Visit the Shinjuku Gyoen National Garden, a picture-perfect park that is home to more than 1,500 cherry blossoms. Japan's Imperial Palace is home to the current royal family, and parts of the house and royal gardens are open for public tours. Head to the Ginza ward to see kabuki (traditional Japanese theater) performed at the Kabuki-za Theater, and check out the Toyosu Market, the world's largest fish market, to experience Japan's culinary culture. If you brought the kids (or if you're young at heart), make a stop at Tokyo DisneySea, a unique version of a Disney theme park with more thrill rides than you'll find at other Disney locations.
What To Eat: The world has an international love affair with sushi, but you won't find tastier sushi anywhere than Tokyo, the place of its birth. Try maguro nigiri, made with lean, raw tuna and rice, or mushi ebi, made with steamed shrimp — Japan's seafood is the freshest in the world so you can't go wrong, no matter what you order. If seafood isn't your thing, give chanko nabe a try — this protein-rich stew is the traditional food enjoyed by sumo wrestlers who are trying to gain weight. For carb-lovers, anpan (or Tokyo buns) are a savory roll filled with red bean paste — a favorite snack in Japan.
Where To Stay: Akasaka Excel Hotel Tokyu - 3 Nights #RK54, Akasaka Excel Hotel Tokyu - 4 Nights #RK55, Cerulean Tower Tokyu Hotel - 3 Nights #RT22, Cerulean Tower Tokyu Hotel - 4 Nights #RT23, Shibuya Tokyu REI Hotel - 3 Nights #RL25, Shibuya Tokyu REI Hotel - 4 Nights #RL26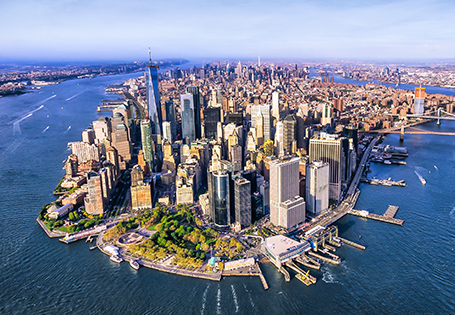 5. New York City — The Big Apple
New York City is known as the city that never sleeps, and for good reason. It's a hustling, bustling mega-metropolis that is full to the brim of amazing things to see and do. New York is the ultimate hub of American culture, and it's a melting pot of international culture as well. There isn't a country in the world that isn't represented in New York City, and you won't find anywhere else where you can experience so many cultures all in one place. New York City is a superstar, and is one of the best places to visit in the world.  
What To See: The iconic Statue of Liberty is the number one attraction most first-time visitors to the Big Apple want to see, so it's a great place to start. Visit Times Square and stroll through the skyscrapers, bright lights, and massive digital billboards, and head over to Broadway to see a famous musical at one of the street's main theaters. Ride the elevator to the top floor of the Empire State Building to see the iconic views from the top of the former world's tallest building. Meander through Central Park and see the iconic park's many fountains and monuments, and mosey on over to the Metropolitan Museum of Art to see its famous collection of over two million works of art.  
What To Eat: New York-style pizza is a must-eat when you visit the city, and you can find a great pizzeria on nearly every corner. Traditional New York-style pizza is characterized by thin crust and large, wide slices, making it easy to fold a slice and eat on the go. New York is world-renowned for having the best bagels, and rumor has it that it's because NYC's water has a low concentration of calcium and magnesium in it, which makes the bagels softer. Whatever the reason, a New York bagel with schmear is pure heaven. Make sure to sample some famous New York Cheesecake while you're there — it's denser because it's made with more cream cheese than traditional cheesecake, and for cheesecake, the greater density equates to greater deliciousness. Make sure to have a drizzle of raspberry or chocolate on the top.
Where To Stay: YOTEL NYC #RQ76, West 57th Street by Hilton #7976, The Manhattan Club #4064, The Manhattan at Times Square Hotel #RR83, The Hotel @ Times Square #RU41, The Hilton Club of New York #6772, Stewart Hotel #RT09, Row NYC #RR37, Park Central Hotel #RR86, Millennium Premier New York Times Square #RU52, Millennium Hotel Broadway Times Square #RU23, M Social Hotel Times Square New York #RT73, INNSIDE New York NOMAD Hotel #RT00, Hyatt Herald Square #RQ52, Hotel NYMA #RS96, Hotel at Fifth Avenue #RU18, Holiday Inn Manhattan Financial District #RM34, Executive Hotel Le Soleil New York #RP16, DoubleTree by Hilton New York Times Square West #RM76, Club Wyndham Midtown 45 #D736, Club Quarters Hotel, World Trade Center #DQ44, Club Quarters Grand Central #RL30, Arthouse Hotel New York #RT76, Affinia Manhattan Hotel #R915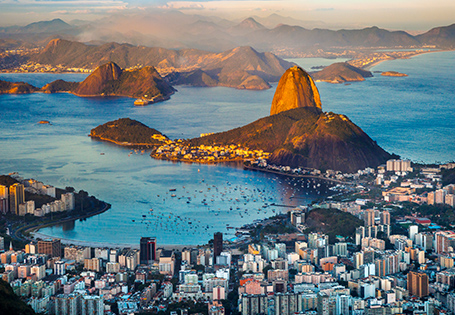 6. Rio de Janeiro — The Marvelous City
With its pristine white sand beaches and tropical climate, Rio de Janeiro is the most popular tourist spot in Brazil, and is one of the most-visited top cities in the world. Its name means "River of January," because the Portuguese sailors who first visited the area landed in January. Known as the Marvelous City, Rio is home to the world's largest annual pre-Lenten celebration, known as "Carnaval," which features an even larger party than New Orleans' Mardi Gras.
What To See: The most widely-recognized site in Rio is the Christ the Redeemer statue, an almost 100-foot-tall concrete statue of Christ that overlooks the city from the summit of nearby Mt. Corcovado, and is a popular pilgrimage site for Catholics worldwide. No trip to Rio would be complete without visiting the beach, and Copacabana beach's stunningly-blue waters are the city's top spot for beach-goers. To explore the great outdoors, take a cable car to the top of Mt. Sugarloaf and admire the views of the city below, or explore Tijuca National Park, one of the world's largest forests within a city. For a piece of Brazilian history, visit Quinta da Boa Vista, the former imperial palace of the royal family which is now home to public gardens and museums, or the Nossa Senhora do Carmo, the former "capela real" (royal chapel) and cathedral.  
What To Eat: The uber-healthy açaí berry took the world by storm about 20 years ago, and its Brazilian origins make Rio a great place to try the famous berry. The local way to eat açaí is in a smoothie, and Brazilians love to blend it with guaraná syrup, and add granola or banana slices. It's a great refresher on a hot day. For a hearty dish, sample feijoada, a savory stew made with pork and black beans — traditionally feijoada includes many different parts of the pig, including its feet and ears! For something sweet, try canjica, a dessert-style porridge made with white or yellow maize kernels, cooked with milk, sugar, and cinnamon — yummm.
Where To Stay: Adagio Rio de Janeiro Ipanema #DJ48, Best Western Premier Americas #DH22, Pestana Río Atlántica Hotel #6705, Ramada Encore Ribalta Rio Janeiro #DE26, Ramada Hotel Recreio Shopping #DG36, Royal Holiday- Rio Othon Palace #8595, Sheraton Grand Rio Hotel & Resort #DV98, Vogue Square Fashion Hotel by Lenny Niemeyer # DV70, Windsor Plaza Hotel #DG93, Wyndham Rio de Janeiro Barra #DN28