The best thing about visiting a big city is the luxury of having almost anything you could ask for within walking distance. Centrally located attractions, top-rated restaurants, and scenic parks make exploring on foot both a fun and practical option for those looking to stretch their legs while seeing the sights.
In addition to being a reliable, affordable way to get around, common benefits of walking include lower blood pressure, increased energy levels, heart disease prevention, and more. Kiss the woes of public transportation goodbye with a trip to one of America's most walkable cities.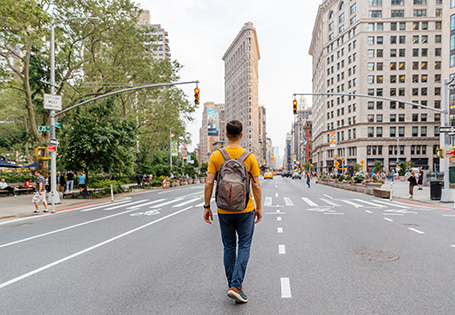 Chicago, Illinois
Hoofing it is easy in Chicago, one of the most fun cities to visit. After settling in at the scenic Club Wyndham Grand Chicago Riverfront, head on down to Navy Pier for a day of fun-filled activities. Next, check Millenium Park and a picture by "The Bean" (aka Cloud Gate) off your list. From there, grab a slice of famous deep-dish pizza and take a stroll along the Chicago Riverwalk — all that and you've only scratched the surface of this legendary city!
Washington, D.C.
There's arguably no better place to get some steps in than our nation's capital. Centrally located properties like Club Quarters Hotel and Hilton Garden Inn Washington D.C. Downtown serve as the perfect home-base when aiming to hit the region's main attractions. Walk to The White House in under 10 minutes, then visit historic memorials along the Tidal Basin Loop Trail. For those willing to take a longer stroll, be sure to check out Capitol Hill, The Smithsonian National Museum of Natural History and the International Spy Museum. Pro Tip: For a real cherry on top, visit Washington, D.C. during spring when cherry blossom season is in full bloom.
San Francisco, California
Few West Coast cities are as iconic as San Francisco. With Victorian homes and rollercoaster-like roads, the city's charming reputation is well deserved. A stay at Hotel Caza puts you a mere 15-minute walk from sites like Lombard Street — the most crooked street in the world — Fisherman's Wharf, and Pier 33 — where you can catch a ferry to the infamous Alcatraz Island. Although not within walking distance, a trip to San Francisco wouldn't be complete without a stroll along The Golden Gate Bridge.
New York City, New York
In the heart of the Big Apple lies Affinia Manhattan Hotel, where you'll find yourself a stone's throw away from some of the most exciting attractions New York City has to offer. Start your day with unparalleled views of the city atop the nearby Empire State Building, then head over to Madame Tussauds to see the stars or catch a show at the iconic Madison Square Garden. Itching to feel in the center of it all? Be sure to make a trip to "The Crossroads of the World," otherwise known as Times Square. New York isn't considered one of the most fun cities to visit for no reason. 
Pro Tips For City Walking
1. Plan first, thank yourself later. Avoid any hiccups or unnecessary back-tracking by creating a loose itinerary of what you'd like to do and when. For example, some landmarks may be near one another, so spend one day exploring one side of town, and the next day exploring the other.
2. It's all about the shoes. Comfort is key, but so is versatility. When choosing a pair of shoes for a day of walking in the city, be sure to consider factors such as foot support, durability, and any dress codes the locations you plan to visit may have.
3. Take breaks. A big perk of the most walkable cities is how many local cafes, restaurants, and bars can serve as perfect pit-stops. Find a cozy place to rest and rehydrate before checking another round of activities off your list.
4. Heads up. It's easy to get distracted while taking in the sights. Remember to always keep an eye on your surroundings and personal belongings. After all, safety first!