When the going gets un-funny, it's a common refrain that laughter is the best medicine. Who couldn't use a dose of roaring good laughs while on vacation by popping into a local comedy club and giggling alongside the regulars? From family-friendly jokes to adults-only laughs, read on for where to hear them at a few of the best comedy spots around. Beeline it to the best comedy clubs around the U.S. for belly laughs galore.
SAK Comedy Lab — Orlando, Florida
Take a break from the theme parks for the serious laughs on tap at SAK Comedy Lab, a long-standing improv comedy club in downtown Orlando. Classes are also offered here to budding comedians at one of the country's largest improv comedy training centers. Improv comedy acts take the stage in the 250-seat venue most nights of the week. The weekend Duel of Fools shows are appropriate for all ages and draw from audience suggestions to conjure scenes and characters in the moment to uproarious effect.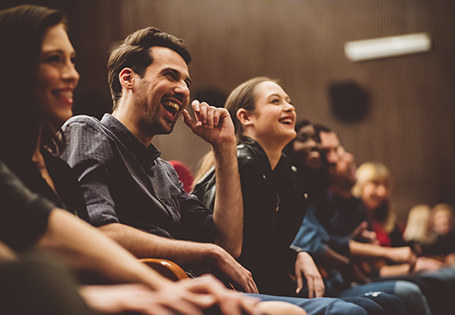 L.A. Comedy Club — Las Vegas, Nevada
Snag a coveted seat in this theater overlooking the famed Las Vegas Strip and get ready for stand-up comedy belly laughs that might bring you to tears. L.A. Comedy Club Las Vegas, located inside The Strat Hotel & Casino, has hosted a wide variety of iconic acts, including Aziz Ansari (from NBC's "Parks and Recreation") and comedian Felipe Esparsa, to name just a few. Nightly shows here are for the 21-and-up set only, with new talent and tried-and-true national headliners from HBO, Comedy Central, and other heavy hitters in the mix. 
Zanies Comedy Night Club — Nashville, Tennessee
If you want to go country, Nashville is always a good time. But did you know one of the best stand-up comedy clubs in the nation is also found in Music City? Zanies Comedy Night Club hosts hilarious acts of national and international acclaim seven nights a week, so there's a new reason to roll on the floor laughing whenever you show up. Each week kicks off with the club's New Material Monday series as top Nashville comedians try their latest jokes on what's usually a tough crowd. Acts are never announced in advance for the Monday shows, but are always a scream.
Comedy Jamboree — Branson, Missouri
Come for clean jokes and lots of corny innuendo at Comedy Jamboree, a beloved family-friendly comedy show that takes the stage at Grand Country Music Hall in the midwest entertainment mecca of Branson. Audience participation has a starring role in most acts here, so don't be surprised if you or the kids get called out (or better yet, yanked up on stage!) for a role in the rollicking entertainment. Live music and lots of energetic dancing set to country music round out the lively, laughter-filled ambiance. 
Comedy Works — Denver, Colorado
Since 1981, Comedy Works in downtown Denver, Colorado has been the Mile High City's go-to address for watching local and national stand-up comedy acts. And while the theater's underground location might lend itself to some basement wisecracks, the comedians are always of the moment with their jokes and tenor during the shows designed for adult audiences. If there's an act you really want to be front and center for, consider dining in the club's restaurant, just upstairs, before the show. That way you'll secure seating in the first six rows when it's time for the main act.