One is known as "The Queen City," home to world-class sports, culture, and entertainment venues. The other is the state capital, rich in history and nicknamed "The City of Oaks." The perfect way to experience the southern charm of either city is with a day trip to each. Read on and discover notable points of interest and family-friendly fun in Charlotte and Raleigh, North Carolina.
Charlotte
Situated just a dozen miles north of the South Carolina border and named after England's Queen Charlotte, you'll find a crown emblazoned on street signs, storefronts, and murals all over Charlotte. Start your Charlotte day trip with breakfast and bottomless chicory coffee at Ruby Sunshine. Next, head uptown to The Mint Museum at Levine Center for the Arts, North Carolina's first art museum located in the heart of Charlotte. This contemporary museum features traveling exhibitions, permanent collections, live performances, and more. For an adrenaline-pumping museum experience, The NASCAR Hall of Fame is also located in downtown Charlotte and features gripping exhibits and interactive activities.
For lunch, head east to Optimist Hall, a modern food hall with more than 15 dining options, bars, and specialty shops. After a delicious meal, make your way to Freedom Park for a lake-side stroll. The 98-acre park is centered on a 7-acre lake with paved trails and playgrounds. Next, explore Charlotte's Rail Trail in South End. The 3.5-mile public park parallels light rail tracks and provides access to some of Charlotte's busiest breweries. As evening approaches, take in some of the best sports entertainment the Queen City has to offer. Home to the NFL's Carolina Panthers and the NBA's Charlotte Hornets, nab some tickets and end your Charlotte day trip by watching thrilling plays while chowing down on a dinner of concessionary bites.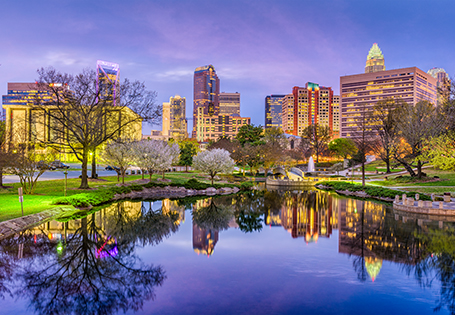 Raleigh
Located a two-hour drive inland from the coastal inlet of New Bern, a Raleigh day trip is worth the trek. The historic capital of North Carolina identifies itself by periodically reinventing itself. Founded in 1792, the city is named after Sir Walter Raleigh, who failed to establish the first English colony in North America in the 1580s. Take in breakfast at the State Farmers' Market Restaurant at the State Farmers Market, a 2-acre bazaar consisting of fresh produce, florals, crafts, and more. Next, head to one of Raleigh's award-winning museums. The North Carolina Museum of Natural Sciences and The North Carolina Museum of History are in the Capital District and offer a seemingly never-ending array of artifacts, exhibits, and immersive experiences.
Wye Hill Kitchen & Brewing is the ideal spot for lunch right outside of the Depot Historic District. Open for lunch Friday through Sunday, the iconic Raleigh restaurant offers outdoor seating and panoramic views of the city. Afterward make your way to The North Carolina State Capitol for a self-guided tour of the Greek-revival landmark. No Raleigh day trip is complete without a glimpse of The North Carolina Executive Mansion, located just blocks away from the capitol building. Wrap up the day with a dinner of authentic southern comfort food at Beasley's Chicken + Honey.