Sometimes looking at a playground is half the fun, especially if the playground has a unique theme. Any kid can have a blast with a bucket of dirt and a tire swinging on a rope — yet visit a public playground that's heavily, thoughtfully designed around a single motif, and even the grown-ups will want to stay. Here are six themed playgrounds the kids and grandkids will drool over. Bonus: They're all free.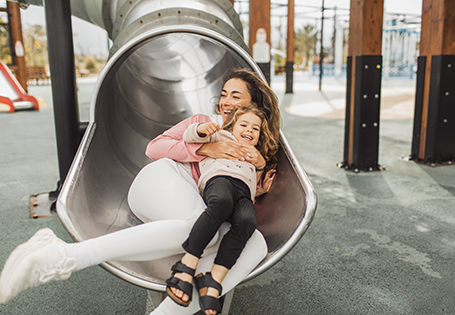 Play-triotic: Kidsburg — Williamsburg, Virginia
"Land ahoy!" the little ones will shout from atop a pirate ship replica with sails and three slides. "Boom!" they'll holler near the cannon. Kidsburg, a 30,000-square-foot lighted playground near Colonial Williamsburg, maintains the area's colonial theme, with a faux stone and weathered-lumber entry arch. In the preschool area, a slide looks like an old-time wagon and a tot-sized crawl-through element resembles a wooden barrel. Ziplines, climbing walls, and musical instrument-elevated walkways enhance the experience.
Supply & Demand: Children's Tree House & Play Zone — Las Vegas, Nevada
Families flock to the Children's Tree House & Play Zone in Downtown Container Park in Las Vegas, an open-air mall made of repurposed shipping containers. When not gawking at a 55-foot praying mantis at the park entrance — the big bug shoots flames from its antennas — your clan will get physical following the guidance of an electronic NEOS play system, including eight interactive games and a 33-foot slide. The three-story tree house is built around and atop a cement tree trunk.
Lei It On: Kamakana Children's Playground — Kailua-Kona, Hawaii
Say aloha to big fun in Hawaii on the Big Island at the Kamakana Children's Playground, a tribute to America's 50th state. With wooden climbing structures resembling castles fit for Hawaiian royalty, plus a climbable concrete whale, hula dancers carved into the fence, and a volcano sculpture made from lava rocks, this park is fun-tastic for kids of all ages. The picnic tables are even shaped like Hawaii's islands.
The Rail Deal: Cambridge Junction Trailhead Playground — Cambridge, Vermont
The Lamoille Valley railroad tracks once carried passenger and freight trains. Today the only train cars atop the tracks are play structures at Cambridge Junction Trailhead Playground, each with plenty of room for kids to climb through and slide down. Every element offers surprises — the caboose houses a slide, the ore car has a pipe chime, the coal car boasts a paddle-based musical instrument, the water tower is home to a bangable washboard, and the dining car has booths to sit in; they're perfect for enjoying those granola bars you packed.
Cracker Culture: Fort Christmas Historical Park — Christmas, Florida
Play like pioneers at Fort Christmas Historical Park, a log-loaded playground, located between Orlando and Florida's Space Coast. Tour a Florida "cracker" home and colonial schoolhouse, plus a replica 1837 fort, before trading in education for recreation. This jungle gym keeps the jive of two centuries ago alive. The entire park has a fort-like appearance, which makes sense because it's modeled after the original 1837 Fort Christmas.
It Shore Is Fun: Alki Playground and Whale Tail Park — Seattle, Washington
Alki Playground in Seattle is an ocean-themed collection of slides, swings, and climbing structures. At this expansive area, tots to preteens can climb on structures resembling a sandcastle, boat, and whale's tale — with whale-watching areas just a short walk away. Since this park is just off of Alki Beach, a sandy kid-friendly seashore, the nautical theme is really carried over from the surrounding area.