Lace up to compete in a seasonal fall race — where low-key is key. Whether you run, jog, or walk, there's a themed race perfect for you. These five fall race events taking place near some of your favorite RCI resorts offer low-key autumn fun for racers of all ages and abilities, and the proceeds go to charity. Time to lace up your sneakers and get ready to run!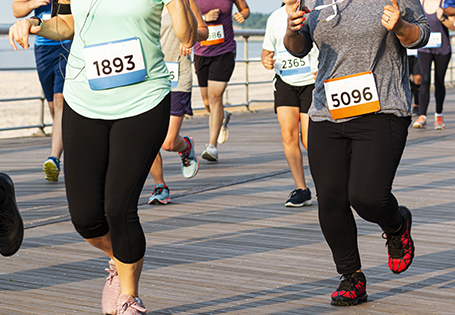 Trick Or Dash! 
Don your comfy Halloween best to run a 5K or half marathon in costume in Provo, Utah with Provo Haunted. Or simply cheer on the wee ones during the Kids' Run, which starts under a pumpkin-themed arch. Between events, enjoy the fire pits, games, and hot chocolate. After all, the invitation does invite you to "Come R.I.P." — that's run, indulge, party. Proceeds support the Elizabeth Smart Foundation for children's safety.
The Ale Deal
Polka music and bratwurst will lure you to the finish line in Springfield, Missouri at Grin & Bier It, a fall race and contest honoring Oktoberfest. The 8K race is a traditional tie-on-your-Nikes and bolt affair, a timed face-off for runners, joggers, and walkers. Divvy yourselves up by age, ranging from 12 and under to 70 and up. If you're traveling with a 21+ crowd, try the Stein Hold contest — it involves keeping a stein full of suds from spilling longer than your peers do. You get to keep the mug. 
Apocalypse Re-Enacte
Choose your pleasure during the Zombie Fun Run — a delightfully gruesome 5K fall run in Mountville, Pennsylvania. Be one of the runners, or a zombie who chases contestants. The dashing and dodging take place in the Field of Screams filled with movie-like sets such as Haunted Hayride and the Nocturnal Wasteland. Day and night versions are available. Dive in and get dirty doing 30+ obstacles: wade through mud, balance on beams, and hang from bars, among other challenges. When you need a break, stop at a Gain-A-Life Station. Done? Celebrate at the Living Dead After-Party. Amusements like the Toxic Head Toss will keep you in zombie mode a little longer. For $10, you can look the part thanks to a Zombie Transformation Station. Your fee will support breast cancer research.
Wing It
The ORRC Turkey Trot at the Zoo is a whole-family fall race that takes place on Thanksgiving Day in Portland, Oregon, and the gobbler hats on some runners' heads aren't the only animals involved. The 4-mile race winds through the city's rose garden and ends at the Oregon Zoo's elephant plaza, where the oversized mammals reside. The tykes can waddle through the Diaper Dash and Tot Trot mini-races, which start at an (animal-free) park shelter called Elephant House. All adult participants receive a medal and the chance to win one of 150 pumpkin pies.
An Apple A Day 

The scenic town of Harvard, Massachusetts holds its "ramble" when apples are ripe and fall foliage is stunning. The Apple Harvest Ramble Half Marathon and 5K is one of the East Coast's best fall half marathons, as racers pass through the Nashoba Valley with views of Bare Hill Pond. Entrants are judged within seven age categories from 10 and under through 70 and over. Before picking up your award, enjoy seasonal refreshments. The site is easily reached from RCI resorts in Boston and southern New Hampshire.