Go beyond your daily downward dog and lunch-break massage and elevate your wellness rituals with the ultimate R&R — a wellness vacation focused on mindfulness and relaxation. While day-to-day self-care routines are great, spending a long weekend — or better yet a week — disconnecting, de-stressing, and disengaging from all of life's distractions can work wonders for your health.
Relaxing and finding time to be more mindful improves mood, sleep, concentration, and clarity. It also reduces blood pressure, increases blood flow, lowers blood sugar levels, and so much more. But to really take your wellness vacation up a notch, go green. It might sound a bit unbelievable, but the World Health Organization asserts that green spaces are fantastic for improving health, reducing stress, and boosting psychological relaxation. It's scientifically proven that ecotherapy (being in nature) is an amazing way to relax, restore, and recharge. Here are some sure-fire ways to get your relaxation on during your next wellness getaway.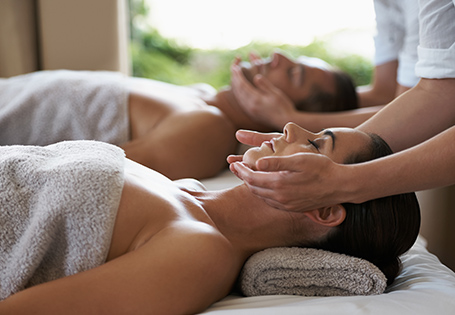 Soak In Hot Springs
Hot springs have been a place for healing and rejuvenation for thousands of years — it seems our ancestors were on to something. Many health ailments have been traced to mineral deficiencies, and natural hot springs contain a multitude of minerals that have a range of benefits, from improving digestion to reducing inflammation and more. It's just a bonus that the geothermally-heated water averages 144 degrees Fahrenheit — perfect for relaxing. There are more than 1,600 hot springs in the United States alone. Pick your favorite and stay at a nearby wellness-focused RCI resort.
Step Into Nature
Take time to just be in nature. From hikes through wooded forests to sitting under a waterfall, simply spending time outdoors offers a multitude of health benefits. Be mindful of your surroundings. Listen to the sounds of birds and leaves rustling. Feel the elements. Close your eyes and truly disconnect. While on your wellness vacation, talk to your resort's concierge to get more information on nearby nature preserves or enjoy the beautiful grounds of the resort.
For a zen retreat, head to the Dominican Republic and stay at the Dreams Punta Cana Resort & Spa. It's a wellness resort in a secluded tropical paradise — a dream oasis in and of itself, but the nearby private Ojos Indígenas Ecological Park and Reserve is a great place to explore trails that lead to 12 freshwater lagoons, home to birds, reptiles, and local flora.
Sea-Z The Calm
From waves crashing on the shore to raindrops bouncing off the eaves, the sound of water elicits relaxation. The rhythmic sound of water can slow down brain waves. Take a dip in the sea, lake, or other body of water to activate your body's rest-and-reset state. Not only are you forced to unplug from technology, but being in a body of water inspires a sense of awe, creativity, and even playfulness.
With more than 1,350 miles of coastline, the Sunshine State is the quintessential wellness getaway for water lovers. The beach-inspired wellness resort Atlantic Hotel and Spa in Fort Lauderdale lies along the white-sand beaches of South Florida. Follow your dip in the sea with a blissful rejuvenation treatment at the onsite Spa Atlantic. Packed with restorative minerals and mood-enhancing aromas, this full-body treatment nurtures and relaxes your body using a variety of ancient sea salts.
Saddle Up
There's something about horses that can truly lift your spirits. Research has shown that saddling up improves core strength and cardiovascular health, and promotes relaxation. Trot along the dazzling seashore or take a guided trail ride in the mountains. If horseback riding is the "mane" goal for your wellness vacation, jet off to Zoëtry Agua Punta Cana. This stunning wellness resort lies along a pristine beach on the easternmost coast of the Dominican Republic and offers complimentary horseback riding.
Take Sun Salutations Literally
You're fully informed on the benefits of connecting with nature. Why not try doing yoga under the clear blue sky? Get your daily dose of vitamin C, take in deep breaths of fresh — not studio — air, and heighten all of your senses. Many wellness resorts offer outdoor or even rooftop yoga for the ultimate wellness experience.
Don't wait until you feel the need for a wellness getaway, make it a part of your annual vacation goals. You'll return rejuvenated or you may decide to "nama-stay" a while longer!