Big-name Utah ski resorts like Park City, Deer Valley, and Sundance are the obvious picks when it comes to Utah skiing vacations. And for many people, they might be the only ski destinations they've heard of in a state full of mountain resorts that touts itself as having the greatest snow on Earth — if you've ever skied Utah's delightfully dry champagne powder, you may agree.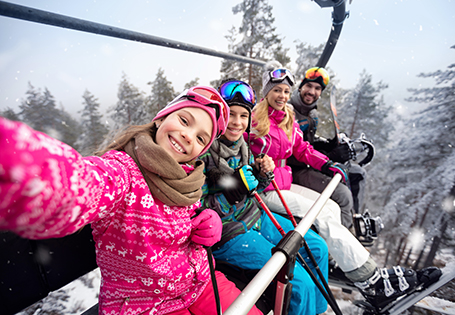 Families looking to travel on a budget who do their research delight in the more wallet-friendly winter sports vacation that awaits in the pretty mountain town of Ogden. Located less than an hour's drive north of the Salt Lake City Airport, Ogden is perfectly positioned for Utah skiing in the powdery Wasatch Mountain Range.
Top 3 Resorts Within Easy Reach Of Town
Instead of basing at one of the Utah ski resorts during your vacation, blow your skiing options wide open by staying in the town of Ogden and you'll be within a 30-minute drive of three fabulous Utah ski resorts with wide open terrain — not to mention cheaper lift tickets, rentals, and lessons than at the big-name resorts.
At the small but mighty Nordic Valley, with its rustic barn-style base lodge and a six-person chair lift, kids 12 and under ski and snowboard free all season.
With over 8,000 acres of skiable terrain (compared to Nordic Valley's 450 acres), Powder Mountain has extensive slopes for all levels of skiers and is the spot to score untouched powder stashes when other spots have been skied out.
And at family-owned Snowbasin, with one of the best Utah skiing schools around, it's worth riding the 12-minute chair lift up even if you don't ski (buy the much less expensive sightseeing ticket) to enjoy lunch with 360-degree views at John Paul Lodge, where the waffle bar wows as much as the surrounding snowy peaks.
A Mountain Town With Urban Appeal
Rather than the poured concrete surrounds of some purpose-built Utah skiing towns, Ogden is a living and working western mountain town. It has a fascinating past that once revolved around a railway-induced vice or two featuring everyone from fur trappers to madams. Most of that grittiness has been replaced by urban cool today, especially along Historic 25th Street.
But fancy Park City or Deer Valley this is not. And that's just how Ogden locals like their town. You're not paying ski town prices here, you're paying regular mountain town prices, and that helps make a ski vacation here more affordable.
Once you've changed out of your ski bib, Ogden's Historic 25th Street beckons with happening restaurants and bars, plus a free outdoor train exhibit kids will love seeing at Union Station, once a major stop along the Union Pacific railway. It's worth paying the small fee to look inside the Utah State Railroad Museum/Eccles Rail Center here, too, where you can see two of the largest locomotives ever built.
Book in advance at Tona Sushi Bar & Grill, where you can slip off your shoes and dig into what's been rated some of Utah's best sushi and sashimi platters at sunken tables. Or go for a laid-back brewpub vibe at Roosters Brewing Co., both right along Ogden's main drag and a short stroll from Union Station, too.  
Off-Mountain Fun
Every skier needs a down day, and there's tons of fun to be had off the mountains in these parts. Make the drive south of Ogden 45 miles to see the free-ranging bison at beautiful Antelope Island State Park, located on the largest island in Utah's Great Salt Lake. With beaches where the skies glow orange at sunset and an interesting visitor center to explore, this off-the-beaten-path state park is well worth visiting.
More family fun awaits back in town near the mouth of the Ogden Canyon at George S. Eccles Dinosaur Park, where a trail takes you on a stroll past over 100 life-size dinosaur sculptures modeled after actual fossil skeletons, including some that roar to greet you. Check out the onsite museum too, to ogle real dinosaur bones and teeth.