Whether you're strolling the sidewalks of a charming town or soaking up the electricity of the city, improve your coffee prowess by stepping into a local coffee establishment and learning from those whose sole focus is the great bean. These four craft coffee shops are serious about the craft of coffee-making, and they promise far more than buzzy energy.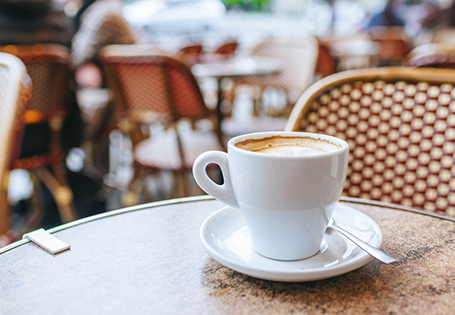 The Espresso Bar — Taos, New Mexico
Living up to the positivity of their mission statement, "Good day, Taos," The Espresso Bar offers an arms-wide-open welcome, baristas who treat customers like family, a sense of community, and a lively gathering spot.
Started several years ago in the Taos Valley Lodge, the coffeehouse thoughtfully conducted preliminary research and decided that offering craft coffee flights was the best way for guests to experience various types of Peet's Coffee, their brand partner. A flight order consists of five different coffee samples revolving around the current seasonal offering, allowing fans to continue trying new roasts to learn what they like.
Column 15 — Williamsburg, Virginia
Why should craft breweries have all the fun? Column 15 answers by pointing out that their craft coffee flights are conceptually evocative of beer flights. Flight offerings consist of five 5-ounce cups of different cold brews or flavors equating to two cups of coffee, making it perfect to share with a friend. There's something for everybody, with nitro-cream, hot latte, or nitro cold-brew flights available for the picking.
The coffeehouse allows the season to influence and inspire their flight offerings, showcasing things like Ice Cream Truck nitro cream flights for summer, and a cozy, autumnal hot latte flight board for fall. But lest guests feel locked into the pre-selected flight lineup, Column 15 encourages you to mix and match to your heart's delight — hoping that above all, the craft coffee experience they offer using a high-quality roast will draw people together around the art and science of a good cup of coffee.
Proud Mary — Portland, Oregon
All the way from the land down under, Proud Mary was brought to Portland by an Australian husband-and-wife team, and was the first US franchise of this popular Aussie coffeehouse. "Excite Customers. Share Stories. Make a Difference." is Proud Mary's motto, and one significant way they do this is through coffee flight offerings.
They offer either pour-over or espresso, which showcases three roasts and revolves around flavor or strength themes like "mild to wild," or a processing theme, highlighting different types of fermentation. Reflecting a passion for coffee and a dedication to educating guests, Proud Mary's flights sync with their monthly showcase menu, enabling craft coffee fans to experience a full range of flavors during a visit.
Starbucks Reserve Roastery — Chicago, Illinois
No matter where you are, there's likely a Starbucks nearby and it's nearly certain you've visited many. But this one is different. Starbucks Reserve Roastery in Chicago on the iconic Magnificent Mile is an immersive, interactive experience — a must-not-miss spot when in the Windy City. The stunning 35,000-square-foot roastery is the brand's sixth and largest roastery, offering an array of unique coffee experiences, from coffee flights to tastings.
Flights of all varieties are possible throughout the roastery at the Experiential Coffee Bar, Arriviamo Cocktail Bar, and Starbucks Reserve Bar. Private tastings are available for craft coffee enthusiasts who want to go deeper, and for those pining for the whole coffee story, opt for the Chicago Roastery Revealed tour with a coffee-master tasting, led by a Starbucks coffee master — a barista who has completed the Starbucks coffee education program.