In his hit song, "Summer of '69," Bryan Adams croons about evenings at the drive-in — something that might seem unattainable in this day and age. But if you're feeling nostalgic, you can transport yourself back in time by visiting a cinema brimming with all the charm of days gone by.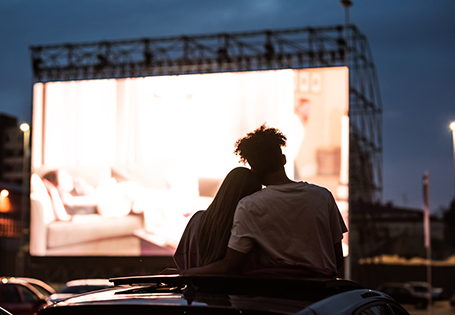 West Wind Drive-In — Las Vegas, Nevada
At family-owned West Wind Drive-In, experience old-fashioned fun and state-of-the-art technology showcasing first-run movies. Psst! General admission dips to $6 on Tuesdays, aka Family Fun Night, while kids ages 5-11 are always $2 (and the 4-and-under crowd are free).
Find resorts in Las Vegas.
Goochland Drive-In Theater — Hadensville, Virginia
Wholesome and affordable, family-friendly Goochland Drive-In Theater typically shows two first-run features for less than you'd pay for one at an indoor theater. Arrive early for the previews of hilarious retro movie clips and cartoon shorts.
Find resorts in Virginia's Shenandoah Valley.
Stars & Stripes Drive-In Theatre — New Braunfels, Texas
Open year-round, the vintage-style Stars & Stripes Drive-In serves root beer, corn dogs, and funnel cakes at its '50s-style café. Kids give their thoughtfully-designed playground five stars — as do parents, since it's perfect to help get wiggles out before the show.
Find resorts in Texas Hill Country.
Skyline Drive-In — Brooklyn, New York
Located on the East River waterfront with views of Manhattan's skyline, Skyline Drive-In also welcomes those who don't have a car. Everyone, including those arriving on foot or by bike, can kick back and take in riveting flicks on the big screen.
Find resorts in New York City.
Wellfleet Drive-In Theatre — Cape Cod, Massachusetts
Operating annually from Memorial Day through Labor Day, Wellfleet Drive-In Theatre is part of a 1957 entertainment complex, complete with a mini-golf course and a yummy ice cream shop that serves handmade milkshakes with candy mix-ins.
Find resorts in Cape Cod.