Going on vacation is a great way to escape the stresses of daily life, but sometimes the travel itself can prove to be quite taxing on both the body and the mind. If not lifting a finger is just what the doctor ordered, consider a trip to one of these lush spa resorts. Sit back, relax, and kiss the to-do list goodbye — that is the true meaning of a "getaway," after all!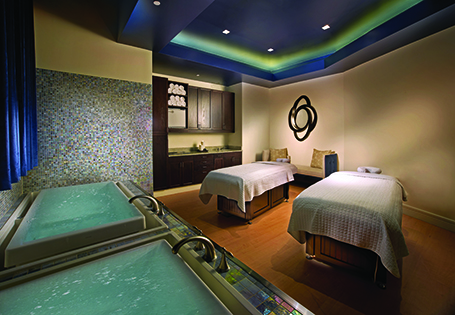 Vacation Village At Williamsburg
The town of Williamsburg makes up one-third of Virginia's "Historic Triangle" and attracts thousands of visitors each year thanks to its cultural significance and quintessential east-coast vibe. After a long day strolling cobblestone streets, unwind with the help of one of the many amenities the spa resort Vacation Village at Williamsburg has to offer — including an on-site spa, jacuzzi, and yoga classes.
Dreams Riviera Cancun Resort & Spa
Picture yourself on a white-sand beach staring out at crystal-blue waters. Fancy a dip in the pool? A bite to eat? No need to find a restaurant or bar, no need to call a taxi — one spa resort in Cancun has it all. That's the beauty of an all-inclusive resort, and at Dreams Riviera Cancun Resort & Spa, that dream can become a reality. Between lounges on the beach, be sure to check out the property's extensive spa, offering everything from massages and facials to nail services.
The Villas At Disney's Grand Californian Hotel & Spa
Looking for a convenient place to stay when taking the kiddos to Disneyland? Look no further than The Villas at Disney's Grand Californian Hotel & Spa, located just a short walk from both of the Disney parks. Long days spent at "The Happiest Place On Earth" call for even longer afternoons spent taking a load off at the on-site spa. This charming spa resort is fun for the whole family.
Hilton Grand Vacations Club On The Boulevard
Who says a trip to Las Vegas can't also be relaxing? After hitting the famed Strip, tuck in at the elegant Hilton Grand Vacations Club On The Boulevard and enjoy a dip in one of the property's impressive pools or a treatment at their full-service resort spa. It's Vegas, done right.
Club Wyndham Bonnet Creek
Florida's Club Wyndham Bonnet Creek is the perfect place to get away from it all. Leave the hustle and bustle of daily life at the door of this Orlando area Mediterranean-style oasis, where your biggest hurdle will be finding time to squeeze in a visit to the off-site spa in between floats down the lazy river. With five outdoor pools, nine hot tubs, and plenty of delicious eateries, life is good at this spa resort.
Breathless Punta Cana Resort & Spa
When aiming to go full "do not disturb," there are few places better than the beach town of Punta Cana, Dominican Republic. The tropical paradise is already the poster child for relaxation, but a stay at Breathless Punta Cana Resort & Spa takes tranquility to a whole new level. Another all-inclusive, this stunning property boasts contemporary rooms with breathtaking views, countless amenities, and of course, a lavish resort spa. What more could you ask for?