Don't take a gamble when scouting out the perfect pool for your next vacation in Las Vegas. After a night in the casinos or at a show, a day relaxing under the sun in the resort pool is just what you'll need. These five resorts have the best pools in Vegas next time you're indulging in Sin City.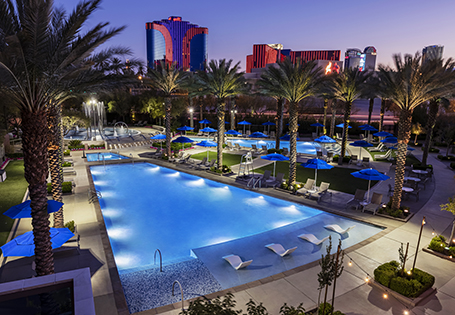 Club Wyndham Desert Blue
A stay at Club Wyndham Desert Blue means the utmost relaxation under the sun. Take a swim in the two outdoor swimming pools or hot tubs at the resort, depending on the time of year you visit. If you're trying to get some shade, rent a poolside cabana for privacy and convenience with a mini fridge, fan, and TV just for you. While you're chilling, take advantage of the poolside bar with plenty of snacks and drinks to choose from. It's the ideal spot to truly experience the luxury of poolside relaxation.
Club Wyndham Grand Desert
No matter how many days you're living it up in Las Vegas, Club Wyndham Grand Desert has plenty of amenities to choose from. While exploring the Strip is exciting, this resort has three large outdoor pools and four hot tubs to choose from. Simply grab your sunglasses and head to the pool for an ultimate day of relaxation. With a large selection of drinks and food at the poolside bar, you'll never have to leave your little desert oasis at one of the best Las Vegas pools.
Hilton Grand Vacations Club On The Boulevard
Sit back and enjoy the amenities at Hilton Grand Vacations Club On The Boulevard, one of the best Las Vegas resorts. Equipped with two amazing pools and three hot tubs, a day spent on the pool deck is a day well spent. You're a bit off the path of the Strip, so this gem is sure to put you in the right mindset of calm, cool, and collected.
Tahiti Village
Looking for a bit more than just your average poolside party? At Tahiti Village you'll find not only a beautiful pool, but also a lazy river! And this isn't any normal pool. It's a special sandy, beach-entry pool. With lounge chairs wading in the water, plenty of space for pool games, hidden coves of hot tubs, and even a volleyball net to challenge family and friends, this pool is a multi-day attraction and one of the best pools in Las Vegas.
The Cliffs At Peace Canyon
Whether you're on a romantic getaway or with the whole crew, The Cliffs at Peace Canyon have an incredible pool waiting for you. This heated outdoor pool has a whirlpool and grilling area as well. It's a picture-perfect oasis with lush landscape lining the pool area, shade from towering palm trees, and several waterfalls overflowing into the pool. It's wide enough to enjoy with the whole family but still cozy enough to seclude yourself with your loved one.