The quaint towns, historic lighthouses, and sweeping vineyards found throughout the Upper and Lower Peninsulas of Michigan make for one of the most beloved — and lengthy — scenic road trips in the U.S.
The 1,100-mile Lake Michigan Circle Tour, also known as the Lake Michigan Loop, traverses two time zones, four states (Illinois, Indiana, Michigan, and Wisconsin), and dozens of forests, beaches, and magnificent dunes. It's no wonder most travelers break it out into two separate trips: the Upper Peninsula and the Lower Peninsula.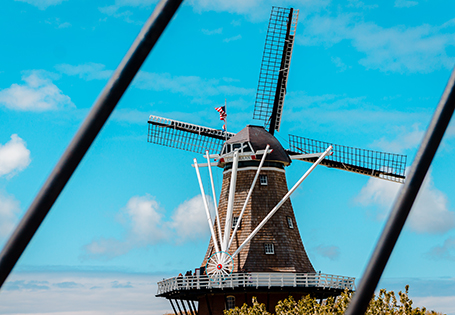 With its vibrant, eclectic neighborhoods and world-famous art institute, Chicago is a great place to kick off your Lake Michigan road trip. Whether it's your first visit or your fifth, a stroll down Michigan Avenue surrounded by skyscrapers or a cruise on the Chicago River are great ways to absorb the city's vibe and take in its architecture.
Another must is sampling the city's cuisine, from casual restaurants serving Chicago hot dogs and deep-dish pizzas to iconic steakhouses such as Gene & Georgetti, which opened its doors in 1941. For even more authentic flavors, cultural neighborhoods such as Greektown and Little Italy are chock-full of locally owned restaurants.
Welcome To Main Street
Heading east, urban sprawl eventually gives way to a more serene landscape. A resort town founded in the 1840s by Dutch Calvinist separatists, Holland is a perfect first stop on your Lake Michigan Circle Tour. The town's unique heritage can be seen throughout its quaint Dutch village and charming windmills, especially the 250-year-old De Zwaan — the only real, working Dutch windmill in the United States.
Unlike other towns on the route, Holland sits on the shores of two lakes: Lake Michigan and Lake Macatawa. Outdoor enthusiasts have a slew of options, from paddleboarding in the summer to hiking and snowshoeing when it's cooler. May is Holland's busiest month, when over 100,000 tulips bloom in time for the annual Tulip Time Festival.
Between the lakes, vineyards, and small-town charm, it's easy to immerse yourself in the beauty of the Leelanau Peninsula. With Lake Michigan on one side, Grand Traverse Bay on the other, and several small lakes in between, there's plenty to do both on and off the water.
Climbing the giant sand dunes that give Sleeping Bear Dunes its name is a must-do, as is a visit to the 1830 South Manitou Island Lighthouse, one of the most photographed lighthouses in the country. Visiting the lighthouse is easy — just take a short ferry ride from the waterside town of Leland and spend the day exploring the island.
Upon your return, be sure to check out charming Fishtown just a stone's throw from the harbor. This cluster of weathered fishing shanties have been turned into funky food stalls and quirky boutiques.
Tantalize Your Taste Buds
Slightly farther east, Traverse City is the largest producer of tart cherries in the country and one of the Midwest's most-popular summer hot spots. Travelers can explore this lakeside town's cherry orchards and taste delicious cherry dishes at cafés around town.
Oenophiles will love the bold wines available throughout this region thanks to its position on the 45th parallel, which shares the same latitude as Italy's Piedmont region and France's Bordeaux. Known as the Traverse Wine Coast, the area has over 40 wineries to explore, each with its own unique tasting room and incredible views of the Lake Michigan shoreline.
With all this in mind it's no surprise that Traverse City has been named one of the Travel Channel's Top 10 Cities for Wine Snobs.
But Wait, There's More!
Another two hours east along the Lake Michigan Circle Tour and you'll reach the towns of Mackinaw City and St. Ignace, both of which provide ferry service to Mackinac Island, where motor vehicles have been banned for more than a century. Nestled on Lake Huron just north of the Mackinac Bridge that connects Michigan's Upper and Lower Peninsulas, the island gets its name from the colonial-era Fort Mackinac that sits on the bluffs above the Straits of Mackinac.
The sheer size of Lake Michigan means this scenic road trip can easily take a week or more, which is why many travelers split it in half and make return visits.
On the Wisconsin side of Lake Michigan, Door County's coastal towns, apple and cherry orchards, and eponymous wine trail have earned it the nickname "Cape Cod of the Midwest." From postcard-worthy lighthouses to local fish boils, there's no shortage of year-round activities here.
A car ferry between Ludington, Michigan, and Manitowoc, Wisconsin, makes it easy to cross the lake and explore both sides of the Lake Michigan Circle Tour.
Fall Off The Grid
Accessible only by ferry, Mackinac Island is a throwback to a time when horse-drawn carriages were the only way to get around.
Known for its old-fashioned fudge shops, limestone bluffs, and historic Fort Mackinac, more than 80% of this car-free island is preserved as Mackinac Island State Park, making it the perfect place for family hikes and leisurely bike rides.
Built in 1887, the Grand Hotel is worth a visit for its afternoon tea, a timeless tradition featuring sweet and savory snacks. Wrap up your visit with a horse-drawn carriage ride or a walk along the boardwalk by moonlight — there's a nostalgic, romantic ambience on Mackinac Island that's hard to resist.