With seafood paella, cured jamón and tapas bars on every corner, there's a rich food culture throughout Spain. But many would argue that its culinary capital is the Basque Country beach resort of San Sebastián. The town's stately avenues and grand buildings front two crescent-moon beaches on the Bay of Biscay. It's also home to more Michelin-star restaurants per square mile than anywhere else in Europe.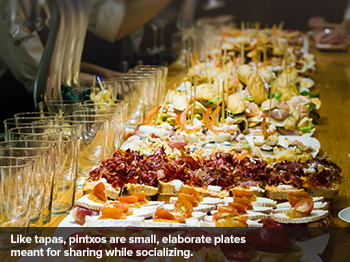 The best way to explore the food of San Sebastián may be by sampling its pintxos. Basque pintxos (pronounced "peen-chos") are tapas on overdrive: inexpensive (around $3* a piece), elaborate bites and creative small plates meant for sharing while socializing. Every night, small groups of friends gather for pintxo crawls, stopping in at a bar for one or two dishes along with a small glass of beer or wine (typically the local txakoli, a bone-dry, fizzy white) before moving on to the next spot.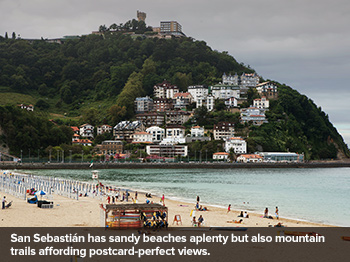 Organizing your own pintxo crawl is easy: The best bars are concentrated along two narrow lanes in the pedestrian-only Old Town section of the city, 31 de Agosto Kalea and Fermin Calbeton Kalea. At Taberna Gandarías, the squid is sweet and slightly briny, stuffed with rice and swimming in a jet-black pool of its own ink. Around the corner is La Cuchara de San Telmo, a bustling bar tucked in an alley, where the stewed veal cheek in red wine is flavorful and fall-apart tender. (The buttery foie gras is also quite popular.) The sautéed wild mushrooms with runny egg yolk is a delicious standout at Bar Ganbara.
Some bars focus on doing one thing and doing it well. Bar Nestor serves a Spanish tortilla twice a day, at 1 p.m. and 8 p.m., until the slices run out (typically within 15 minutes). Meanwhile Txepetxa is all about anchovies. The bar serves more than a dozen variations of anchovies on toast; one of the best comes smothered in a warm, creamy spider-crab sauce. For a modernist spin on traditional pintxos, there's Zeruko, whose tasting menu provides a mini parade of dishes with nontraditional ingredients, like rose water, edible gold leaf, dry ice and mouth-numbing Sichuan peppercorn flowers.
When it's time for a break from all the feasting, San Sebastián is a great place to relax. In addition to the sandy beaches and world-class surfing, there's a funicular that carries visitors up to postcard-perfect cliff-top views. The lush Basque countryside outside town offers mountain hikes—the northern route of the famous Camino de Santiago pilgrimage trail runs through here—and lovely seaside towns, like Zarautz and Getaria. The Guggenheim Bilbao museum, with its Frank Gehry swoops and renowned collection of modern art, is an hour's drive west. And the vineyards of Rioja wine country, a sunny valley between snowcapped mountain ranges, are an easy day trip.
THE DETAILS
Bar Ganbara: 21 San Jeronimo Kalea; 011-34-943-422-575; ganbarajatetxea.com
Bar Nestor: 11 Pescadería Kalea; 011-34-943-424-873; barnestor.com
La Cuchara de San Telmo: 31 de Agosto Kalea, No. 28; lacucharadesantelmo.com
Taberna Gandarías: 31 de Agosto Kalea, No. 23; 011-34-943-426-362; restaurantegandarias.com
Txepetxa: 5 Pescadería Kalea; 011-34-943-422-227; bartxepetxa.com
Zeruko: 10 Pescadería Kalea; 011-34-943-423-451; barzeruko.com
NOTE: Information may have changed since publication. Please confirm key details before planning your trip.