From a lakefront community in northern Michigan to surfer-favorite Malibu, surprising areas across America are harvesting grapes.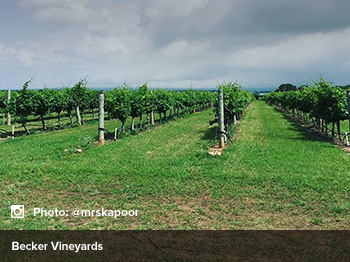 TEXAS HILL COUNTRY
Lavender fields thrive near the guesthouse at Becker Vineyards, in Stonewall, Texas. Visit the tasting room to shop for handmade soap, lotion and other lavender products between sips of the winery's popular viognier. A short drive away you'll find more than 50 wines to sample at Messina Hof Hill Country's newest location, in East Fredericksburg. Although their latest venture is only four years old, the Bonarrigo family's vintner roots date from 1800 in Sicily. If you're determined to try every variety, consider staying a few nights in the romantic Manor Haus Bed and Breakfast.
MALIBU, CALIFORNIA
This beachside community is now officially recognized as the Malibu Coast AVA (American Viticultural Area). At Cornell Winery & Tasting Room, on Mulholland Highway, you can savor local wines (including Dolin Estate's award-winning chardonnay) paired with cheese or charcuterie. For a twist on a beach day, visit Rosenthal—The Malibu Estate Wines' tasting room, along the Pacific Coast Highway, where on summer weekends there's live jazz and food trucks. Year-round the tasting room sells wine by the bottle, glass or flight.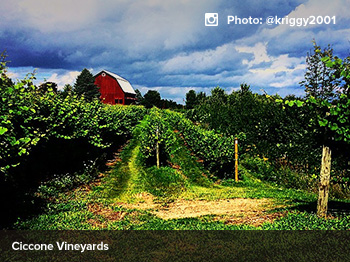 TRAVERSE CITY, MICHIGAN
Traverse City is said by some to be evolving into the Sonoma of the Midwest, thanks to an influx of celebrity-connected wineries. Madonna's parents have opened the Old World–inspired Ciccone Vineyard & Winery, while actress Amy Smart and HGTV host Carter Oosterhouse recently launched Bonobo with Mario Batali's input on the tasting room menu. Aerie, on the 16th floor of Grand Traverse Resort & Spa, uncorks many Michigan bottles, from a cherry wine to a blanc de blanc sparkling.
HERMANN, MISSOURI
Ninety minutes from St. Louis, you can hop on the 20-mile-long Hermann Wine Trail. In the 1800s German settlers began planting grapes here, and the area was one of the largest wine-producing regions in the world until Prohibition mandated the uprooting of the vineyards. Now 7 wineries have tasting rooms, including Adam Puchta Winery—the oldest vineyard in the area, dating from 1855—and OakGlenn Vineyards & Winery, which hosts weekend concerts (April to November only) and runs an on-site B&B called Carol's Cottage.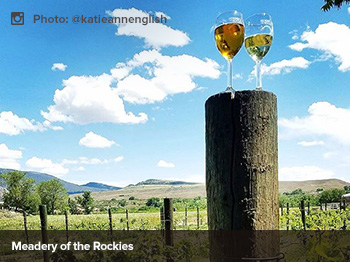 MESA COUNTY, COLORADO
The Mile-High state has 2 wine regions: the Front Range surrounding Boulder and Denver, and Grand Valley AVA, just west of Grand Junction. Grand Valley is the bigger of the two. You can sip honey-based wines at Meadery of the Rockies or take in the canyon views while picnicking at Canyon Wind Cellars, which is home to 35 acres of grapes planted in 1991 and produces three distinct labels. Its Anemoi wines, named for the Greek gods of the wind, are made from sustainably grown grapes.
THE DETAILS
Adam Puchta Winery: 1947 Frene Creek Rd., Hermann, Missouri; 573-486-5596; adampuchtawine.com
Aerie @ Grand Traverse Resort & Spa: 100 Grand Traverse Resort, Acme, Michigan; 231-534-6000; grandtraverseresort.com
Becker Vineyards: 464 Becker Farms Rd., Stonewall, Texas; 830-644-2681; beckervineyards.com
Bonobo Winery: 12011 Center Rd., Traverse City, Michigan; 231-282-9463; bonobowinery.com
Canyon Wind Cellars: 3907 N. River Rd., Palisade, Colorado; 970-464-0888; canyonwindcellars.com
Ciccone Vineyard & Winery: 10343 Hilltop Rd., Suttons Bay, Michigan; 231-271-5553; cicconevineyard.com
Cornell Winery & Tasting Room: 29975 Mulholland Hwy., Agoura, California; 818-735-3542; cornellwinery.com
Meadery of the Rockies: 3701 G Rd., Palisade, Colorado; 970-464-7899; meaderyoftherockies.com
Messina Hof Hill Country: 4545 Old Reliance Rd., Bryan, Texas; 979-778-9463; messinahof.com
OakGlenn Vineyards & Winery: 1104 OakGlenn Place, Hermann, Missouri; 573-486-5057; oakglenn.com
Rosenthal—The Malibu Estate Wines: 18741 Pacific Coast Hwy., Malibu, California; 310-456-1392; rosenthalestatewines.com
NOTE: Information may have changed since publication. Please confirm key details before planning your trip.