"In the past, visitors came to Ireland and Northern Ireland for the scenery and warm welcome, but had to survive the food," says Darina Allen, noted advocate for the Irish artisanal food movement. But a renaissance has been gathering momentum for 20 years, she says, and now there's a strong farm-to-fork movement, and you can get good food from one side of the island to the other.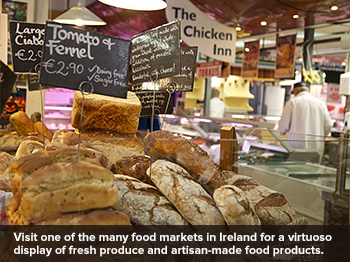 Ireland is home to icy waters that yield fresh fish and shellfish, lush green grass for dairy herds, and hillside wild herbs for free-ranging lambs. And there are still people who possess traditional skills such as butchering, cheese making and bread baking. Alongside artisan producers, young chefs are transforming these ingredients into exciting food.
FOODIE IMMERSION
Darina Allen's Ballymaloe Cookery School, Organic Farm and Gardens in Shanagarry, County Cork, is a great foodie destination. The 50-plus cooking courses and workshops offered range from cheese making to organic gardening and preparing a proper afternoon tea. The inn's restaurant serves butter, yogurt and cheese made on the farm; home-butchered pork; and the bounty from the gardens and greenhouse. Allen is an award-winning cookbook author and television chef, so it's no wonder she attracts the world's leading chefs and writers to her Kerrygold Ballymaloe Literary Festival of Food and Wine, held each year in mid-May.
FOOD FESTIVALS
Food festivals around the country jam the calendar year-round. Some focus on a specific ingredient, like the Galway International Oyster & Seafood Festival at the end of September and the Roscommon Lamb Festival the first weekend in May. Others focus on the local gourmet food scene, like festivals in Dingle and Kinsale in October. Belfast Restaurant Week, in early October, presents gastronomic walking tours, street-food events, chef demos, tasting events and special menus.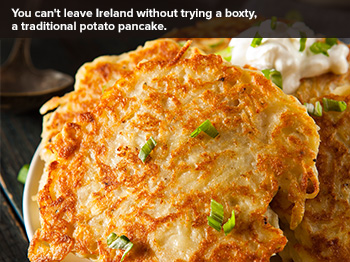 GUIDED FOOD TOURS
A food walking tour is a great way to learn about a city from the local perspective, like Belfast Food Tours, which starts in the farmer's market and takes in artisan producers, a coffee shop, a chocolatier and a historic pub for talks and tastings. Fab Food Trails offers walks in Dublin, Kilkenny and Cork. Craft beer aficionados will savor Brewery Hops of Ireland's 5-day trips, which take in 10 breweries and include tastings led by brewmasters.
INDOOR FOOD MARKETS
For a virtuoso display of fresh produce and artisan-made food products, three historic covered markets top the list. A Victorian building dating to 1896 hosts St. George's Market in Belfast, but the market here goes back to 1604. The Milk Market in Limerick, operating since 1852, is busy on the weekends; look for Peter Ward's stall from Country Choice in Nenagh for some of the best soda bread in the country. The English Market has been serving Cork City since 1788; be sure to have lunch at Farmgate Café upstairs, as owner Kay Harte sources all her menu ingredients fresh from the market.
EATING LOCAL
You can't leave Ireland without sampling boxty, a traditional potato pancake. You'll find a classic version at Gallagher's Boxty House in Dublin. The specialty on the Taste of Roscommon menu at Gleeson's Townhouse in Roscommon is savory Irish stew made with grass-fed lamb, fresh thyme and rosemary. And for the ultimate dining experience, head to Lough Erne Resort in Fermanagh, Northern Ireland, where celebrity chef Noel McMeel serves up cuisine fit for the world's heads of state (the G8 Summit was held there in 2013).
THE DETAILS
Ballymaloe Cookery School: Shanagarry, County Cork; 011-353-21-464-6785; cookingisfun.ie
Belfast Food Tours: 011-44-790-057-8190; belfastfoodtour.com
Belfast Restaurant Week: visit-belfast.com/food
Brewery Hops of Ireland: 011-353-86-838-2996; breweryhopsofireland.com
Country Choice: 25 Kenyon St., Nenagh; 011-353-673-2596; countrychoice.ie
English Market: englishmarket.ie
Fab Food Trails: 011-353-1-497-1245; fabfoodtrails.ie
Farmgate Café: 001-353-21-427-8134; farmgate.ie; lunch for two, $50
Gallagher's Boxty House: 20-21 Temple Bar, Dublin; 011-353-1-677-2762; boxtyhouse.ie
Galway International Oyster & Seafood Festival: 011-353-91-394-637; galwayoysterfest.com
Gleeson's Townhouse: Market Square, Roscommon; 011-353-90-662-6954; gleesonstownhouse.com;
Kerrygold Ballymaloe Literary Festival of Food and Wine: litfest.ie
Lough Erne Resort: Belleek Rd., Enniskillen, Fermanagh, Northern Ireland; 011-44-28-6632-3230; lougherneresort.com
Milk Market: 011-353-61-214-782; milkmarketlimerick.ie
Roscommon Lamb Festival: roscommonlambfestival.com
St. George's Market: visit-belfast.com
NOTE: Information may have changed since publication. Please confirm key details before planning your trip.