As you wind between curvy hills striped with olive groves and vineyards, your eye pulled skyward now and again by a lone cypress tree, you find it hard to believe that anything in Tuscany has changed for centuries.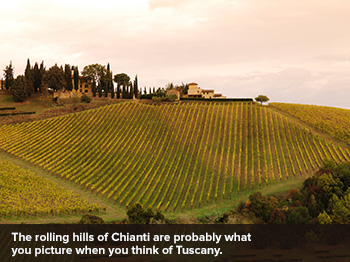 Chianti, a nebulously defined region between Florence and Siena whose rolling hills are topped by crumbling castles and terra-cotta towns, is what comes to most people's minds when they imagine Tuscany. Made from at least 80% sangiovese grapes and blended with other varieties, such as merlot and cabernet sauvignon, the area's full-bodied Chianti Classico wines vary tremendously in flavor, but hints of irises, violets and red berries, especially cherries, come to the fore.
After 26 generations in the business, it's no wonder the Antinori family sets the bar, at Antinori nel Chianti Classico, their recently opened winery. Just off the Florence-Siena highway, the structure, designed by the Florentine architectural firm Archea, required that an entire hillside be excavated, but its earthy walls are barely visible until you get close. Vineyards march across the building's green roof, and doors open to reveal French- and Hungarian-oak barrels in terracotta-clad caverns. Consider booking the 90-minute tour, which includes a tasting in a glass-fronted room overlooking the cellars. Chase the fruity Pèppoli Chianti Classico or the oakier Villa Antinori Chianti Classico Riserva with the dessert white Vin Santo del Chianti Classico. Or splurge on a tasting paired with ravioli in sage pesto in the rooftop restaurant.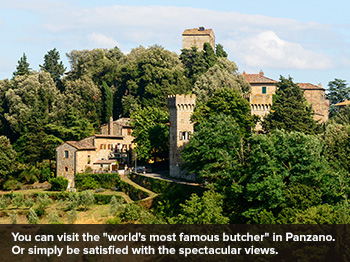 Half an hour away, the terra-cotta towns of Greve and Panzano in Chianti spill down their surrounding hills. Saturday and Sunday are market days, and artisans sell everything from spicy olives to cashmere sweaters. Cheese specialist Moreno e Giacomo sells pecorino speckled with pungent truffles from the region's Monte Amiata zone.
Beneath the portico at the square in Greve, the family-owned butcher shop Antica Macelleria Falorni has stocked prime cuts of meat since 1806. Close by, the same family runs Enoteca Falorni, a wine bar in a brick cellar where Enomatic machines dispense more than 100 wines by the glass. Connoisseurs sit on leather sofas and compare wines, like Antinori's prestigious Tignanello and Ornellaia, a Super Tuscan from coastal Bolgheri.
In the neighboring village of Panzano, Falorni's rival, Dario Cecchini, whom Newsweek recently dubbed the world's most famous butcher, opened Solociccia, a sleek eatery serving off-cuts, such as snout in lemon broth.
"Everything begins and ends with the vineyards," says Lorenza Sebasti Pallanti, co-owner of Castello di Ama, a half-hour drive from Greve. The winery incorporates art installations, a restaurant and 3 suites strewn with Persian carpets and family heirlooms in an 18th-century villa. Visits begin with a walk through the ancient stone borgo (village) to the maze of cellars, where mineral-rich reds are aged in French-oak barrels. Works of art include a mystical pool of red light by Anish Kapoor on the floor of the on-site chapel. The restaurant spotlights simple dishes, like pappa al Pomodoro, a palate-tickling bread-and-tomato mush, but the emphasis is on wines, like Rosato, a rosé made mostly from sangiovese. Another hit is Castello di Ama San Lorenzo, an elegant blend of sangiovese, malvasia nera and merlot.
THE DETAILS
Antinori nel Chianti Classico: 133 Via Cassia per Siena, Bargino; 011-39-055-2359700; antinorichianticlassico.it
Moreno e Giacomo: 011-39-055-858047
Antica Macelleria Falorni: 71 Piazza Giacomo Matteotti; 011-39-055-853029; falorni.it
Enoteca Falorni: 2 Piazza delle Cantine; 011-39-055-8546404; enotecafalorni.it
Solociccia: 5 Via Chiantigiana; 011-39-055-852727; dariocecchini.com
Castello di Ama: Loc. Ama, Gaiole in Chianti; 011-39-0577-746031; castellodiama.com
NOTE: Information may have changed since publication. Please confirm key details before planning your trip.