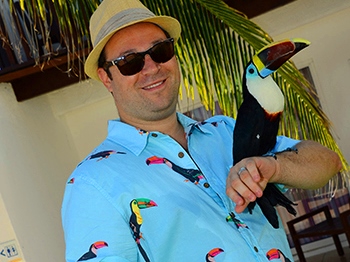 I hadn't been to Cancun since I was a spring breaker. Then my parents had this idea to take our entire family away to an all-inclusive resort in Cancun to celebrate their 40th wedding anniversary—grandbabies and all! And so began an entirely different experience for me on the Yucatán Peninsula.
This trip was a year in the making, and took a good amount of coordination, considering my parents were coming from Florida, my family was flying out from New Jersey and my brother's family was traveling from Colorado. If you can make it through the Cancun airport without being bombarded by vendor spiels, then the ride from there to your resort shouldn't be more than about 20 minutes. We all wound up arriving at the resort three hours apart from each other.
From the second we could see the resort's gates from the shuttle we felt at ease. And that's saying something after having flown four hours with an infant. But from the moment we set foot in the resort we were greeted by a welcoming staff that had cold towels and drinks waiting for us. (Yes, the water was filtered.) We sat in the plush lobby while they took care of our bags, checked us in and gathered our room keys and access bracelets. From that point forward all we had to do was be in vacation mode.
LAY OF THE LAND
We stayed at one of the bigger resorts in the area—more than 400 rooms. Traveling in October actually worked out well because it was only about half-filled. That meant no fighting over chairs at the pool or a chaise by the ocean. After getting settled, a guest services rep took us on a short tour of the main areas of the place: restaurants, beach, pool, bar areas and various amenities available to guests.
And it's all about the amenities! That's the meat and potatoes of an all-inclusive vacation experience. You may not be able to drink your piña colada's worth of your money, but you can certainly get incredible value by simply having fun. Our resort offered the usual pool, tennis, health club, etc., you'd come to expect, but it also had snorkeling, wind surfing, sailing, ping-pong, poker, water skiing, basketball, a splash park for the kids, even a trapeze. Trust me, there was no way to get bored at a place like this.
We did nearly everything you could possibly do on a week's vacation. I snorkeled every day; hit the beach and pool every day; my 69-year-old father tried the trapeze; and my 68-year-old mother was a waterskiing pro by the time the vacation was over.
The resort also offered conveniences you may not have thought about. For one, there was a photo studio on site; resort photographers would be constantly walking around taking pictures. They'd capture candid moments of guests having fun, but they were also available to take a posed picture or two, or even a whole family package. I happened to have been wearing a shirt covered in toucans when I saw a member of the resort's zoo—oh yea, it had a small zoo! —carrying around a real, live toucan. I mean, how could I not stop him, and the photographer walking toward us at that exact moment, to take a picture of me in my toucan shirt WITH AN ACTUAL TOUCAN!
They also had an in-house excursion agency, too, in case you wanted to leave the resort and do something different. (See, aren't you glad you skipped all those airport vendors now?). We researched five different trips, and all were in the $100- to $120-per-person range. Different excursions, of varying lengths, were offered every single day, leaving right from the resort itself. Things like day trips to Chichen Itza, including cenote exploration, were offered, as well as scuba diving with the protected sea turtles, shopping in Playa del Carmen, deep sea fishing, half-day golfing and then the trip we chose: a three-quarter-day trip to Isla Mujeres.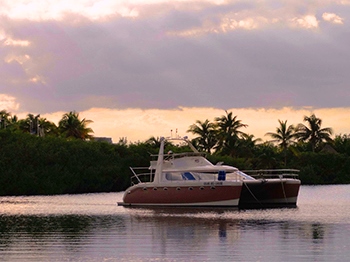 ISLA MUJERES
True, this vacation was a celebration of my parents' 40 years of marriage, but we were also traveling with two infants. My son was 10 months old at the time, and my niece was a week past her first birthday. Naturally that posed some challenges (we'll get to those later). My brother and I chose the trip to Isla Mujeres because it seemed like the most kid-friendly thing to do. Whereas my brother and his wife wanted to dive, and my wife and I wanted to explore the ruins of Ek Balam, this excursion wound up being the perfect thing for a family with little ones to all do together.
Isla Mujeres, or Island of the Women, was about an hour's catamaran ride away. But the convenient thing was that the catamaran was docked at the resort, so all we had to do to board was walk by the pool at 7:30 a.m.
They had seats in the back, but we all just sat cross-legged on the flat bow of the boat and enjoyed the early morning sun and salt air. (My son loved every second of it; my niece slept for most of it.) Anyway, our captain docked the catamaran in a central location and then our group (about 30 of us) grabbed a golf cart and took a guided tour of the island. It was a cool way to see an authentic slice of Mexico, as opposed to the more sheltered experience of a resort.
We stopped several times along the way. The first stop was at the far eastern tip of the island, where we were given some history about the importance of the island in Mayan culture. We took a cliff-side hike that meandered around a sculpture garden. If ever there was an opportunity to put down the smartphone and whip out the real camera, this was it.
Wow, was it gorgeous to see the open expanse of turquoise waters! From across the way you could see downtown Cancun—where the "real natives live," as our guide told us.
Next, we hopped back on our carts and took a coast-hugging route north where we stopped at a national marine aquarium. Mexico is dedicated to protecting its sea turtles, and here we were able to visit a hatchery, where you couldn't touch anything, but you could certainly marvel about the hundreds of adorable little sea turtles in holding tanks. Each one of the three breeds of sea turtle is cared for expertly, and awaits the day they're strong enough to be reintroduced to the wild.
Afterward, we drove the carts back to our starting point and re-boarded the catamaran, where we sailed to the far west end of the island. There, although we were right outside a resort area, we dropped anchor about 50 yards offshore and all dove right in. How's this any different than swimming near our Cancun resort, you ask? Well, for one, the water was on another level of gorgeous blue. It was also warmer. Secondly, our captain brought out a floating cooler and played bartender. We hung out in this albeit-crowded sliver of paradise with rum-and-colas in our hands in the middle of the ocean, and soaked in every second of it. Even the babies had fun floating around next to their extra-happy parents and grandparents.
The excursion concluded with the catamaran ride back to the resort. Luckily for us, the captain doled out as-fresh-as-it-can-get ceviche, kept the bar open and the music rockin'. So the ride back was just as energetic as it was in the morning.
We were back at the resort by 3 p.m.—just enough time to grab a snack or a drink by the pool before showering up for dinner.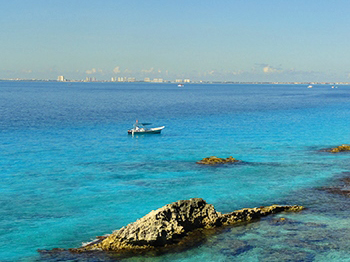 THE FOOD
I have to admit, I was skeptical about the food at an all-inclusive resort. I figured it was made en masse. I figured it would stink. I was very wrong.
The resort offered two upscale restaurants, one casual dining option and two large buffets. It had an Argentinian steakhouse that required dinner reservations made one night in advance; a traditional Mexican restaurant that you could just walk into; and a casual restaurant that catered a little bit of everything, but wasn't open at night. But it was the buffets that really shined.
I know you may be skeptical, too—and I admit, I am not a picky eater—but the choices were extraordinarily diverse and the quality was very high. Breakfast, lunch or dinner, it didn't matter; the choices were endless. You could have pasta, steak, fish, lobster, cheese platters, salads, local delicacies, chicken fingers, tacos, French fries and on and on. You could have as much as you'd like. Breakfast options were the same every day—your omelets, oatmeal, pancakes, pastries and jams—but dinner options varied each night. My wife, who is incredibly stubborn and hates to try anything new, was even pleasantly surprised. True, she wasn't trying the octopus, but she had no complaints about the roast chicken, Brussels sprouts and herbed potatoes. Our biggest concern, truly, was how we'd feed our little guy, without bringing a Whole Foods with us.
BABYVILLE
If you're looking for a peaceful, romantic getaway with your significant other, my experience thus far would not suffice. But for a family traveling with kids? You surely cannot do any better.
My parents purchased the 'baby package' for my brother's family and ours. This included a playpen/crib in our room as well as a stroller for use the entire week. As new parents, you cannot imagine how helpful that was. Even the van from the airport had a car seat in it. Not having to travel with those three items was a huge load–literally and figuratively—off our shoulders.
Every day there were activities for the kids, such as ceramics painting, kiddie-pool games and ping-pong tournaments. There was the aforementioned splash park. And, if you really wanted some time alone, you could have it, simply by paying for the on-resort daycare services offered. You could even pay for the kids to attend a half-day camp while there, if you wanted.
Yes, we had to travel with bottles and formula and some baby oatmeal, but the resort also provided fresh-made baby food options every single day, for every single meal. We, unfortunately, didn't notice this until the second day, and it took us one day longer to realize they even provided jars of refrigerated baby food, but even so, we all left so incredibly impressed by how well they catered to families. We never even had to wait for a high chair.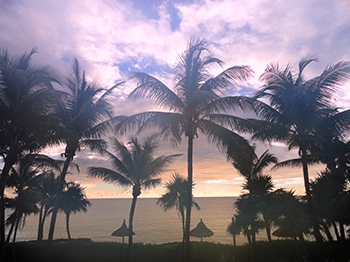 PROS VS. CONS
Our comfort level at the resort was immediate. Everyone seemed to speak Spanish, English and French with equal aplomb. My family happens to be made up of French and Spanish speakers, so it was fun for us to practice our language skills with all the staffers around the place. I know we were guests, and that the staff was there to help us, but there was just an energy in the place that's hard to describe. Everyone seemed to always be happy; their smiles seemed genuine. Maybe that's what happens when you wake up in paradise every day?
Our only complaint was the mosquitos! They were relentless, especially at night. The only time a smile was wiped off our faces was when we were smacking the heck out of our limbs. So here's a quick tip: travel with bug spray! Save your legs. You can thank me later.
At the end of the day, this trip was a celebration of my parents. In order to thank them for their generosity, my brother and I, plus wives, set them up with a surprise sunset dinner on the beach.
This was something we could not set up in advance, so we had to be covert about it upon arrival. But I was able to sneak around and make plans. The concierge worked with me to make the special arrangements, and I was able to have a private conversation with the resort's chef to ensure the menu was perfect (my mother has certain dietary restrictions we had to work around). And everything went off without a hitch. My parents were incredibly surprised and thankful, and in the midst of all the fun we were having together, they were able to have a few hours of peace and romance all to themselves.
But for an extended-family vacation, this all-inclusive was truly the experience we dreamed of.
NOTE: Information may have changed since publication. Please confirm key details before planning your trip.