Talk of Cooperstown, New York, inevitably involves its most famous pastime: baseball. The one-stoplight village has been a pilgrimage site for fans ever since the Mills Commission claimed (probably erroneously) that Abner Doubleday had invented the sport there in 1839. Still, baseball's not the only game in town, thanks to a flourishing arts community and growing beverage scene.
SLICE OF AMERICANA
Baseball-memorabilia shops line Cooperstown's Main Street, which leads to Doubleday Field and the National Baseball Hall of Fame and Museum. Fans have been known to spend three days taking in the museum's more than 40,000 artifacts, which detail the stories of Babe Ruth, Jackie Robinson and, yes, Pete Rose (although he's not a member). Even travelers who haven't seen a game in years find themselves absorbed in the rich descriptions and colorful nicknames on the Hall of Fame plaques.
But more than baseball has cemented Cooperstown's reputation as America's Most Perfect Village (the town slogan). The town hugs the south side of the Otsego, a lake so clear and still that writer James Fenimore Cooper dubbed it Glimmerglass. You can tee off around (and over) the water at the historic Leatherstocking Golf Course. Then walk over to the Fire Bar at the Otesaga Resort Hotel for lakefront cocktails and small plates. It's worth touring the hotel, a tribute to turn-of-the-past-century resort elegance. For the ultimate in relaxation, settle down in one of the rocking chairs on the Otesaga's veranda.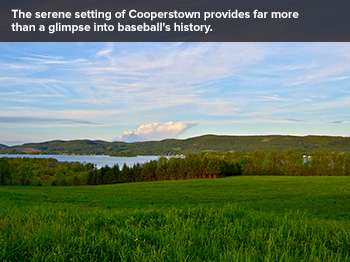 CULTURAL COOPERSTOWN
If you'd rather examine a painting than a batting average, you're in luck. The Fenimore Art Museum may be small, but its exhibits are focused. The result is, you may learn more about Maxfield Parrish than you would at a museum three times as large. Be sure to go around the museum or cut through the café to visit the terraced gardens, on the banks of the Otsego. And the permanent collection of James Fenimore Cooper is a must for literati and history lovers.
Across the street is the equally captivating Farmers' Museum. Take your time wandering through the Historic Village, which is composed of late-18th- and early-19th-century structures and complete with period actors. If you're looking for souvenirs, Todd's General Store is bursting with local goods, like beeswax hand cream, old-fashioned candy and patterned hatboxes. At the end of the village is the Lippitt Farmstead, where you can pet the lambs.
This year (2015) marks the 40th anniversary of the Glimmerglass Festival, Cooperstown's renowned opera festival. Every summer, three operas and one musical are performed in rotation, so you can see all four shows in one visit. If you're attending an evening performance, take advantage of the pre-theater dinner special at the Otesaga's Glimmerglass restaurant. The coffee-rubbed rack of lamb and slow-roasted prime rib are particularly mouthwatering. Afterward a shuttle will take you to the show.
WITH A TWIST
Three breweries, two wineries, a cider mill and a distillery are revealing a fresh side of Cooperstown. And thanks to the recently opened Cooperstown Beverage Exchange (a tasting room by day and cocktail lounge by night), you can try the output of all seven right in the center of town. Still, it's worth visiting the sources of your favorites. Take a grain-to-bottle tour of the facilities at the Cooperstown Distillery, which in less than two years has been recognized nationwide for its handcrafted artisanal spirits. Of particular note is the Fenimore gin, flavored with New York State lilacs.
Cooperstown's booming beer scene is anchored by heavyweight Brewery Ommegang. You can schedule a free tour and a tasting of its Belgian-style beers and afterward dine on mussels and poutine in the café. Ommegang also puts on a summer concert series on the brewery grounds; in August the band Brand New is featured. August is also when the brewery's annual beer, food and music festival, Belgium Comes to Cooperstown, takes place.
Fly Creek Cider Mill & Orchard may have been founded in 1856, but you'll find more than traditional cider on tap. The real standout is the apple-and-black-currant wine slush, a tangy summertime treat. The water-powered mill also presses out ingredients for hard cider and apple wine. And don't leave town without a variety box of the mill's homemade fudge, which comes in flavors including pistachio and watermelon. It's a sweet reminder of Cooperstown itself: a classic treat with something for everyone.
The Details
Cooperstown Beverage Exchange: 73 Main St.; 607.282.4246;
Cooperstown Distillery: 11 Railroad Ave.; 607.282.4246; cooperstowndistillery.com
Doubleday Field: 1 Doubleday Ct.; 607.547.2270; doubledayfield.com
Farmers' Museum: 5775 State Rte. 80; 607.547.1450; farmersmuseum.org
Fenimore Art Museum: 5798 State Rte. 80; 607.547.1400; fenimoreartmuseum.org
Fire Bar: 60 Lake St.; 607.547.9931; otesaga.com Fly
Creek Cider Mill & Orchard: 288 Goose St., Fly Creek; 607.547.9692; flycreekcidermill.com
Glimmerglass: 60 Lake St.; 607.544.2519; otesaga.com
Glimmerglass Festival: Alice Busch Opera Theater, 7300 State Hwy. 80; 607.547.2255; glimmerglass.org
Leatherstocking Golf Course: 60 Lake St.; 607.544.1547; otesaga.com; green fees, from $70
National Baseball Hall of Fame and Museum: 25 Main St.; 888.425.5633; baseballhall.org
Brewery Ommegang: 656 County Hwy. 33; 607.544.1800; ommegang.com
NOTE: Information may have changed since publication. Please confirm key details before planning your trip.