Late night beach parties may be synonymous with the South Fork of Long Island, aka the Hamptons, but the working farms on the North Fork are a bucolic relief from New York City—and only 2 hours away. Along the road that winds through this 20-mile-long sliver of land, sleepy towns alternate with fields of lavender, rows of salad greens and vineyards full of Merlot, Cabernet, Chardonnay and Riesling grapes. In the more than 40 years since the first vines were planted here on an old potato farm, winemakers have learned to make award-winning wines from their fruit. That in turn has lured Manhattan chefs to this agriculturally rich community. It was only a matter of time before the gourmands followed.
IN AN OYSTER SHELL
The North Fork has long been a food destination—commercial fishing and shellfish cultivation date back to the mid-1800s. At its peak, 45,000 acres of oyster beds once filled Peconic and Gardiners bays, the bodies of water that separate Long Island's two fishtail forks. En route to the tip of the North Fork, once called Oysterponds and now known as Orient, a narrow causeway separates the sapphire blue Peconic from Long Island Sound. Today, more than 6,000 acres of oyster beds and millions of hatchery-grown scallops lead the recovery after a brown tide in the late 1980s wiped out the bivalves.
Farther east, Village Lane takes you into the heart of 19th-century Orient Village, a quaint, New-England-by-way-of-Norman-Rockwell neighborhood. The "business district" is comprised of an ice cream parlor, post office and a general store where a red-checker-clothed table is permanently reserved for "Earl." The town is one of the highlights on the drive to Orient Point, which ends rather anticlimactically at the ferry terminal for Connecticut. For years, this boat was the main reason travelers drove to, or through, the North Fork. Now, there are many more enticements to stay, from nearly a dozen golf courses to the upscale shops at Tanger Outlets in Riverhead. But the most popular activity by far is wine tasting.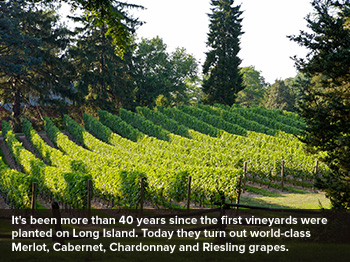 ON THE VINE
The North Fork's wine-growing region is relatively small—only 3,000 acres of vineyards, compared to Napa's 45,000. Still, with 38 wineries open to the public, the problem is not overfilling your weekend. Many are modestly sized estate producers, making wine entirely from their own grapes. Each has a character all its own, like the family-run Pugliese Vineyards in Cutchogue. Pugliese's crisp, sparkling Blanc de Blanc was practically made to be popped outdoors—preferably at a table beside their tranquil pond.
Farther east on Route 25, the Main Road, is Bedell Cellars. Sip one of its impressive blends, like the Taste White, while sitting on the elegant back porch overlooking the 35-acre vineyard. Down the road in Peconic, the rustic-chic tasting room at Lenz doesn't offer a view, but wines like its Gewurztraminer—made from some of the oldest vines on the island—are worth the stop.
Sample the products from 6 boutique wineries at the Tasting Room in Peconic, an old-world-style cellar with antique corkscrews framed on the wall. The proprietor of the Tasting Room also owns one of the wineries represented here, Comtesse Thérèse.
Such bounty illustrates the growing sophistication of North Fork wines, be they classic, French-style syrahs, dry rosés or complex merlots, a much-maligned grape that thrives here. Unlike California, where a year-round dry, sunny climate produces big-bodied wines, the North Fork has a cooler maritime climate. It's often compared to that of Bordeaux, and as such it yields more subtle, food-friendly wines.
Even chardonnays here differ from their big, oaky, California counterparts. Sherwood House, one of the labels served at the Tasting Room, makes both elegant chardonnays and award-winning merlots. In summer, the husband-and-wife owners take turns pouring in an 8-by-12-foot shed (Elijah's Lane, north of Rte. 48) in the middle of their Mattituck vineyard. Visitors have been known to linger past tasting-room hours, particularly on Saturdays and Sundays when open bottles must be finished. 
Next door at Shinn Estate Vineyards is another husband-and-wife team: Barbara Shinn and David Page. After meeting in San Francisco, the two moved to New York City to open a series of successful restaurants in Manhattan's West Village (most notably, Home). Initially they commissioned Ron Goerler of Jamesport Vineyards to custom-blend their line of Home wines. Then they decided to trade the restaurant business for winemaking. Their first vintage, a 2002 merlot, was rated the best of 25 Long Island reds by the New York Times, and they continue to impress with creative blends like Wild Boar Doe.
Together with nearby Macari Vineyards, Shinn Estate is also one of the few Long Island wineries that's almost entirely chemical-free. On weekend afternoons, Shinn leads visitors from her rustic tasting room on a tour of the 22-acre organic vineyard. Everyone told her, she says, that she'd be lucky if she could make her vineyard 2% sustainable. "We're 98 percent," she announces with a grin. Clearly, she's in her element here, as is Page, who now cooks only for guests of their 4-room B&B, Shinn Estate Farmhouse.
FARM TO PLATE
Unlike the wineries, which have had four decades to mature, the North Fork food scene is still developing. By many accounts, its first leap into fine dining began in 2002 with Greenport's Frisky Oyster. After September 11, two Manhattan caterers who lived near Ground Zero moved most of their business to this waterfront town. Their "downtown"-style restaurant's emphasis on fresh ingredients, wine and designer cocktails (plus its funky red floral wall panels) made the place stand out. But soon the Frisky Oyster was joined by other contemporary restaurants like Scrimshaw in Greenport and Port Jefferson's The Fifth Season.
Two other restaurants helped heat up the scene. The first, North Fork Table & Inn in Southold, is a two-couple partnership between chef Gerry Hayden, pastry chef Claudia Fleming, and managers Mike and Mary Mraz—all veterans of top New York City restaurants (Gramercy Tavern, Aureole, Hearth). Though the newcomers are technically transplants, no one's upset that they've brought a Manhattan-caliber restaurant to what is still a very un-Hamptons community. As Fleming says, "It's an untapped resource out here. There's pristine seafood, amazing produce and wines that get better every year. And you don't have to be a millionaire to live here."
You'll feel like one, though, if you order North Fork Table's tasting menu. You might savor an exquisite butter-poached lobster, a dish that originated at French Laundry in Napa, followed by an ultra-tender slice of Wagyu beef with earthy wild mushrooms.
The second top-notch restaurant, Jedediah's, occupies a beautifully restored, 1863 Victorian inn in Jamesport. It's run by seasoned Long Island chefs Tom Schaudel and Michael Ross, known for creative preparations of fish, like black sea bass with morels, clams and chorizo.
Being so close to the water, it would be a shame not to dine at a restaurant with a view. The Old Mill Inn is an excellent place for a burger on the deck, overlooking the lazy, verdant Mattituck estuary. Or try the Seafood Barge in Southold for fresh oysters from Peconic Bay—which sparkles just outside the panoramic windows. Two doors down, at old-school Pepi's, the fare is traditional American Italian, and you can practically see the fish swimming from the back patio. 
BACK TO THE LAND
This being farm-stand country, you're never far from fresh produce. Sang Lee Farms has been in owner Fred Lee's family for nearly 70 years. But the prepared foods he and his wife Karen sell at their organic farmstand are anything but traditional. Fresh baby greens are labeled "Fresh-Lee-Cut," and crudités like mini-bok choy are delicious served with ginger-scallion dip.
At Briermere Farms, tour buses fill the parking lot for its fresh fruit pies. Escape the crowds and still satisfy your sweet tooth atPeconic Baking Co. Also off the tour-bus route is Mattituck's Love Lane Kitchen, a bright, wainscoted breakfast-through-dinner spot known for its cigar-shaped Cuban sandwiches. Across the street at the Village Cheese Shop, prepared cheese plates are the perfect to-go food for winery hopping.
One item sold here is Catapano Dairy Farm goat cheese, an award-winning chèvre made 10 miles away. Visitors can stop by the solar-powered farm to milk the goats. When roadside signs everywhere beckon you to eat fresh cheese, sample wine or pick strawberries, it's hard not to get your hands dirty.
The Details
Tanger Outlets: 631-369-2732; tangeroutlet.com
Pugliese Vineyards: 34515 Main Rd., 631-734-4057; pugliesevineyards.com
Bedell Cellars: 631-734-7537; bedellcellars.com
Lenz: 631-734-6010; lenzwine.com
Macari Vineyards: 150 Bergen Ave.; 631-298-0100
Frisky Oyster: 27 Front St.; 631-477-4265; thefriskyoyster.com
Scrimshaw in Greenport: 631-477-8882; scrimshawrestaurant.com 
The Fifth Season: 631-477-8500; thefifth-season.com
Old Mill Inn: 5775 W. Mill Rd.; 631-298-8080; theoldmillinn.net
Seafood Barge: 62980 Main Rd.; 631-765-3010
Pepi's: 631-765-6373
Sang Lee Farms: 25180 County Rd. 48; 631-734-7001
Briermere Farms: 4414 Sound Ave., Riverhead; 631-722-3931; briermere.com
Peconic Baking Co.: 303 Osborne Ave., Riverhead; 631-591-2931; peconicbakingcompany.com 
Village Cheese Shop: 631-298-8556; thevillagecheeseshop.com
Catapano Dairy Farm: 33705 North Rd.; 631-765-8042; catapanodairyfarm.com
NOTE: Information may have changed since publication. Please confirm key details before planning your trip.