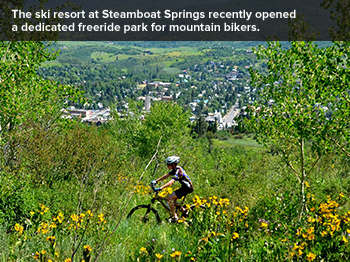 The Yampa River swirls around Paul Russell's waders as he stares at a mucky stick he's just plucked from the water, with tiny larvae clinging to it. "See?" he says, offering a look. "This is a sign of a healthy trout stream. This river is full of life."
"Full of life" aptly describes the town 10 miles downstream, too. Tucked up against the western slope of the Continental Divide, 150 miles northwest of Denver, Steamboat Springs is best known as a winter sports town, home to the Steamboat Ski Resort and dozens of winter Olympians.
Yet at an elevation of 6,700 feet, Steamboat is equally lively in summer and fall, when its dry-as-ranch-dust snow is replaced with a sunny, cool mountain climate that's idyllic for an outdoorsy getaway. In a single weekend, you can fly-fish mountain streams, horseback-ride across rolling ranchlands, hike through wildflower meadows and aspen glades, mountain bike on a growing network of single-track, browse a downtown lined with boxy Western storefronts, and finish it off with a soothing soak in one of the town's steaming natural hot springs.
COWBOY CULTURE
Long before it was a sports town, Steamboat Springs was a ranch town. Along with multimillion-dollar vacation homes, working ranches occupy much of the Yampa Valley—thousands of acres dotted with beef cattle and bus-sized hay bales. The cattle dogs you'll see in the back of muddy pickups really do herd, and the cowboy hats worn in town—some of them, anyway—are the real deal, too.
The 10-block-long downtown still reflects Steamboat's cowboy roots. Ranch supply stores sit alongside bike shops, boutiques and wine bars on the main artery, Lincoln Avenue. Foremost among them is F.M. Light and Sons, a century-old dry goods store where shoppers can browse the 2,000 pairs of cowboy boots, stop by the Hat Services counter and pick up a handbag with a built-in gun holster.
To sample cowboy culture yourself, take a horseback ride at Del's Triangle Three Ranch, in the Elk River Valley a half hour north of Steamboat Springs. Guides lead half- and full-day rides over sage-covered slopes and through the hills, keeping an eye out for the elk herds that often gather on the property. Come fall, blooming fields of yarrow and mule's ear daisy give way to blazing yellow aspens. At this time of year, the elk put on their own show, as the males bugle loudly for female attention.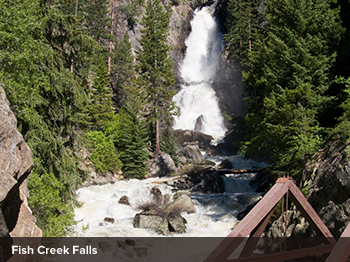 TAKE TO THE TRAILS
For those who want to hoof it in hiking boots, trails abound. Four miles from town, an easy quarter-mile route leads to Fish Creek Falls, descending 283 feet into a deep rocky seam. Paths continue to Upper Fish Creek Falls and five miles south to Lost Lake. Also near town, the Spring Creek Trail climbs gently for five miles through a broad canyon glowing gold with ferns and aspens. The surrounding Medicine Bow–Routt National Forest offers a dizzying array of options for long day hikes.
On a mountain bike you can cover even more terrain. Locals flock to the trails on Emerald Mountain, which rises up from the southwest side of downtown, and the 50 miles of trails at the Steamboat ski area, accessible with leg power or by gondola. Explore the ski area's trail network or leave its boundary to connect with a web of national forest trails.
This fall, Steamboat's ski area plans to open a dedicated freeride park for mountain bikers: one-way downhill trails with banked turns, jumps, stunts and other action-packed features. The idea was pioneered by British Columbia's Whistler Blackcomb, and it's been such a success that it has spread to mountain communities throughout North America.

STEAMING SPRINGS
A cloud of fog and the tang of sulfur hang over Lincoln Park at the edge of downtown, where several of the region's natural hot springs gurgle out of rock fissures and ponds. When early trappers came upon a nearby spring on the Yampa River's western bank, they thought that the funny chugging sound it made resembled a steamboat whistle—which is how this landlocked town got its unlikely name. (Alas, construction of the railroad silenced the spring years ago.)
After a day on the trails, a visit to one of Steamboat's hot springs provides the perfect remedy for weary muscles. You'll find two decidedly different options for a public soak. The Old Town Hot Springs right downtown offers eight man-made swimming pools fed by hot mineral springs and open year-round. Also part of the facility: waterslides and a fitness center with a range of exercise classes.
On the more rustic end of the scale, Strawberry Park Hot Springs lies in the woods, eight miles from town (including three miles on a rutted dirt road). Steamy 147-degree water trickles down a hillside into a series of stone masonry pools, where it's cooled with creek water to about 105 degrees. For the complete experience, take at least one plunge into the cold-water creek. Though it's not the freewheeling flower-child scene found at many hot springs, Strawberry Park is clothing optional and adults only after dark.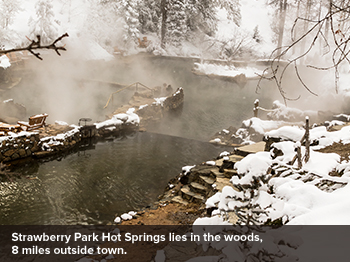 CAST AWAY
Hot springs may be Steamboat's identity, but the Yampa River feels like its lifeblood. Starting from modest streams high in the Flat Tops Wilderness, the Yampa grows into a broad river that flows right through town, just a block south of Lincoln Avenue. The seven-mile Yampa River Core Trail weaves along its banks, busy with runners, bicycling kids and stroller-pushing moms. Kayakers play in its waves, while inner tubers float past waterfront restaurants. Anglers enjoy several miles of public access, casting for rainbow and brown trout.
Outfitters like Steamboat Flyfisher can offer even more, accompanying you to private stretches of river that run through ranchland south of town. Here the Yampa instantly feels wild, framed by red dogwoods and golden willows, flowing cold and clear the color of single-malt scotch. "They say the Yampa has 1,200 fish per mile," says Steamboat Flyfisher guide Paul Russell, who is just the guy to help you find them.
Casting a fly rod here is an utterly peaceful way to spend a morning. You're serenaded by the gurgle of the water, the trill of blackbirds and the distant mutters and moos of ranch animals. You mend your line just so and watch it unfurl downstream, mesmerized, as you wait for the almost imperceptible tug of a rainbow. If you react in time, Paul will soon have it cradled in the net, glowing in pinks and golds, gaudy as a Western sunset. Then with a twitch of its tail, it's gone again—swift, strong and full of life.
THE DETAILS
F.M. Light and Sons: 830 Lincoln Ave.; 970-879-1822
Del's Triangle Three Ranch: 55675 County Road 62, Clark, CO 80428; 970-879-3495
Strawberry Park Hot Springs: 44200 County Road #36 Steamboat Springs, CO 80487; 970-879-0342
NOTE: Information may have changed since publication. Please confirm key details before planning your trip.