Whatever you're looking to get out of a winter ski trip, there's a Colorado ski resort for you. Couples are discovering Wolf Creek in Pagosa Springs, where they can enjoy hot springs and balloon rides. Families will love Steamboat Springs, with its terrific kids' programs. And Vail is the perfect choice for a girls' or guys' trip, as it offers challenging skiing, great shopping and dining, and a lively après-ski scene.
FOR COUPLES: PAGOSA SPRINGS
Steaming like a stovetop kettle, a curtain of 107-degree spring water pours off a rock wall and onto your ski-weary shoulders, pummeling you into pure bliss. The waters bubble up from hundreds of feet below the Colorado bedrock, the deepest known hot springs in the world. That's just one of the natural wonders of Pagosa Springs, tucked in a 7,000-foot-high valley an hour east of Durango. This pocket of southern Colorado consistently receives the most snow in this very snowy state, a meteorological gift that falls heavily on nearby Wolf Creek Ski Area. With the deepest snow and the deepest hot springs, it's a decadent winter getaway.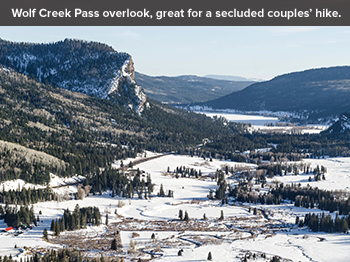 Pagosa Springs is a handsome ranching town ringed by the chiseled San Juan Mountains. Rather than chic boutiques, businesses here are Western to the core: Shop for cowboy boots at Goodman's Department Store, a Western-wear and horse-tack company now run by the founder's great-great-granddaughter. Old saddles, buffalo hides, railroad hardware and other authentic Western memorabilia abound at Memory Lane. Handcrafted Interiors specializes in rustic but elegant furnishings such as antler chandeliers.
Wolf Creek Ski Area sits atop the Continental Divide at a base elevation of 10,300 feet. To get there from town, follow U.S. 160 northeast 30 miles, past frozen blue waterfalls and bighorn sheep. Wolf Creek's handful of chairlifts prowl quietly up from a few day lodges into the spruces and the snowy cirque above. On the right side, gentle groomed runs flow down. To the left, the terrain gets more challenging; this is where advanced skiers drop into steep open bowls and weave through powder-filled forest.
Couples take advantage of the reliable snow to sample other winter sports, too. Snap into Nordic skis to explore cross-country trail networks such as Coyote Hill, with great views of Pagosa Peak. Wolf Creek Snowmobile Tours leads rides into the San Juan National Forest. You can steer a 2-person sled right out of civilization and into the beautiful snow-coated backcountry, with views of ragged peaks off one side of the trail and grand panoramas of the valley off the other. 
Before anyone came to Pagosa Springs for outdoor sports, they were coming here to soak in the waters. At the Springs Resort & Spa, water gurgles out of misshapen domes of mineral deposits and then flows over waterfalls to drop into a series of 23 hot pools, ranging from 83 to 114 degrees. Come evening, the outdoor pools provide the perfect counterpoint to plummeting air temperatures. Soon the Western sky twists into a gaudy orange, and then it slowly fades to inky blue, awash in a million stars.
Wolf Creek Ski Area
1.800.754.9653; wolfcreekski.com
Pagosa Springs
1.800.252.2204; visitpagosasprings.com
FOR FAMILIES: STEAMBOAT SPRINGS
A simple red wagon. That's the kind of little extra that makes Steamboat Ski Resort a hit with families. Too much stuff to schlep to the lift? Load the boots and mittens into one of the wagons that Steamboat places around the base area.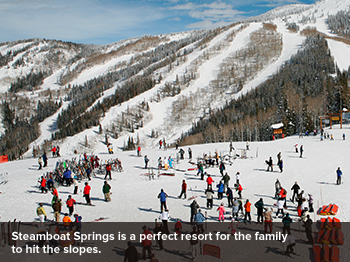 Such thoughtfulness is typical of this well-run destination resort, which lies 3 hours northwest of Denver. Steamboat consistently wins awards for its lessons and daycare programs, its clever Steamboat Mountain Watch (which keeps track of kids wearing radio frequency emitters) and its pricing, where one child skis free with each parent's purchase.  
The terrain is also suited to families. Gentle slopes for youths and beginners wend down the flanks of 10,568-foot Mount Werner. But Steamboat also ups the ante with top-to-bottom mogul runs, glades that hide the famed powder stashes, and a huge terrain park and half-pipe. And the well-designed lift network means families can switch sides on the mountain with minimal effort. 
The resort village at the base offers ample lodging and dining. But the real Steamboat lies 3 miles down the road, accessible by free shuttle buses. The boxy, century-old buildings on Lincoln Avenue are filled with locally owned restaurants and kid-centric shops like the clothing store Dragonflies.  
Meet real cowboys at Del's Triangle 3 Ranch, where children as young as 6 can take winter horseback rides through the snow-coated woods. Saddleback Ranch runs horse-drawn sleigh rides to dinner at a private lodge. The kids will learn a few calf-roping skills and you'll glide across moonlit snows under the stars.
Steamboat Ski Resort
1.970.879.6111; steamboat.com
Steamboat Springs Chamber Resort Association 
1.970.879.0880; steamboat-chamber.com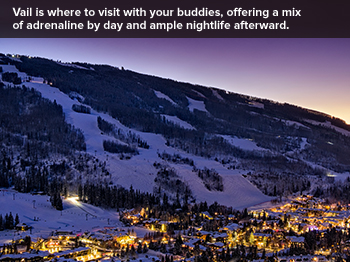 FOR BUDDY TRIPS: VAIL 
Girlfriend getaways and "mancations" may be big travel trends, but let's face it: Organizing a trip that appeals to a range of tastes, interests, athletic skills and sleeping habits can be a challenge. 
Unless you go to Vail. Two hours west of Denver, Vail Mountain Resort stretches for miles, just south of Interstate 70, with more than 5,200 acres of skiing and a maze of 31 lifts. It can dish out whatever you and your friends are after, from its string of immense sun-drenched Back Bowls to the peaceful, almost backcountry vibe of woodsy Blue Sky Basin.
Vail's ski school can buff up everyone's skills. It offers specialty programs like "Heli Prep" to ready your gang for next season's helicopter ski vacation, and women-only "Her Turn" clinics that are taught by female coaches. The mid-mountain Adventure Ridge complex adds more snowy entertainment, with snowshoe tours, ski biking and lift-served, lighted tubing runs. 
The base village is a fine match for the mountain, in size and diversity. Your group can round out a day on the slopes with an evening doing, well, just about anything. Vail Village is a warren of cobbled pedestrian streets and Bavarian façades filled with boutiques, celebrity-chef restaurants, nightclubs and spas. 
Vail shines in après-ski, with classic sundeck scenes like Garfinkel's, overlooking the action, and happy hour at the upscale Larkspur, a smart way to try a top table without breaking the budget. Or chill out at a spa: Especially high marks go to the Lodge & Spa at Cordillera and the Spa at the Four Seasons, whose "brew and renew" treatments appeal to guys. 
Shopping is a sport all its own in Vail. You can melt your credit card at high-end mainstays like the Golden Bear and Gorsuch, along with such newer fashion offerings as Perch Vail and Luca Bruno. 
Vail prides itself on its competitive dining scene, where visitors are the biggest winners. The latest challengers include a who's who of celebrity chefs (Kelly Liken and Nobu Matsuhisa) and new favorites like Mountain Standard, on Gore Creek. And no matter what your group's tastes, you can't go wrong with a dinner at the Game Creek Club. Your multi-course meal comes with a scenic tour: the chalet-style restaurant sits halfway up Vail Mountain, and is accessible only by gondola and snowcat.  
After dinner, ask your server—who's almost sure to be a local-in-the-know—where you should go to experience the best in Vail's ever-changing nightlife scene. If you still have the energy, more power to you!  
Vail Mountain Resort
1.800.805.2457; vail.com
Vail Valley Partnership
visitvailvalley.com
NOTE: Information may have changed since publication. Please confirm key details before planning your trip.