"I call them legacy moments," says Tanya Miller, explaining the sense of awe she sees in her clients when they're hiking in the Colorado high country. "When I watch people experience nature here, I see the wonder in their eyes. It becomes an emotional touchstone—a feeling that percolates back into their everyday lives whenever they think of this place."
Miller, owner of TrailWise Guides, offers custom guided hikes and other outdoor adventures in the mountains around Vail. "Many people who come to enjoy the resorts in winter have no idea of the vast natural beauty here," she notes. "Colorado has thousands of acres of public land. Five minutes from Vail, you can be immersed in total wilderness."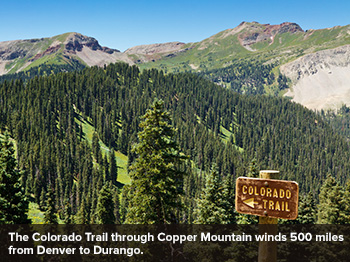 And right now, the powdery ski slopes in central Colorado around Vail, Copper Mountain and Winter Park have morphed into rushing mountain streams and technicolor wildflower meadows. Go and enjoy the best of both worlds: Surround yourself with alpine beauty on day hikes, then return to a town full of amenities. 
These spots all offer great dining and lodging, and outdoor activities beyond hiking, like designer golf and mountain-bike parks. Sometimes the ski lifts will even give you a jump start on those great mountain views—and some legacy moments of your own.
VAIL AND AVON
Difficulty: Easy 
From the Lionshead base area, soar up Vail Mountain in the Eagle Bahn Gondola to Adventure Ridge, Vail's mid-mountain playground with disc golf and a climbing wall. From this 10,000-foot perch, pick up the Eagles Loop, a mile-long trail along a ridgetop with views of the Mount of the Holy Cross, one of Colorado's famed "fourteeners" (14,000-foot-plus peaks). More challenging trails also depart from Adventure Ridge.
Difficulty: Moderate 
The Gore Creek Trail shows off the wild side of this waterway: Swollen with snowmelt, it crashes and tumbles over a series of small waterfalls. The 12-mile out-and-back trail leads to one of the area's best wildflower shows, with bluebells, monkshood, primrose and Colorado's state flower, the columbine, filling the meadows in July and early August.
To reach the trailhead: Take I-70 to East Vail (exit 180). Follow Bighorn Road southeast 2.3 miles to a parking area. (Park at the trailhead, not the nearby campground.)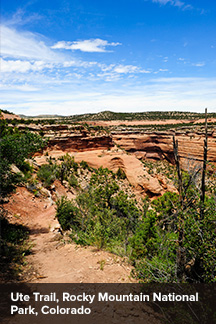 Difficulty: Hard 
On the 12-mile Lake Charles Trail, you'll encounter a cross-section of Colorado beauty—wildflower meadows, wetlands spiked with willows, and postcard-perfect high mountain lakes. The trail climbs (mostly gradually, with a few steeper pitches) along East Brush Creek, weaving through aspen groves, then pine and fir forests. Lake Charles lies about 4.4 miles up the trail, glimmering blue below a gunmetal-gray cirque. If time and energy allow, keep hiking another hour or so to reach Mystic Island Lake, which is ringed with 13,000-foot peaks. 
To reach the trailhead: Take I-70 to Eagle (exit 147). Turn left on Capitol Street, then left again on Brush Creek Road. Follow Brush Creek Road for 10 miles, then turn left onto East Brush Creek Road (Forest Road 415) for another 6 miles. The trailhead and parking are just beyond a Forest Service campground.
Hiking Resources 
TrailWise Guides leads backcountry hikes. 1.970.827.5363; trailwiseguides.com
COPPER MOUNTAIN AND FRISCO
Difficulty: Easy 
Sample a segment of the Colorado Trail, a 500-mile route that passes through Copper Mountain as it winds from Denver to Durango. Just outside Copper's Center Village, pick up the trail eastward. It gently rises through sun-dappled forest and meadows. Hike as far as you like, and return the same way.
To reach the trailhead: This trail is easily found in Copper Mountain, as it passes right through. 
Difficulty: Moderate 
Get a jump start on some serious elevation gain with a ride up Copper Mountain on its American Eagle chairlift. From the top, follow the service road 2 miles up to the Alpine Overlook (elevation 12,000 feet). Where the trail splits, head west (right) to Union Bowlto marvel at the Ten Mile, Gore and Sawatch Ranges. 
To reach the trailhead: Take the American Eagle lift from Copper Mountain's Center Village and follow the directions above. 
Difficulty: Hard 
In nearby Frisco, the Mount Royal Trail begins off a paved bike path, the route of a 19th-century narrow-gauge railroad that served the area's numerous gold and silver mines. The trail skirts the abandoned mining camp of Masontown (avalanches and time have all but done away with its old cabins), climbs steadily through shimmering aspens, then splits right toward Mount Royal. The reward for your trudge to the top: Frisco spread out below like a miniature-train town, Lake Dillon shining in the sun and grand views of Ten Mile Canyon and the Continental Divide. This is a 3-mile hike, round-trip. 
To reach the trailhead: Take I-70 to Frisco (exit 201). Turn east on Main Street to the bikeway parking area. Walk the bike path south (toward Breckenridge) for about half a mile to the Mount Royal trailhead.
Hiking Resources 
Get more information on area trails at the Copper Mountain Resort Association Information Center in Center Village.
WINTER PARK AND GRANBY
Difficulty: Easy 
Several trails spin off Trail Ridge Road (U.S. Hwy. 34), the stunning high-alpine drive that runs through Rocky Mountain National Park from Grand Lake to Estes Park. Sightings of elk here are common. See fragile above-tree-line tundra on the Ute Trail, which rambles along a rocky ridge in the heart of the park.
To reach the trailhead: Look for a small parking area and trail sign where Trail Ridge Road crests Milner Pass, 18.6 miles north of Grand Lake.
Difficulty: Moderate 
Soak up high-alpine views of snow-crusted cornices and lush wildflower meadows on the Second Creek Trail, a 3-mile out-and-back route near the Continental Divide at an altitude of 11,000-plus feet. This is known more as a snowshoe and backcountry ski trail; you may have it all to yourself in summer.
To reach the trailhead: From the summit of Berthoud Pass on U.S. Hwy. 40, drive 3.1 miles north to a parking area on the outside of a switchback.
Difficulty: Hard 
Named for a precarious rock outcropping on the Continental Divide, the Devil's Thumb Trail entertains you with a rushing creek and mountain meadows as it leads 6 miles uphill to Devil's Thumb Lake, nestled in a rocky bowl beneath the Divide. Ambitious hikers can continue around the south side of the lake and up to the Devil's Thumb itself for dazzling views (and dramatic dropoffs) stretching into the Front Range. 
To reach the trailhead: From U.S. 40 at Fraser, follow County Road 8 east 5 miles to Forest Road 128. Take 128 north 2 miles and turn right to reach the Devil's Thumb Park trailhead.
Hiking Resources
For maps, stop by the Winter Park–Fraser Valley Chamber of Commerce Visitor Center in Winter Park. 78841 U.S. Hwy. 40; 1.800.903.7275; playwinterpark.com
NOTE: Information may have changed since publication. Please confirm key details before planning your trip.