What is an All-Inclusive resort?
An All-Inclusive resort is a resort that typically includes a variety of services and amenities, including meals, drinks and resort activities, in the price of the stay. Many resorts also offer all-inclusive packages, where you pay a set amount per stay which includes various amenities such as meals, drinks, resort activities, etc.
Why stay at an All-Inclusive resort?
All-Inclusive resorts or packages offer a combination of great value and impressive amenities, for you and your family to enjoy. They also offer peace of mind: pay one price and almost everything is included!
* Each particular resort offers its own unique services and amenities, including many of the following:
All meals and snacks: Generous buffets, full-service restaurants, à la carte dining, snack bars and more.
Unlimited beverages: Soda, juice, and may even include alcohol.
Resort activities: Pools, beaches, snorkeling, windsurfing boards, etc.
Hotel transfers: Transportation to/from the airport.
Children's activities: Kids' clubs and/or children's planned activities.
* Amenities may vary by Resort, please check with RCI or the resort for details.
How do I choose the All-Inclusive resort that's right for me?
Do you like the beach? Are you looking for some R&R? What about nightlife? First think about the vacation experience you really want and then you can begin to narrow down resorts by their offerings. Remember, each particular resort will offer its own unique mix of products and services.
Here are some tips:
Look for the activities that are included … or NOT included
Check dining options – casual, upscale, do they require reservations, how early do the resort's restaurants open and how late do they stay open
Find out if taxes are included
Is the resort kid-friendly?
Is the resort for adults only?
Ask about a tipping policy for resort staff – they can vary greatly by resort and/or by country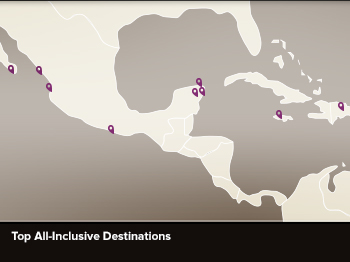 Where are All-Inclusive vacations usually available?
All-Inclusive resorts are common throughout Mexico, the Caribbean and in South and Central America.
Popular destinations include Riviera Maya, Los Cabos and the Vallarta area in Mexico, Punta Cana in the Dominican Republic and Jamaica's Montego Bay. You'll also find many resorts offering all-inclusive stays throughout Brazil and in Guanacaste, Costa Rica.
NOTE: Information may have changed since publication. Please confirm key details before planning your trip.