Winter may still be months off, but the Town Lift on Park City's Main Street hums around a bull wheel, scoops up waiting hikers and whisks them up the slopes of Park City Mountain Resort.
This resort town, only 30 miles from Salt Lake City, hums too, come September. The family summer vacationers and half-time home owners have mostly departed; the skiers and Sundance Film Festival–goers have yet to invade. You can usually score reservations at the most talked-about tables in town. And the weather is as dazzling as the brilliant yellow aspens blanketing the Wasatch Range.
Now is the time to savor what Park City does better than anywhere else: pairing outdoor pursuits and a charming town full of world-class amenities.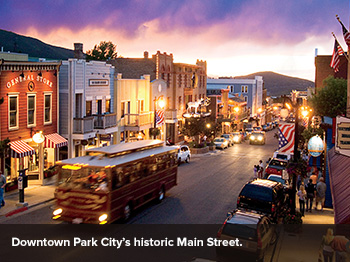 PARK CITY RICHES
A century before visitors flocked to Park City for the snow on the mountains, they came for what was being discovered inside them. Beginning in the late 1860s, miners hammered millions of dollars' worth of silver out of the surrounding canyons. Mining fueled a bawdy boomtown filled with gambling halls and saloons, much to the horror of Utah's more conservative surrounding communities.
The industry had pretty much disappeared by the 1960s, when Park City reinvented itself as a ski resort and dusted off its historic downtown. But the city never lost its rowdy, irreverent soul. It has since grown into a four-season destination: an easy-to-reach mountain getaway known for its outdoor recreation and enticing Old Town, now a mother lode of top-notch restaurants, shops and galleries.
About six blocks long and a couple of blocks wide, downtown is meant for meandering. (If the hilly streets and altitude get you huffing, you can always hop aboard the free trolley that prowls Main Street.) Eclectic is what Park City does best, thanks to largely locally owned shops. Mountain Body mixes all-natural balms and cleansers, including scrubs made with mineral salts from the Great Salt Lake. At Burns Cowboy Shop, a sixth-generation family business, splurge-worthy hand-sewn boots line the walls like artwork. Small-batch rye whiskey and other award-winning spirits flow freely at High West Distillery & Saloon, Utah's first legal still since 1870.
The Park City Museum does a terrific job of telling the town's story, offering fun interactive exhibits and multimedia presentations. Fire up a jackleg mining drill, wander through the original territorial jail, sit in the skier subway that once transported skiers to the slopes through an old mine tunnel, and belly up to a bar to learn about the early '70s clash between miners and newly arriving hippie skiers.
As you wander downtown, pickax plaques on several buildings teach additional history. Look out for Banksy murals, too, which the British graffiti artist painted while in Park City for the 2010 Sundance Film Festival. You can spot one on the south wall of Java Cow Café & Bakery.
Restaurant menus will no doubt also catch your eye as you stroll along. Park City is no slouch in the dining department, thanks to established eateries, such as Robert Redford's Zoom and Southwestern favorite Chimayo, as well as newcomers, like Fletcher's, which offers buzzy cocktails in its groovy Library Lounge.
If the options seem overwhelming, book an evening out with Park City Food Tours. Founder Shirin Spangenberg leads a group on a whirlwind three-hour grazing tour of downtown restaurants, liberally spicing the evening with local lore and info on points of interest.
TOWN TO TRAILS
West of downtown, you can shriek yourself silly through mid-October on Park City Mountain Resort's zip lines, alpine slides and alpine coaster. The PayDay lift runs daily ($13 a ride) during this time, so hikers can reach Park City's extensive trail network without having to first trudge up a mountain. (Sure, the locals walk up, but they're also accustomed to living at 7,000 feet.)
But it takes a mountain bike to give you a true taste of the vast terrain up high. Park City's trails extend from one end of the canyon to the other, encompassing three ski resorts—Park City, Deer Valley and Canyons—and 400 miles of signposted and maintained trails. The trail map covers a kitchen table.
Rent a bike from White Pine Touring, where you'll find that indispensable map ($5, also available from mountaintrails.org) and an amiable staff happy to direct you onto an appropriate path. The classic route is the Mid-Mountain Trail, which wanders along at about 8,000 feet, dipping and climbing for 22 miles through aspens and along high ridgelines. Mellower rides abound too, like the recreation trails that ramble all around town. Near White Pine Touring you can also pick up the Historic Union Pacific Rail Trail and set off into the sage-covered countryside.
If you need to soothe your tired muscles, Park City has the spas to do it. At Main & Sky Hotel's Sugati Spa & Wellness, Japanese deep soaking tubs will start working their magic right away. Red Flower rituals, inspired by Turkish and Japanese bathhouses, buff and knead you into bliss with a menu of bio-friendly products. You can begin with a scrub made from coffee beans and olive pits, and follow that with a soothing butter of tangerine and fig.
HIGH COUNTRY DRIVE
Autumn splendor unfolds outside Park City, where quiet highways lead through valleys and alpine passes. Head south on U.S. Route 40/189 toward Midway for a guided horseback ride at Soldier Hollow, the Nordic-ski venue for the 2002 Olympics. Some rides hoof it up to the Crow's Nest for a look at Mount Timpanogos, one of the highest peaks in the Wasatch.
For a scenic return route, follow Pine Canyon Road north toward Wasatch Mountain State Park. A gravel-and-dirt road winds along a high mountain spine through a riot of scarlet mountain maple and yellow aspen.
When the road forks (in about seven miles), you're near the roof of the Wasatch. Go left toward Guardsman Pass (elevation 9,700 feet) for views west down into Big Cottonwood Canyon and the Salt Lake Valley. Turn right to snake down the mountainside and enjoy a gaudy show of autumn colors. In less than five miles you'll roll back into Park City, a lure for wayward travelers for more than a century.
NOTE: Information may have changed since publication. Please confirm key details before planning your trip.