New Hampshire's White Mountains have always remained just a little bit wild. Starting at the past turn of the century, railroad lines chugged north, bringing the well-heeled residents of Boston, New York and beyond to gawk at their windswept peaks—visitors who left behind a string of stately hotels that today host ski families in the winter and carsful of leaf peepers in the fall. Serious hikers flock to the Whites as well, eager to tackle the range's 4,000-foot summits. With its dramatic landscapes and postcard-worthy Colonial towns, the North Country makes a great weekend getaway. Here are the top places to hike, eat and explore.
LINCOLN, NORTH WOODSTOCK & THE KANC
The 100-mile loop tour called the White Mountain Trail begins in the adjacent former logging towns of Lincoln and North Woodstock, the region's unofficial base for adventure. There's plenty to see at Clark's Trading Post, in Lincoln, a theme park run by the same family since the 1920s and famous for its trained-black-bear shows. Pemi Valley Moose Tours runs camplike three-hour bus expeditions in search of the Whites' most celebrated wild residents. Meanwhile, adrenaline seekers can head to Alpine Adventures to tackle one of three zip-line courses, which can reach 225 feet high, or strap in for an off-road tour in a custom Swiss Army Pinzgauer vehicle. Around the corner the Sunny Day Diner serves up home-style breakfast fare, like delicious banana-bread French toast.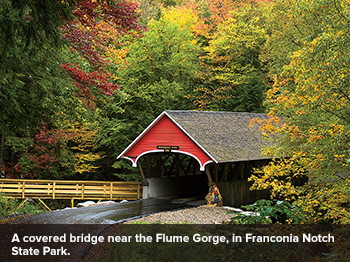 A short drive north up winding I-93 leads to Franconia Notch State Park and the heart of the North Country, where the rugged peaks of the Kinsman and Franconia ranges rise all around you. Stop off at the Gilman Visitor Center to make the short walk to the Flume gorge, a spectacular natural canyon at the base of Mount Liberty. One of New Hampshire's iconic 19th-century covered bridges is also nearby. Continue on to the Basin, a large granite bowl on the Pemigewasset River, and pay your respects to the remains of the Old Man of the Mountain, a natural rock formation that was immortalized by Nathaniel Hawthorne in several short stories long before its collapse, in 2003. For great views board the Cannon Mountain Aerial Tramway, enclosed cable cars that whisk passengers to Cannon's 4,080-foot summit, or stretch your legs on one of several Franconia Notch hikes, such as the 1.5-mile trail to the Bald Mountain summit and Artists Bluff, at the park's north end, which overlook Cannon Mountain and Echo Lake.
NORTH CONWAY
In the shadow of Mount Washington, the Northeast's highest peak, the village of North Conway (six miles from Conway) has been a year-round destination since the mid-19th century, when the works of the White Mountain landscape painters began drawing visitors to the area. This artistic tradition is still alive at the North Conway League of N.H. Craftsmen Gallery and pottery studio, which sells saggar pieces, silk scarves and more. Another highlight: Richard M. Plusch Fine Antiques, which has offered period furniture, paintings and clocks for nearly 50 years. Finally, pick up New England–made souvenirs and snacks at Zeb's General Store, stocked with goods like dill pickle popcorn, penny candy and old-fashioned lye soap.
Down the road the Mount Washington Observatory Weather Discovery Center is an interactive museum with hands-on exhibits about climate and weather, including a replica of a mountain observatory complete with roaring summit winds. Ready to refuel? The Met Coffee House & Fine Art Gallery serves house-roasted coffee and gelato, while heartier fare, such as smoked brisket empanadas and a craft-beer sampler, can be found uptown at the Moat Mountain Smoke House & Brewing Co. If you're itching to get back on the trails, the .6-mile hike to Diana's Baths, just outside town, culminates in a series of clear pools and burbling waterfalls.
CRAWFORD NOTCH TO BETHLEHEM
Hiking is in order in the Crawford Notch area. Picnic supplies and sandwiches (like Korean short ribs on focaccia with pickled daikon) can be purchased at the White Mountain Cider Company country store, in Bartlett. Continue on U.S. Route 302 West, which skirts the southern Presidential Range en route to Crawford Notch State Park. In the early fall, wildflowers surround the Appalachian Mountain Club's Highland Center Lodge, just north of the park. It's a convenient headquarters for exploring the Notch's extensive trail network. The AMC offers free flower-identification and astronomy walks from the property, as well as guided hikes. Another great option: the 2.6-mile round-trip excursion to Arethusa Falls, one of the highest waterfalls in the state, only 10 minutes from the lodge. The trail includes some steep and rocky sections before ascending through open hardwood forest on its journey to the 140-foot cascade.
While you're in the area, visit the sprawling Omni Mount Washington Resort, in Bretton Woods, for activities like horseback riding, mountain biking and rock-climbing tours. It took 250 master craftsmen to create this whitewashed example of Spanish Renaissance architecture, open since 1902. The hotel was later the site of the 1944 global conference that established the World Bank and International Monetary Fund. More history is on display at the Mount Washington Cog Railway; the three-hour guided ride in a vintage train coach to the summit of Mount Washington (6,288 feet) affords panoramic views of Maine, Vermont, Canada and the Atlantic Ocean. Continuing west, say good-bye to the White Mountain Trail before venturing on to Bethlehem, an antiquing hub and home of the 1,400-acre Rocks Estate, a seasonal Christmas-tree farm and conservation and education center. Its trails pass stone walls, beaver ponds and former apple orchards.
SUGAR HILL AND LITTLETON
In the tiny town of Sugar Hill, you can sample flapjacks with local maple syrup at Polly's Pancake Parlor, a James Beard America's Classics award winner and area institution for more than 75 years. Next head to the Sugar Hill Sampler, a gift shop and museum in a red barn on a 1790s family homestead that sells handmade candles and quilts. Over at the Sugar Hill Inn, the four-course prix fixe menu features comfort food, such as truffle macaroni and cheese, as well as pork belly and seared-scallop surf and turf, served in an elegant dining room.
Make a short detour just east of Sugar Hill to the Frost Place, the former home of poet Robert Frost, who lived there first in the summers, then full-time, from 1915 to 1920. Today the education center and museum features Frost's bed, a collection of handwritten letters and a short nature trail along which plaques display poems Frost composed during his time there.
Stop next at Littleton, whose Main Street, lined with quaint shops and restaurants, is quintessential New England. For lunch stroll to the River District, within sight of the town's 350-foot covered bridge. Here the eclectic Miller's Café & Bakery serves a Yankee Flip sandwich, made with pot roast, garlic potatoes and apples. Next door the Schilling Beer Company, in an 18th-century mill building, pours European-style ales. Back on Main Street you can pick up root-beer barrels and other treats at Chutters, a 19th-century shop that claims to have the world's longest candy counter. It's a sweet note on which to end your stay in the White Mountains—where you're never far from your next great view, meal or adventure.
THE DETAILS
Crawford Notch State Park: 1464 U.S. Rte. 302, Hart's Location; 603-374-2272; nhstateparks.org
Diana's Baths: North Conway; northconwaynh.com/dianas-baths
Franconia Notch State Park: 9 Franconia Notch Pkwy.; 603-745-8391; nhstateparks.org
Rocks Estate: 4 Christmas Lane, Bethlehem; 603-444-6228; therocks.org
Alpine Adventures: 41 Main St., Lincoln; 603-745-9911; alpinezipline.com
Cannon Mountain Aerial Tramway: Tramway Dr., Franconia; 603-823-8800; cannonmt.com
Clark's Trading Post: 110 Daniel Webster Hwy., Lincoln; 603-745-8913; clarkstradingpost.com
Frost Place: 158 Ridge Rd., Franconia; 603-823-5510; frostplace.org
Lost River Gorge & Boulder Caves: 1712 Lost River Rd., North Woodstock; 603-745-8031; findlostriver.com
Mount Washington Cog Railway: 3168 Base Station Rd., Marshfield Station; 603-278-5404; thecog.com
Mount Washington Observatory Weather Discovery Center: 2779 White Mountain Hwy., North Conway; 603-356-2137; mountwashington.org
Pemi Valley Moose Tours: 136 Main St., Lincoln; 603-745-2744; moosetoursnh.com
Miller's Café & Bakery: 16 Mills St., Littleton; 603-444-2146; millerscafeandbakery.com
Moat Mountain Smokehouse & Brewing Co.: 3378 White Mountain Hwy., North Conway; 603-356-6381; moatmountain.com
Polly's Pancake Parlor: 672 NH Rte. 117, Sugar Hill; 603-823-8849; pollyspancakeparlor.com
Sugar Hill Inn: 116 NH Rte. 117, Sugar Hill; 800-548-4748; sugarhillinn.com
Sunny Day Diner: U.S. Rte. 3, Lincoln; 603-745-4833
White Mountain Cider Company: 207 U.S. Rte. 302, Bartlett; 603-383-4414; ciderconh.com
Woodstock Inn, Station & Brewery: 135 Main St., North Woodstock; 603-745-3951; woodstockinnnh.com
Chutters: 43 Main St., Littleton; 603-444-5787; chutters.com
Met Coffee House & Fine Art Gallery: 2680 White Mountain Hwy., North Conway; 603-356-2332; metcoffeehouse.com
North Conway League of N.H. Craftsmen Gallery: 2526 White Mountain Hwy., North Conway; 603-356-2441; nhcrafts.org
Richard M. Plusch Fine Antiques: 2584 White Mountain Hwy., North Conway; 603-356-3333
Schilling Beer Company: 18 Mill St., Littleton; 603-444-4800; schillingbeer.com
Sugar Hill Sampler: 71 Sunset Hill Rd., Sugar Hill; 603-823-8478; sugarhillsampler.com
Zeb's General Store: 2675 White Mountain Hwy., North Conway; 800-676-9294; zebs.com
NOTE: Information may have changed since publication. Please confirm key details before planning your trip.