Some of the earliest visionaries of American skiing staked out the rocky, forested slopes of New Hampshire in the 1930s. They cut trails and installed rudimentary tows, and soon ski trains were bringing adventurous types north from Boston to tackle the icy slopes, take in the views and inhale the bracing mountain air. These days, thankfully, snowmakers and groomers have mostly tamed the infamous blue ice, but the views are just as inspiring and the air as invigorating. Look for the spirit of those first intrepid skiers on these Granite State slopes.
BEST FOR DAY TRIPS:
Mount Sunapee
Newbury, NH
mtsunapee.com
Boston skiers who want a big-mountain experience without a crack o' dawn departure head for Mount Sunapee, only 90 minutes away by car. Set on state-forest land, the resort has 65 trails on two peaks, including an extensive learning area. Since leasing the area from the state in 1998, resort operators Tim and Diane Mueller have invested more than $15 million to upgrade snowmaking operations, grooming, lifts and facilities. They recently renovated the 1963 Summit Lodge, a mountaintop lodge with an espresso bar and views of 8-mile-long Lake Sunapee. The resort's instructional programs are innovative: "Tag-a-Long" lessons actually encourage helicopter parents to shadow their three- and four-year-olds in order to pick up teaching techniques—and, no doubt, get an early read on their tykes' Olympic potential.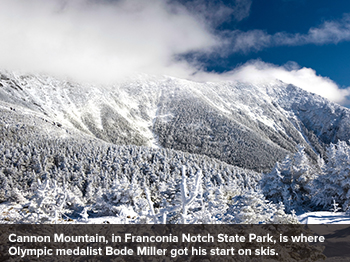 BEST KEPT SECRET:
Dartmouth Skiway
Lyme, NH
skiway.dartmouth.edu
This Dartmouth College-owned ski area, about 15 miles north of the picturesque Ivy League campus in Hanover, deserves to be better known. For now, it's the snowy domain of locals and students looking for good value, uncrowded slopes and a rich sense of tradition. Check out the Wall of Fame in the entrance of the airy $3.4 million cathedral-ceilinged base lodge, built in 2000 thanks to generous alumni. Dozens of Olympic, national and collegiate stars have honed their skills on these trails—and top-ranked Nordic skiers and jumpers have trained nearby. Though the area has some challenging terrain (it hosted the 2003 NCAA Ski Championships, and the annual Dartmouth Winter Carnival is held here), most of the wooded trails veining the two-peak area are perfect for intermediates.
BEST FOR THE EASILY BORED:
Bretton Woods
Bretton Woods, NH
mountwashingtonresort.com
Surrounded by the peaks of White Mountain National Forest, including Mount Washington (at 6,288 feet, the Northeast's tallest), this sprawling ski area is the state's most scenic. And with 101 trails, it's also the largest. But you shouldn't limit yourself to the marked ski runs. Catch air on a new canopy tour that lets you ride down 1,000 feet to the base area on a network of ziplines and platforms high in the trees, connected by trails and suspension bridges. Follow an Appalachian Mountain Club guide into the backcountry on snowshoes, or ride the 140-year-old steam-powered Mount Washington Cog Railway partway up the towering peak, then ski down a groomed trail parallel to the tracks. For something different, head for the Nordic Center's 100 kilometers of trails to take a ski-joring clinic—think waterskiing on snow, pulled by a sprinting dog. If nothing else, it's prime YouTube fodder.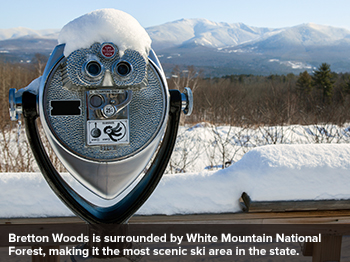 BEST WITH NON-SKIERS IN THE GROUP:
Cranmore
North Conway, NH
cranmore.com
In the heart of the lively town of North Conway, this historic ski area was one of the country's first winter resorts: Glamorous ski instructor Hannes Schneider, who escaped the Nazi occupation of his native Austria in 1939, wound up directing Cranmore's ski school and contributed much to its early allure. Even with that pedigree—and 50 sunny, mostly southwest-facing trails that provide stunning views of the Mount Washington Valley—skiing doesn't always take center stage here. Among the off-slope diversions are tubing, ice skating, snowshoeing, rock climbing, indoor pools and waterparks, and train rides. Not to mention the 100-plus outlet stores just south of town, including J. Crew, Coach and L.L. Bean—made even more enticing by New Hampshire's lack of sales tax.
BEST FOR NIGHT SKIING:
Pats Peak
Henniker, NH
patspeak.com
This friendly little mountain in a small college town (New England College is based here) offers the quintessential New Hampshire skiing experience, albeit one that's often missed by skiers heading to the larger areas up north. Pats Peak serves novices well, with two separate learning areas and a mile-long beginner trail from the summit, while a handful of challenging runs keeps advanced skiers happy. But it's not until the sun goes down that Pats really shines. All 22 trails are lit until 9 p.m. Monday through Thursday, and until 10 p.m. on Friday and Saturday. Cap off your evening at the Sled Pub: One of the best—and rowdiest—base-lodge bars in the state, it's open till midnight 6 nights a week.
BEST OLD-SCHOOL EXPERIENCE:
Cannon Mountain
Franconia, NH
cannonmt.com
Sure, there are some easy runs on this craggy 4,100-footer in the White Mountain National Forest's dramatic Franconia Notch State Park. But state-owned Cannon's calling cards are the narrow, twisty 1930s-era expert trails, accessed by a 70-passenger aerial tram, that dive off its wind-whipped summit. It's no accident that the New England Ski Museum, honoring the rugged forefathers of the sport, is at the mountain's base—or that World Champion Bode Miller got his start winning races on this tough hill. Just recently, as part of a long-awaited federal and state land-swap deal, the resort's 72-trail network was expanded significantly, as it absorbed Mittersill, Cannon's defunct, and dearly missed, neighboring ski area.
BEST FOR SNOWBOARDERS:
Waterville Valley
Waterville Valley, NH & Loon Mountain Lincoln, NH
waterville.com; loonmtn.com
Every ski area in New Hampshire allows snowboarding, but these two, both an easy 2-hour drive from Boston, go out of their way to be rider-friendly. Both have 5 terrain parks and a super-pipe, and both offer Burton Learn-to-Ride programs for first-timers, as well as progression camps for boarders and freestyle skiers who want to improve their park skills. And both regularly host national-level snowboard and freestyle competitions—sure to get your big-eyed kids thinking about joining the pro circuit. Base villages with gyms, arcades and ice rinks keep older kids busy after the lifts close; ski-in, ski-out lodging at Loon Mountain allows them to come and go as they please.
NOTE: Information may have changed since publication. Please confirm key details before planning your trip.