Scenic Hudson, New York, continues to undergo a remarkable cultural and economic resurgence thanks to a diverse class of creative entrepreneurs, including designers, antique dealers and musicians. The city's convenient upstate location (a stone's throw from Albany, 2 hours from New York City and 3 hours from Boston) and walkable size (just 2 square miles) make it an ideal destination for a winter day trip or weekend escape.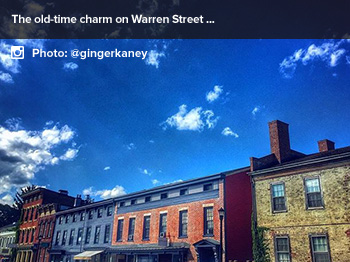 If you're on the hunt for unique gifts come holiday season, look no further than the mile-long stretch of independent shops along Warren Street. The city's picturesque main drag is lined with vintage stores, art galleries, clothing retailers, cozy bookstores, farm-to-table restaurants and more. Here is an abbreviated look at just some of the strip's highlights, whose offerings will please even the most discerning HGTV lover. A word of caution before you plan your trip: Not all stores are open 7 days a week, so be sure to check in advance.
FOR DESIGN TASTEMAKERS
Don't expect to waste your time scouring musty, cluttered vintage shops for a deal. Many of Hudson's residents have migrated from urban meccas, like New York City, and their passion for first-rate design is apparent throughout Warren Street's many furniture stores. Mid-century modern lovers can rejoice: Impeccably preserved rosewood relics from the likes of Knoll, Drexel and Eames abound at Neven and Neven Moderne. The cavernous Hudson Supermarket offers a broader range of styles, from French country to industrial, in its 7,000 square feet. 3FortySeven is a must-visit too, and you can gawk at its array of antiques as well as the store itself: a restored art deco service station. Looking for interior decoration help? Hudson Home recently relocated to a stunning 2-story showroom, provides design services, like custom upholstery, in addition to a selection of new and vintage furniture finds.
FOR HUMBLE HOMEBODIES
If an antique credenza is a bit too big to haul home, you'll find a number of housewares stores with no shortage of smaller knickknacks. Hawkins New York's namesake product line embodies a modern point of view and includes soy wax candles, handmade recycled glassware and brass and copper candlesticks. Valley Variety lives up to its mission to provide "an array of tools for everyday living." There's also an impressive selection of backpacks and briefcases and plenty of kitchen gadgets, including a cocktail mixing set. For a more whimsical aesthetic, try Red Chair on Warren. Since 1997 owner Jocie Sinauer has made frequent buying trips to Europe and returned with a handpicked selection of Swedish, Belgian and French antiques: A 19th-century French jam jar in a neutral shade of cream or gray will set you back just $20. Foodies will love Savor the Taste, whose surprising blends of spices, olive oils and vinegars are created on-site (olive oil infused with wild fernleaf dill, anyone?). Even better, the staff eagerly encourages tasting before buying!
THE DETAILS
All stores are on Warren Street
3FortySeven: No. 347; 518-391-3165; 3fortyseven.com
Hawkins New York: No. 339; 518-965-6177; hawkinsnewyork.com
Hudson Home: No. 366; 518-822-8120; hudson-home.com
Hudson Supermarket: No. 310; 518-822-0028; hudsonsupermarket.com
Neven and Neven Moderne: No. 618; 518-828-4214; nevenmoderne.com
Red Chair on Warren: No. 606; 518-828-1158; redchair-antiques.com
Savor the Taste: No. 527; 845-416-8209; savorthetasteoilandvinegar.com
Valley Variety: No. 705; 518-828-0033; valleyvariety.com
NOTE: Information may have changed since publication. Please confirm key details before planning your trip.