Few of us visit a cemetery today unless we're paying respects or settling in for the big sleep ourselves. But this wasn't always the case. "Before public parks existed, cemeteries were where people came to enjoy nature," says Bree Harvey, director of education at Mount Auburn Cemetery in Cambridge, Mass. Mount Auburn was the first large public green space in America and one of the nation's most popular attractions in the 19th century. Though cemeteries lost such prominence long ago, they still offer an idyllic natural retreat with breathtaking monuments and the occasional history lesson. Strolling these burial grounds around the world, you'll find gunslingers and gardens, Russian poets and rock stars and, of course, ghost stories.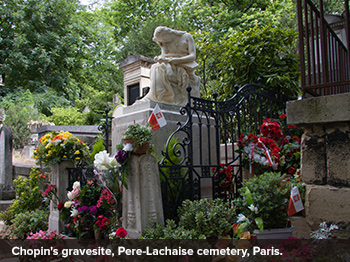 CIMITERO MONUMENTALE
Milan, Italy
This grand cemetery in the center of Milan also happens to be a magnificent open-air sculpture gallery. Greeting visitors is Carlo Maciachini's Famedio, or Temple of Fame, an impressive pantheon that patches together various Northern Italian architectural styles. Beyond the gates you'll find the graves of pianist Vladimir Horowitz, conductor Arturo Toscanini and Arrigo Boito, one of Verdi's librettists. The setting is appropriately operatic: towering obelisks, Greek-style temples, swooning nymphs and weeping angels.
PÉRE-LACHAISE
Paris
Founded in 1804, France's most famous cemetery became fashionable—for the living and the dead—when the famed lovers Heloise and Abelard were purportedly moved there in 1817. A few decades later Victor Hugo wrote, "To be buried in Père-Lachaise is like having mahogany furniture—inherent elegance." Its well-tended lanes, which helped inspire the rural cemetery movement in Europe and the United States, are lined with celebrities' mausoleums. Fans seek out the flower-strewn graves of Marcel Proust and Frédéric Chopin, the graffiti-laden monument of Jim Morrison, the lip-smacked memorial of Oscar Wilde, and many other famous departed.
ABNEY PARK
London
London, with its "Magnificent Seven" cemeteries, is a veritable boneyard bonanza. If choosing only one to visit, Abney Park would be an idiosyncratic but inspired option. Established in 1840 as the first non-denominational garden cemetery in Europe, it not only became the final resting place of many political radicals, but it also served as a teaching arboretum. Now overgrown and ramshackle, the grounds are a nature preserve with weathered statues and moldering Victorian gravestones.
NOVODEVICHY
Moscow
As you wander around these immense grounds—more than 27,000 people are buried here, among them Anton Chekhov, Nikita Khrushchev and Boris Yeltsin—you'll stumble across a staggering array of sculptures and architectural styles. Look for the statue of Yuri Nikulin, one of Russia's most beloved circus clowns. He's seated with a cigarette dangling from his hand, looking thoughtfully at his dog. A Soviet commander is memorialized differently—with a huge stone tank.
MOUNT AUBURN
Cambridge, Massachusetts
Built in 1831, decades before New York City's Central Park, Mount Auburn paved the way for sculpture gardens in America. Today the grounds hold more than 5,000 trees in natural woodland plantings and horticultural landscapes. This National Historic Landmark houses the graves of famous New Englanders like Oliver Wendell Holmes and Henry Wadsworth Longfellow. Be sure to climb Washington Tower for a superb view of Boston.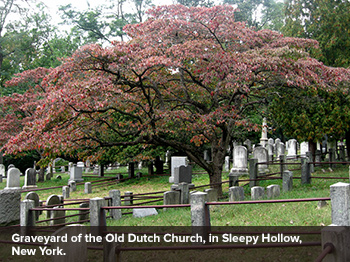 MOUNT MORIAH
Deadwood, South Dakota
The cemetery seen in the HBO series Deadwood is based on Mount Moriah. A visit is a hike through the history of the Wild West. Opened in 1878, it's home to Civil War veterans, three potter's fields and a Mason's section. And, of course, Deadwood's most famous residents, Wild Bill Hickock and Calamity Jane, who lie here side by side. Over the years five memorials have marked Hickock's grave, many of them destroyed by souvenir prospectors. Who said the West was tamed?
LAFAYETTE NO. 1
New Orleans, Louisiana
As soon as you see this cemetery, you'll understand why the Big Easy's burial grounds are called Cities of the Dead. The perimeter is lined with "wall vaults," tombs built directly into the exterior walls, and tall mausoleums crowd the lanes like urban streets. Tales of voodoo and vampires color the place—it's supposedly home to Anne Rice's Lestat—and it contains the grave sites of secret societies. It may not be entirely safe to wander around the place alone, but you can take a tour with the group Save Our Cemeteries (saveourcemeteries.org). After, stop by the legendary Commander's Palace restaurant just across the street.
SLEEPY HOLLOW
Sleepy Hollow, New York
While the Headless Horseman may not reside in this classic rural cemetery, you will find hotel magnate Leona Helmsley, as well as Andrew Carnegie, Brooke Astor and the man who gave the area its name, Washington Irving. The cemetery's 85 acres stretch among rolling hills beside the Pocantico River. Abutting the graveyard is the plot of the Old Dutch Church, where Ichabod Crane supposedly sought sanctuary from his decapitated foe. Don't worry, says Dave Logan, former president of the cemetery's board of directors, "There are people who say they see ghosts, but I don't put much stock in that kind of thing."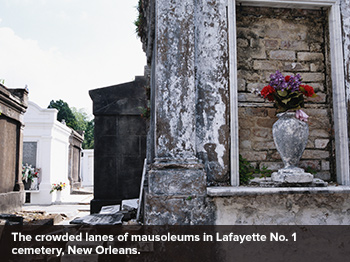 LAKE VIEW
Cleveland, Ohio
In 1869, wealthy Clevelanders banded together to establish a cemetery that would equal Boston's Mount Auburn. From the top of the Garfield Memorial, overlooking the bronze caskets of President Garfield and his wife Lucretia, you can survey the 285-acre arboretum. Then walk over to the Wade Memorial Chapel, built in honor of the founder of Western Union, Jeptha Wade. The interior was designed by Louis Comfort Tiffany and features the magnificent "Flight of Souls" window. (We recommend visiting in springtime for the blossoming of Daffodil Hill, where 100,000 bulbs are planted.)
THE BRIDGE TO PARADISE
Playa del Carmen, Mexico
An hour south of Cancún in the ecological theme park of Xcaret, you'll find this outdoor gallery of folk art. Each of the 365 brilliantly colorful "gravesites"—one for each day of the year, rather than for deceased individuals—was created by a different artist. They represent Mexican places or themes and recall the traditional, celebratory treatment of the dead on the Dia de Los Muertos (three days of festivities surround the holiday). Among the must-see headstones is one decorated with hundreds of beer-bottle caps. Another resembles a concrete bed, outfitted with linens; a third is made of auto parts.
NOTE: Information may have changed since publication. Please confirm key details before planning your trip.