Even if you aren't an Instagrammer, taking artistic travel photos on vacation is a fun and affordable way to collect souvenirs that last forever. Showcase the memories of your trip with frame-worthy pics of you and your loved ones. Best of all, you don't have to be a professional to get high quality shots, all you need is your smartphone, good lighting, and an inspiring atmosphere.
From vivid decor to creative plating, when it comes to aesthetics, these 10 best restaurants offer the perfect backdrop for your next travel photoshoot.
1. Elixir Tea House In Sarasota, Florida
This enchanting Sarasota tea house offers five private rooms, each decorated in a unique theme. Elixir's High Tea experience is a culinary and visual delight, featuring a decorative assortment of fresh-baked pastries and finger sandwiches, paired with a curated menu of loose leaf and colorful bubble teas.
2. Unicorn & Narwhal In Seattle, Washington
Seattle's two carnival-themed bars Unicorn & Narwhal provide a whimsical escape in Capitol Hill. Pastel-striped walls, gilded decor, and a menagerie of wild and fantastical beasts inspire the feeling of stepping inside a traveling circus.
3. Muriel's Jackson Square In New Orleans, Louisiana
Much like New Orleans itself, the ambiance of this historic French Quarter restaurant is both elegant and eccentric. Choose your setting from six dining areas, including Muriel's plush Séance Lounge, a jewel-toned parlor that channels Victorian vibes. You may even get photobombed by the resident ghost.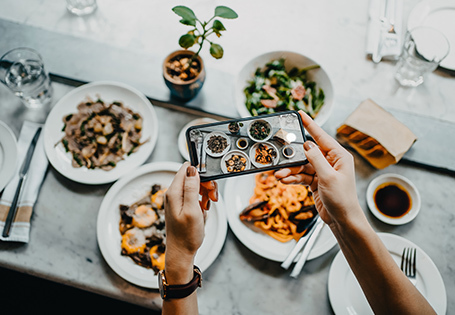 4. The Canal Club In Scottsdale, Arizona
Inspired by the colors and designs of 1930s Havana, The Canal Club in Scottsdale has chic indoor and poolside photo-ops, featuring jungle wallpaper, wicker furniture, and vintage hues. Snap a selfie amidst the glow of a minimalist lantern wall. Pose for a group photo beneath the bar's fluorescent restaurant sign.
5. Hey Love In Portland, Oregon
Located inside Portland's Jupiter NEXT hotel, Hey Love is a playful and enigmatic social scene that conjures up the feeling of a secret jungle oasis. Think bush planes, safari hats, and tropical birds. Showcase your craft cocktails with a background of lush plants and vibrant local art.
6. Oxford Exchange In Tampa, Florida
You can enjoy a European-style photoshoot in Florida at the Oxford Exchange, a restaurant, coffeeshop, and bookstore that exudes scholarly sophistication and Old English charm. The sunlit conservatory, stately wood-paneled hallways, and stylish staircase lined with historic portraits, create memorable photo-ops around every corner.
7. The Bagel Store In New York, New York
A New York staple, The Bagel Store is famous for hand-rolled bagels and flavored cream cheeses. But the most photogenic bagel of all is the fabulous Rainbow Bagel. Whether you indulge in a savory filling or signature sweet concoction, the multi-colored, marbled dough makes for an eye-catching photo prop and a delicious treat.
8. Mariposa In Sedona, Arizona
Overlooking the dramatic red rock cliffs of the Sedona Desert, Mariposa is the epitome of destination dining. With floor-to-ceiling panoramic windows and a sprawling outdoor patio, you can capture pristine landscape shots and the perfect desert sunset.
9. 3 Arts Club Cafe In Chicago, Illinois
Housed in RH Chicago's lavish Grand Central Garden Courtyard, this posh Chicago atrium boasts ideal natural lighting for photos. Brick walls and potted trees provide a picturesque contrast, along with an ornate stone fountain. In the evening, 3 Arts Club Cafe's courtyard takes on a fairytale-like glow from crystal chandeliers overhead
10. Disney Springs In Orlando, Florida
You don't need a park ticket to experience the magical sights of Disney Springs in Orlando, where a countless supply of wonderful photo ops await. Unleash your inner explorer with a themed photo shoot in a 1940s airplane hangar at Jock Lindsey's Hangar Bar. Take a sweet snapshot at the Sprinkles Cupcake ATM. Pose for a romantic portrait atop the Paddlefish steamboat, and so much more.