Let us give thanks to Bermuda in the off-season. It's hard not to sing this hosanna around turkey time, which, if you're in Bermuda, is right around when the heat and humidity eases. Thanks to its proximity to the Gulf Stream, this hilly, semi-tropical British outpost in the Atlantic enjoys mild temperatures (in the 60s and 70s) from November through March—a bit cool for a dip, perhaps, but just right for golf, tennis, sailing or strolling the pink-sand beaches. It's also when the crowds disappear. Suddenly, choice tee times are a breeze to book, the best restaurants happily hand out reservations and you no longer have to risk an elbow to the ribs going for the last cucumber sandwich at your hotel's afternoon tea. A hotel, it should be pointed out, that can suddenly be booked for a fraction of the price! So, what will you miss out on in the "off-season?" Lots of knobby knees. In November, businessmen generally pack away their Bermuda shorts for the winter.
LAY OF THE LAND
Made up of 7 main islands and more than a hundred smaller islets, Bermuda sits 650 miles off the coast of the Carolinas, only a two-hour flight from New York (2½ from Miami). The principal inhabited islands are linked by causeways and bridges and divided into nine parishes—from Sandys in the west to St. George's in the east. Hamilton, the capital and an international financial hub, is in Pembroke Parish, on the central north shore. Many of the best resorts—and loveliest beaches—are along the south coast in Southampton, Warwick and Paget Parishes.
HOW TO GET AROUND
Mopeds are the wheels of choice for tourists, since rental cars are not available. Rent one if you dare, but take it slow: traffic accidents involving scooter-riding visitors—befuddled by roundabouts and left-side drive rules—are all too common.
Rather not risk the road rash? An excellent public transit system makes getting around easy. The 4 ferry routes are an inexpensive way to sightsee by water. The bus system is simple to navigate, though rush hours are to be avoided. Ferry and bus fares start at $3, but multiday passes make them even more affordable. Taxis, while pricey, often come with knowledgeable drivers. A blue flag on the hood of the car indicates that the driver is a qualified tour guide.
Bicycling on the busy, narrow streets is harrowing, at best, but the Bermuda Railway Trail, built on the bed of an old train line, offers bike riders a tranquil, shaded route from one end of the island to the other—almost 21 uninterrupted miles. The trail skirts white-roofed, sherbet-colored villages; wild beaches; and farmyards (watch for roaming chickens). Maps—and advice—are readily available at bike rental shops. Eve's Cycles has 3 locations; specify that you want a "pedal" bike—not a motorized one.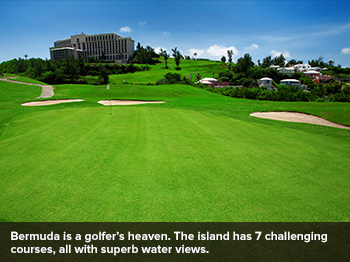 TEEING UP
Golfers will be in heaven on Bermuda. There are currently 7 courses, all with superb water views and challenges in the form of elevated greens, firm fairways and unpredictable ocean winds. Three are technically private, though non-members can book tee times through their hotels. The private Tucker's Point Club is the island's newest 18-hole course. Rebuilt on the former Castle Harbour course, it occupies a peninsula on the rugged northeast coast. The Mid Ocean Club in Tucker's Town, St. George's Parish, has been considered one of the world's great courses ever since it opened in 1921. Eisenhower and Churchill played here; actor Michael Douglas and New York City's former mayor Michael Bloomberg are current members. Douglas also plays at the private Riddell's Bay Golf & Country Club, just south of Hamilton.
Nearby is semi-private Belmont Hills Golf Club, known for its diabolically bunkered and multi-tiered greens. Make tee times online at belmonthills.com. The Port Royal Golf Course in Southampton Parish, designed by Robert Trent Jones, Sr., is rated one of the top public courses in the world. You can book there and at Ocean View, a low-key 9-hole public course, through a centralized reservation system. St. George's, the third public course, is becoming part of a new Park Hyatt resort.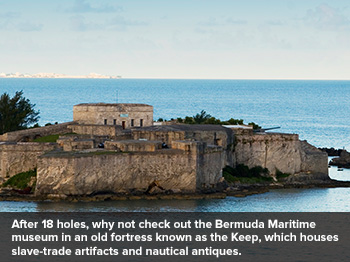 WALK THROUGH HISTORY
Shipwrecked British sailors, en route to Jamestown in 1609, struggled ashore at what is now St. George's, on Bermuda's east end. Nearly 400 years later, that first settlement serves as the island's main cruise port, which means big crowds in high season. In November, however, you can have the town's lovely narrow lanes nearly to yourself. The Bermuda National Trust maintains several 17th- and 18th-century dwellings here, with classic pastel stone walls and white-washed stepped roofs. After a visit, stop for a Dark & Stormy (ginger beer and dark rum) at the landmark White Horse Pub, in King's Square on the waterfront.
At the extreme other end of Bermuda is the Royal Navy Dockyard. It was once the British Navy's key defense post in the Atlantic, but today the fort and naval buildings have been transformed into a village full of stores and restaurants. At Dockyard Glassworks you can watch glassblowers create colorful vases, plates and paperweights. Afterward, check out Bermuda Rum Cakes for moist examples of their namesake cake, which contains a hefty shot of 80-proof Black Seal Rum.
The Bermuda Maritime Museum displays slave-trade artifacts and nautical antiques in the old fortress known as the Keep. Walk the ramparts for sweeping views and stop by Keep Pond to watch—or swim with—the dolphins at the Dolphin Quest program.
BIRDS and BRIDLES
The archipelago's largest bird sanctuary, the Spittal Pond Nature Reserve on the south shore, is a favorite in late fall, when dozens of migratory species seek refuge in the wetlands. The Bermuda Audubon Society's website, audubon.bm, can tell you what to look for; some 360 species have been recorded, including the Cahow or Bermuda petrel, considered extinct for 350 years until it was spotted here in the 1950s.
Pick up box lunches at the Miles Market and head for the Botanical Gardens, about a mile from the city. Here, paths cut through 36 acres of banyan, palmetto and ficus trees, a butterfly garden and fragrant collections of hibiscus, frangipani and roses. (Bermuda's roses begin blooming in October and continue through the winter.) Several new displays have recently opened: a Japanese Zen garden, a 17th-century-style English parterre garden, a 12th-century-style Persian garden and a Tudor-style children's maze garden. Camden, the official residence of Bermuda's premier, is also on the grounds. Free tours of the gardens and mansion are given several times a week.
Saddle up at Spicelands Riding Center in Warwick Parish for an early-morning ride through the dunes of South Shore Park. This 1½-mile coastal reserve links the southern coast's major beaches, including much-photographed Horseshoe Bay. In December, the horses are decked out with Christmas bells for candlelit trail rides. It's a lovely way to trot into the holiday season
NOTE: Information may have changed since publication. Please confirm key details before planning your trip.