Golf course designers have been returning to the game's minimalist British Isles roots and incorporating nature rather than changing it. As a result, the United States is home to some of the world's best golf courses that are open to the public.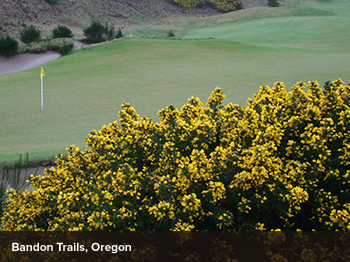 Of course, the top courses still cost top dollar. But the bottom line is that with more great courses, it's easier to get tee times; and deals abound. Here are the best of the new crop.
1. BANDON TRAILS
Bandon, Oregon
1.800.742.0172; bandondunesgolf.com
The Skinny: Designed by Bill Coore and Ben Crenshaw; 6,765 yards Iconic Hole: The par-3 17th hole jams in all that the site offers: extreme elevation change, towering pines, exposed rock.
Novelty: The stunning Japanese-style clubhouse has one of the best post-round decks imaginable, even without the cocktails.
The Story: "Golf as it was meant to be" is the slogan at the Bandon Dunes resort. It's hard to argue with that: All three of its courses (Pacific Dunes, Bandon Dunes and now Bandon Trails) are ranked by Golf Magazine in the top 10 U.S. public courses. While the first two are sandy seaside links, Bandon Trails meanders through coastal forest and over a mountain ridge.
Verdict: One resort, three Top 10 courses: A visit to Bandon Dunes is a once-in-a-lifetime golfing experience.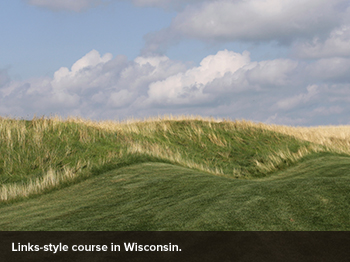 2. ERIN HILLS
Erin, Wisconsin
1.866.724.8822; erinhills.com
The Skinny: Designed by Michael Hurdzan, Dana Fry and Ron Whitten; 7,824 yards Iconic Hole: A rare 19th hole with no beer on tap, the Bye Hole is a par-3 freebie that can settle any bets tied after 18.
Novelty: Walking the course with a caddy is strongly suggested.
The Story: This stunning links-style course, just 45 minutes northwest of Milwaukee, seems to transport visitors to Scotland. So perfect were the region's sandy dunes that designer Hurdzan calls Erin Hills "the most minimalist course we've ever done." Said USGA executive director Mike Davis, "I can't remember when I've seen land like this in the Midwest."
Verdict: A premier national course, it joins Bandon Dunes in the top tier of links-style courses.
3. LAKE OF ISLES NORTH COURSE
North Stonington, Connecticut
1.888.475.3746; lakeofisles.com
The Skinny: Designed by Rees Jones; 7,300 yards Iconic Hole: The par-4 18th settles wagers with a narrow fairway flanked by water and a green protected by wetlands.
Novelty: Created from 900 wilderness acres, whereas the norm is 150 acres, surrounded by houses.
The Story: When Foxwoods (one of the world's largest and most profitable casinos) added golf, it did so in a big way, giving Rees Jones a blank canvas and a blank check. "A normal country club couldn't have afforded to build on such a rocky site," Jones said. Foxwoods got its money's worth, with the course receiving almost every accolade imaginable. What's more, a round costs half the price of comparable Vegas courses.
Verdict: The best public course, new or old, in Connecticut —if not New England.
4. KING CARTER GOLF CLUB
Irvington, Virginia
1.804.435.7842; kingcartergolfclub.com
The Skinny: Designed by Joel Weiman; 6,818 yards.
Iconic Hole: The par-5 9th shouts Virginia, with rolling meadows framed by grapevines that give way to forest.
Novelty: From the short tees, this par-71 course plays 2,114 yards—perhaps the greatest yardage span in golf.
The Story: King Carter delivers the quality of similar courses costing five times as much, with beautiful conditioning, an extensive practice area and a gorgeous horse- and wine-country setting. Though it's near Williamsburg, greens fees here are much lower.
Verdict: More bang for the buck than almost anywhere.
5. MAY RIVER GOLF CLUB
Bluffton, South Carolina
1.843.706.6500; palmettobluffresort.com
The Skinny: Designed by Jack Nicklaus; 7,171 yards
Iconic Hole: At the 14th, a par-3 on the banks of the May River, trees dripping Spanish moss circle the green.
Novelty: A rare back nine that's perfectly balanced with three par-3s, three par-4s and three par-5s.
The Story: Unlike many Nicklaus-designed courses, this Low Country site required minimal earth-moving and landscaping: It was already close to perfect, with its 300-year-old oaks, brackish tidal waterways and freshwater lagoons. Caddies are mandatory, as is walking before 9 a.m.—so you'll have time to appreciate the setting.
Verdict: South Carolina's Golf Course Ratings Panel named it the state's best new course when it opened 10 years ago. And it's still one of the very best.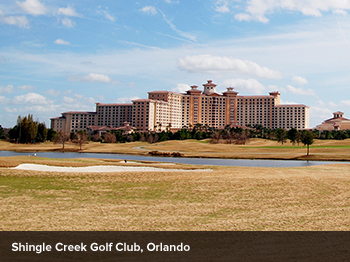 6. SHINGLE CREEK GOLF CLUB
Orlando, Florida
1.866.996.9933; shinglecreekgolf.com
The Skinny: Designed by David Harman; 7,228 yards.
Iconic Hole: The par-4 9th closes the front dramatically, with a lagoon-protected green reached by a boardwalk.
Novelty: A public course with "private club" luxuries like Tour-quality conditioning and free valet parking.
The Story: Unlike many top Orlando-area hotel courses that require you to stay to play, Shingle Creek welcomes daily-fee players—and is one of the city's best bargains, even in peak season. What's more, it's one of the area's best public courss, with Old-Florida flavor, mature oaks lining the fairways and interconnecting waterways weaving throughout.
Verdict: In this follow-up to his esteemed Orange County National course, Harman has lived up to his reputation.
7. WE-KO-PA, SAGUARO COURSE
Phoenix, Arizona
1.480.836.9000; wekopa.com
The Skinny: Designed by Bill Coore and Ben Crenshaw; 6,912 yards.
Iconic Hole: Carved out of stark desert, the 14th's split fairway offers a tempting but risky shortcut off the tee.
Novelty: Short hitters rejoice. A "composite" course here mixes shorter tees for maximum drama and strategy.
The Story: The Fort McDowell Yavapai Nation splurged on its second course at We-Ko-Pa, hiring Coore and Crenshaw. Their design transports old-fashioned U.S. Open-style strategic golf to a dramatic desert setting. Built for walking (a rarity in Arizona), the minimalist style has more in common with old-line East Coast courses like Shinnecock National than with neighboring desert layouts.
Verdict: A desert golf experience unlike any other, and a must-play for golfers visiting the area.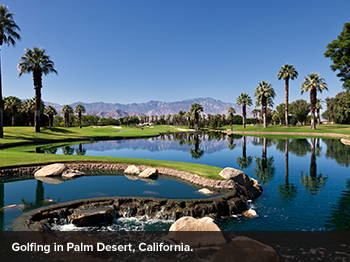 8. CLASSIC CLUB
Palm Desert, California
1.760.601.3601; classicclubgolf.com
The Skinny: Designed by Arnold Palmer; 7,305 yards.
Iconic Hole: Desert? What desert? The par-4 11th has water off the tee and an approach over another lake.
Novelty: The owners donated the course to the PGA Tour's annual Bob Hope Chrysler Classic, a lucrative fund-raiser.
The Story: Not only will you get bragging rights for playing a PGA Tour venue, but you'll experience a fun and varied desert course. There's rolling terrain with elevation changes, trees, gleaming white sand and water—30 acres of it. Reasonably priced for the region, greens fees include forecaddies.
Verdict: Public courses are a rarity in country-club-crazed Palm Springs. Great public courses like this one are rarer still.
NOTE: Information may have changed since publication. Please confirm key details before planning your trip.