Surfing, palm trees and powdery beaches aren't usually the first things that come to mind when you think of China. But that's exactly what you'll find on the island of Hainan, the country's southernmost and smallest province. Located in the South China Sea, the island—roughly the size of Maryland—was in ancient times a lonely backwater inhabited by banished dissidents and other undesirables. As China's fortunes have soared in the past two decades, the newly wealthy have discovered Hainan, drawn by its sunny shores, clear waters and balmy climate.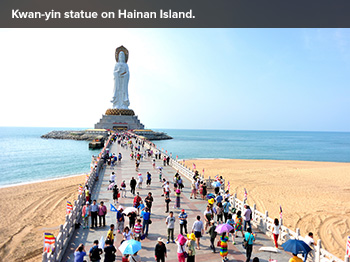 Hainan is now home to China's most luxurious beach resorts as well as internationally acclaimed golf courses. As a vacation destination, Hainan may not be to everyone's taste: The crowds of Hawaiian-shirted local tourists are difficult to elude, especially during the winter high season, and beyond the resort areas there's little to do. But if you're traveling to Hong Kong and looking to squeeze in a relaxing beach escape or a quick 18 holes, the 90-minute flight to Sanya may be just the ticket.
BEST BEACHES
Palm-fringed beaches are Hainan's main lure and the reason for the island's (somewhat hyperbolic) nickname, China's Hawaii. Yalong Bay Beachb is Sanya's star attraction: a nearly 5-mile-long stretch of white sands framed by jungle-clad mountains and crystalline waters. Some of the area's toniest resorts are located here, which means fewer beach vendors.
A 90-minute drive northeast of Sanya, Riyuewan Beach is the island's premier surfing spot. Amateurs and veterans travel here for the famous left-hand point break. It's considered an excellent spot for first-timers to learn to ride the waves. Once sleepy, the area is now chockablock with surf shops and backpacker accommodations, but it's still less hectic than Hainan's better-known bathing spots.
On the east coast near the town of Bo'ao is Yudai Beach, a narrow strip between the Wanquan River and the South China Sea (the name means "jade belt"). While its sand is not as fine as that of Yalong's, it's nowhere near as crowded.
TEEING OFF
Hainan already has more than 29 golf courses, and is fast becoming Asia's golfing capital. Leading the way is the Mission Hills Resort Haikou, whose 10 courses lie on top of a chain of dormant volcanoes. Designed by the innovative Schmidt-Curley firm, the courses range from the player-friendly Preserve, which stretches to 6,535 yards, to the rugged, 350-acre Blackstone, built with international tournaments in mind.
If 10 courses sounds overwhelming, consider the 18-hole Robert Trent Jones Jr.-designed course at the Yalong Bay Golf Club (yalongbaygolfclub.com), shaped like a dragon's claw and covering 168 acres overlooking the sea. Near Haikou, the West Coast Golf Club (www.westgolf.com.cn/en) has an 18-hole course for all skill levels, also with sea views. Need to work on your swing? There's a double-level driving range with 60 bays here.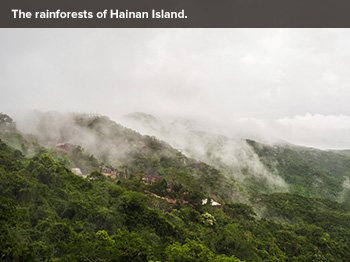 DAY-TRIPPING
Long before large numbers of Han Chinese began migrating to Hainan during the Song Dynasty (960–1276), the island was populated by the Li, an ethnic minority from southern China known for their women's intricate facial tattoos. Li, as well as members of the Miao tribe, still live on the island, and it's worth arranging a trip to their villages to see another side of Hainan. (The touristy Li and Miao Village at Bing Lang Gu is not recommended.) Ask your resort's concierge to set up a private tour. And during your visit, always request permission before taking photos.
Inland, Hainan is still covered with subtropical rainforests where black crested gibbons, clouded leopards and numerous bird species dwell. A 2-hour drive from Sanya, the 172-square-mile Jianfengling National Forest Park, in the island's southwest, provides your best chance to spot these rare animals. Make sure to go with a guide; this can be arranged by a tour agency or through your hotel. A good day trip from Haikou is the Shishan Volcanic Cluster National Geopark, a collection of dramatic craters and caves formed by long-ago eruptions. But however you choose to spend your time on Hainan, you're sure to leave refreshed.
Saddle up at Spicelands Riding Center in Warwick Parish for an early-morning ride through the dunes of South Shore Park. This 1½-mile coastal reserve links the southern coast's major beaches, including much-photographed Horseshoe Bay. In December, the horses are decked out with Christmas bells for candlelit trail rides. It's a lovely way to trot into the holiday season
NOTE: Information may have changed since publication. Please confirm key details before planning your trip.