More than 200 golf courses bask beneath mountain peaks in the Sonoran Desert around Scottsdale. The scenery changes with the time and season, as do the birds that pass through. The 19th-hole options for post-game fun range far beyond the clubhouse, to nearby amusements, spectacular spas and fun restaurants.
ROCKS, SAND AND SUN
Granite boulders some 12 million years old dominate the rock-strewn fairways at The Boulders Club, beneath Black Mountain. One behemoth formation appears to balance atop another. Coyotes snatch rolling golf balls, and deep washes demand careful attention.
Should the game cause tension, consider a Golfer's Massage at the Waldorf Astoria Spa at the Boulders Resort. You deserve pampering after tackling one of the toughest courses in the Southwest.
The 19th Hole: Take a side trip through Carefree, whose streets are named Ho, Hum, Easy and Lucky. The sloppy joe makes it worth stopping at Café Bink, as do the funky finds at the eclectic store called Town Dump.
ALL IN ONE
Troon North Golf Club's Pinnacle and Monument courses may seem fancy, but a relaxed jeans-and-T-shirt dress code, carts with USB ports and a 9-hole course that can be played in 90 minutes attract all types. Elevation changes, rocky ravines and bunkers provide challenges for almost everyone.
The 19th Hole: Consider trying a Golfers' Massage using strategically placed heated golf balls to help soothe your back at the Four Seasons Resort Scottsdale at Troon North's spa.
NATIVE PRESERVE
The acclaimed Cholla and Saguaro courses at We-Ko-Pa Golf Club have a huge scenic advantage. According to tribal law, the land surrounding the Fort McDowell Yavapai Nation's courses will never be developed. The design is spectacular, using as a canvas natural washes slithering like giant rattlers from nearby sacred mountains and incorporating rock piles, gnarled mesquite trees and prehistoric-looking cacti into the layout. Prairie dogs, roadrunners and javelinas feel right at home.
The 19th Hole: Profits from the Fort McDowell Casino paid for the course's construction, so it seems only fair to contribute to the coffers. The casino is visible on the horizon below the mountains, and a free shuttle runs between the gaming area, the adjacent Radisson Resort and the clubhouse.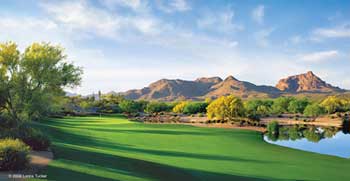 A BUCKET LIST COURSE
Golf fantasies come alive at TPC Scottsdale Stadium, home of the PGA Tour's Waste Management Phoenix Open. Tiger Woods played a hole in one on the 16th in 1997; Phil Mickelson came close to an ace in 2013 before winning the tournament. Note that this city-owned course is closed for renovations until November 2014, and the 2015 tournament begins on January 26 and ends the same day Phoenix hosts the Super Bowl (February 1).
The 19th Hole: Improve your swing with a Golf Performance Massage at the adjacent Willow Stream Spa, then stand beneath the grotto waterfall until your sore muscles relax.
CITY CLASSIC
At the 8th hole of the Phoenician Golf Club's Desert course, you'll find terrific views of palms interspersed with paloverde trees around glistening green turf. Go higher, to the rock-walled tee's panorama, which includes the Phoenix skyline. Scenes from Raising Arizona were filmed at the nearby Jokake Inn, beside the 9th hole. A 2-acre cactus garden sits beneath the humps of Camelback Mountain next to the Desert course. Water hazards add a tropical feel, but the bunnies, quail and roadrunners are pure Scottsdale.
The 19th Hole: At Relish Burger Bistro, atop the clubhouse, you can pair your Kobe burger with chili verde and enjoy one of the 70 beers or 250 tequilas from the bar.
RED ROCK WONDERS
Sure, Scottsdale's scenery is breathtaking. But the sublime red-rock landscape of mountainous Sedona is worth the 2-hour trip north. Following your ball around the winding fairways of Sedona Golf Resort can be challenging, and you may want to let your score slip as you take in the stunning surroundings. Blame it on the altitude—more than 5,000 feet above sea level.
Forget any pressure you may feel at city courses. This 18-holer has its challenges, but it's also casual, having a "no shirt, no shoes, no play" dress code. Plus, the beverage cart puttering about pours generous "aiming fluid".
The 19th Hole: Before returning south, cruise the 7.5-mile Red Rock Scenic Byway through the Coconino National Forest, stopping at turnoffs to admire Bell Rock, Cathedral Rock and other spectacular natural sculptures.
THE DETAILS
Waldorf Astoria Spa at the Boulders Resort: 34631 N. Tom Darlington Dr., Carefree; 1.480.488.9009; theboulders.com
Café Bink: 36889 N. Tom Darlington Dr.; 1.480.488.9796; cafebink.com
Town Dump: 6820 E. Cave Creek Rd.; towndump.net; 1.480.488.9047
Troon North Golf Club: 10320 E. Dynamite Blvd., Scottsdale; 1.480.585.7700; troonnorthgolf.com
Four Seasons Resort Scottsdale: 10600 E. Crescent Moon Dr., Scottsdale; 1.480.515.5700; fourseasons.com
We-Ko-Pa Golf Club: 18200 E. Toh Vee Circle, Fort McDowell; 1.480.836.9000; wekopa.com
Fort McDowell Casino: 10424 N. Fort McDowell Rd., Fort McDowell; 1.602.843.3678; fortmcdowellcasino.com
TPC Scottsdale Stadium: 17020 N. Hayden Rd., Scottsdale; 1.480.585.4334; tpc.com
Willow Stream Spa: 7575 E. Princess Dr., Scottsdale; 1.480.585.4848; fairmont.com
Phoenician Golf Club: 6000 E. Camelback Rd., Scottsdale; 1.480.423.2450; thephoenician.com
Relish Burger Bistro: 6000 E. Camelback Rd., Scottsdale; 1.480.423.2530; thephoenician.com
Sedona Golf Resort: 35 Ridge Trail Dr., Sedona; 1.928.284.9409; sedonagolfresort.com
Red Rock Scenic Byway: Interstate 17N, exit 298; redrockscenicbyway.com
NOTE: Information may have changed since publication. Please confirm key details before planning your trip.