Two hours north of Phoenix, manicured golf greens and lapis swimming pools give way to a jumbled, otherworldly landscape of desert red rock. Sandstone mesas and cliffs—streaked in shades of peach, gold, umber and rust—rise up from a forested valley floor, with millions of years of erosion and upheaval captured in freeze-frame. Welcome to Sedona, Arizona, where geology is king and red rocks are the local religion.
From its arresting natural beauty to its vibrant community of artists, healers and adventurers, there's nothing subtle about this town of 11,000 on the edge of the Colorado Plateau. But Sedona's grandeur is earthy and unpretentious. Instead of architectural icons, its major points of reference are literal landmarks: buttes sculpted by wind and rain and stained with desert patina. Galleries showcase vivid paintings in saturated colors that echo the colors of the land, and the top-rated spas draw on the centuries-old traditions of the Sinagua Indians, to whom this canyon country was sacred. For travelers, Sedona delivers a perfect blend of reverence and indulgence.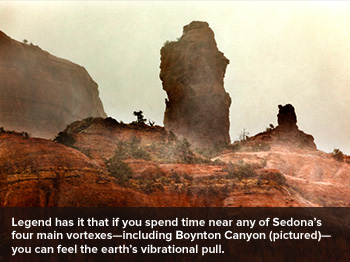 HEALING
If Phoenix is known for its golf resorts and Napa for its wineries, then Sedona is famous for its physical and spiritual healing. A thriving cottage industry of meditation, yoga and massage has flourished here since the 1960s, making the canyon feel like one big outdoor spa. New Age wellness is so deeply rooted in the town's cultural history that even skeptics can't resist getting sucked in.
Exhibit No. 1: You can't go five minutes in Sedona without hearing the word "vortex." That's local lingo for places in the ground where the planet's natural energy is thought to be particularly strong and palpable. Legend has it that if you spend time near any of Sedona's four main vortexes—Bell Rock, Cathedral Rock, Airport Mesa and Boynton Canyon—you can feel the earth's vibrational pull buzzing around you. Believers claim they come away with profound mental clarity, renewed energy and feelings of blissful enlightenment. 
As hokey as it sounds, Sedona's vortex fever is surprisingly contagious. Even if you don't feel the vortexes—they're just unmarked spots in the ground, after all—you can't fail to appreciate the area's natural beauty. The "convenience store" of vortexes, Airport Mesa, is located right in town, on the broad back of Table Top Mountain, and has lots to offer. (It's named for the tiny airstrip on top.) A quarter-mile scramble from your car delivers you to a craggy knob with 360-degree views of Sedona and the sea of red surrounding it. The vortex is supposedly just below you in a hillside notch—but even if you don't sense its seductive hum, you'll linger to gape at blocky Courthouse Rock in the distance. Go at sundown to watch the buttes glow orange in the fading light. 
Cathedral Rock, five miles southwest of downtown, is widely considered the most powerful of Sedona's four hot spots; like everything in these parts, the trip is worth it for the scenery alone. From the historic Crescent Moon Ranch in the shadow of Cathedral Rock, a ¾-mile footpath winds along Oak Creek to a swimming hole and a sandy beach dotted with tiny rock cairns, hand-stacked monuments to the crenellated towers above you. Ponder the earth's electromagnetic energy or simply cool off with a plunge in the creek—there's a rope swing on the far bank. 
SPAS
It's an unwritten law of nature that New Age healing and spa treatments go hand-in-hand. "You have to take care of yourself first before you can care for others," a therapist at Mii Amo Spaexplained during a recent "morning ritual," where guests gather to silently set their intentions for the day. Part of the sprawling Enchantment Resort at the mouth of Boynton Canyon, Mii Amo is the swankiest, most exclusive address in Sedona—its tai chi classes, clay body wraps and hot-stone massages are reserved for resort guests only.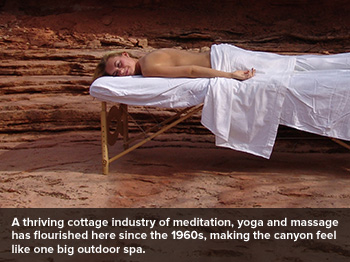 For the rest of us, Sedona has a surplus of places to be pampered. One of these is Serenite, Amara Resort's spa, on the banks of Oak Creek. (It's shared by Amara's sister hotel, L'Auberge de Sedona.) Recently revamped, Serenite has seven new treatment rooms and a creek-side cabana, along with saunas and a heated pool. The spa's treatments draw raves from residents and visitors alike: On a recent morning, a construction worker took a break from pounding nails to get a custom massage, choosing from Swedish, deep-tissue or reflexology. Stop by to exfoliate your scaly desert skin with a mineral salt scrub, sign up for a one-on-one yoga lesson or get your chakras realigned with an energy-balancing session. 
Therapy on the Rocks, considered one of Sedona's most authentic healing experiences, is run by wellness guru John F. Barnes. His specialty is myofascial release, a type of massage that manipulates connective tissue to help treat everything from chronic back pain to migraines. The setting—high above Oak Creek, with views of a 50-foot waterfall from the stone relaxation patio—can be just as restorative as the treatments.
THE DETAILS
Crescent Moon Ranch: Red Rock Loop, Red Rock State Park
Mii Amo Spa: 525 Boynton Canyon Rd; 928.203.8500 
Enchantment Resort: 525 Boynton Canyon Rd; 928.282.2900 

Amara Resort: 100 Amara Ln; 928.282.4828
Therapy on the Rocks: therapyontherocks.net
NOTE: Information may have changed since publication. Please confirm key details before planning your trip.