Sedona's first visitors were Native Americans who made pilgrimages here for hunting, gathering and spiritual quests. Today travelers continue to flock to the ancient red rocks of this low-key desert town for adventure of all kinds. More than 150 hiking trails snake through the canyons and offer something for leisurely strollers as well as fitness warriors.
DEVIL'S BRIDGE
Depending on whom you ask what the most popular hiking trail is—hotel staff, local tour guide, repeat vacationer—you'll get varied responses. No two paths are quite alike, and everyone has a personal favorite. The top trodden trails include Soldier's Pass, Boynton Canyon and Airport Mesa, as well as Devil's Bridge, one of the most visited routes thanks to its flat, short loop.
Start at Dry Creek Road: You'll pass juniper trees and prickly pear cactus along the way. The scenery continues to impress as the trail gradually climbs, then descends to a view of Devil's Bridge, a natural sandstone formation just a mile from the entrance. At the base of the 60-foot arch, you'll feel almost lilliputian. A natural rock staircase takes you to the top, a somewhat victorious moment considering the breathtaking views of verdant valleys and red-rock canyons.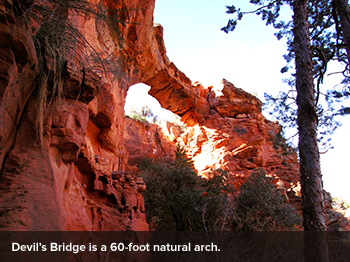 Devil's Bridge is a moderate hike, perhaps best done at sunrise, when the backdrop of the Secret Mountain Wilderness proves a magical photo op and the crowds are usually still at bay.
CATHEDRAL ROCK
In a way, vortexes are to Sedona what the Northern Lights are to Norway: People come here for them. Vortexes are said to be strong energy points specific to a place, and these allegedly make a person feel positive, inspired and healed (hence Native American pilgrimages). Many people believe Sedona is chock-full of vortexes, which explains the number of spiritually minded visitors. Some even claim to have experienced miracles.
One of the most powerful vortexes is said to be found in Coconino National Forest at Cathedral Rock, one of the most sought-after spots for hiking. "Cathedral Rock is the heart of Sedona," says Claudia Granger, a local psychic and healer. "It's my favorite spot to bring guests, not just because of the vortex, but the scenery is quite striking as well."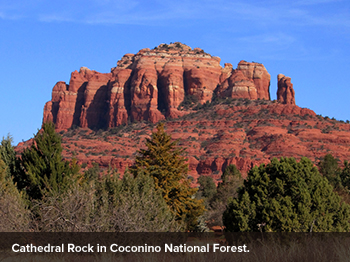 Vortexes aside, Cathedral Rock is magnificent; its rising spires and monoliths protruding high over the Sedona landscape. The hike starts out on a clear path that winds through juniper trees. The trail then gradually slopes to a broad ledge about a quarter of a mile in, offering terrific views of rolling valleys and expanses of sky. Here the real adventure begins. The trail thins out so that there's no physical hiking path, only cairns (piles of rocks as markers) that suggest a direction. The ascent is relatively steep here, and you can climb on all fours, what guides refer to as scrambling (there are several toeholds notched in the rock to help in steeper places). Eventually you'll arrive at a wide "saddle" (a smooth, natural platform) for more priceless vistas.
More-advanced hikers can continue up short, steep climbs on unmaintained trailheads to two more saddles between sheer rock faces and a breathtaking up-close view of an exposed lava dike. From here, between two rock formations and about a mile in from the entrance, the panoramic views of the area's geologic formations and colorful layers are enormous, commanding and unforgettable.
WEST FORK TRAIL
"Many visitors have told me they came to Sedona to see red rocks, not water, because they have that at home," guide Jason Danoff says. "What they don't realize is that if they walk through the backwaters of West Fork, they'll enter a wilderness area unlike any other they have seen—not to mention some of the most pristine water in the world."
West Fork Trail, in Oak Creek Canyon, is different from other Sedona hikes: It's a combination of land and water (water shoes are essential). Visitors cross Oak Creek up to 12 times, zigzagging from bank to bank. It's also semi-shaded, a relief from the hot sun. The passable section for day hikers is 6 miles—3 miles in and 3 miles out.
The entrance is at the base of a grassy meadow, and the path, along low-rise rock outcrops, is wide and flat. Once you cross the footbridge and bear left through a small orchard, you'll find the ruins of Mayhew Lodge, a rustic cabin built in the 1870s that served as a getaway for Jimmy Stewart, Clark Gable and Walt Disney before it burned in a fire in 1976.
Next you'll step on flat stones for your first creek crossing as cliffs loom in the foreground. Take a whiff of fresh, crisp forest air as you continue on in the shade of tall oak, pine, fir, maple and aspen trees. Abundant ferns, lupines, colorful wildflowers and ivy along the banks make up the fairy-tale scenery. As you walk farther into the forested canyon, the creek widens, deepens and flattens, in many areas forming pools that reflect the towering 280-million-year-old canyons. Almost 3 miles in, the reddish-orange walls close in, marking the end of the journey. Take in your final moment and marvel at how the water has etched away the rock over the millennia. Lucky for you, West Fork Trail is not a loop, so you can do it all one more time.
GRASSHOPPER POINT
Nothing beats the heat like plunging into Oak Creek at Grasshopper Point. Long a best-kept secret for locals, Grasshopper Point has been gaining in popularity with visitors thanks to sublime scenery and refreshing pools to swim in. There's even a hiking path, Allen's Bend Trail, that follows the length of the creek for an easy one-mile stroll through scenic woods. Here you may spot a blue heron or even a bald eagle. You're bound to work up a sweat before heading back to the entrance, where the most popular pool is just down a dry rocky wash.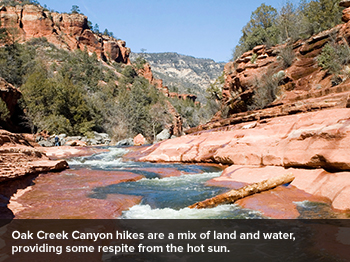 Don't expect to fall into a deep meditation away from the crowds at Grasshopper Point: It's often a busy spot for tubing and fishing, so you can end your trip chatting with the locals about the best places to take in Sedona's remarkable vistas.
For more information on Sedona hikes visit fs.usda.gov
NOTE: Information may have changed since publication. Please confirm key details before planning your trip.