Travelers seeking a Hawaiian escape tend to overlook Oahu. Yes, it is more populated and developed than the other islands. But Oahu offers a balance of escape and engagement, history and modernity, urban and rural.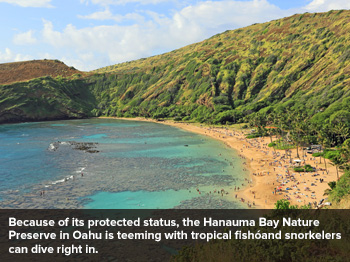 With all the museums, ocean preserves, sailing, hiking and shopping, visitors can be as busy or as blissed-out as they choose. Here are our suggestions for how to spend your week.
DAY 1
Honolulu Highlights
Start at the recently renovated Bishop Museum, where you'll learn about the molten undersea beginnings of the island chain, follow the rise and demise of Hawaii's royal family and see the battle being waged between native and invasive plants.
For lunch, try Aiea Bowl, an island favorite for dishes like seared furikake ahi (tuna) or loco moco (rice topped with a burger, gravy and an egg).
Then it's on to nearby Pearl Harbor. You'll get a thorough account of what happened on the day that will live in infamy: December 7, 1941, when the USS Arizona sank and took more than 1,100 servicemen to a watery grave.
A good tiki bar is surprisingly hard to find on Oahu, but La Mariana Sailing Club delivers, with standbys like Hawaiian pupu platters. Though it's just off an industrial road, the location offers serene views of the turquoise waters. After your meal, visit the gift shop for all manner of island-themed novelties.
DAY 2
Waikiki: Oahu's South Shore
Since the 1800s, when Hawaiian royalty took their retreats in Waikiki, this beach southeast of downtown Honolulu has beguiled with its palm-fringed sands and beginner-friendly surf. Rent a surfboard or book a lesson with Waikiki Beach Boys. For lunch, head to Duke's, overlooking the famous beach. Complete your South Shore experience with a sunset sail aboard the Waikiki Rigger (docked at Gray's Beach between the Waikiki Shore and the Halekulani Hotel). During the 90-minute ride, you'll get all the mai tais you'd care to consume. For a casual dinner, try House Without a Key, where you can watch a graceful hula dancer perform.
DAY 3
Kailua Adventures
Kiteboarding is one of the more adventurous water sports, and Kailua is a great place to learn. To get there, drive 35 minutes north of Waikiki, through the lush Koolau mountains. Grab a picnic lunch at Kalapawai Market, then head straight to the sifted-flour sands of Kailua Beach Park, where you've booked a lesson with Hawaiian WaterSports and the dudes are waiting to teach you the basics.
At the Hoomaluhia Botanical Garden, in nearby Kaneohe, explore 400 acres of rare plants. After all that surfing and strolling, head to Pinky's Pupu Bar & Grill. This down-home restaurant is right by the Kawainui canal, so you can watch canoe paddlers and ducks passing by while you chow down on kalua pig nachos.
DAY 4
Diamond Head & Kaimana Beach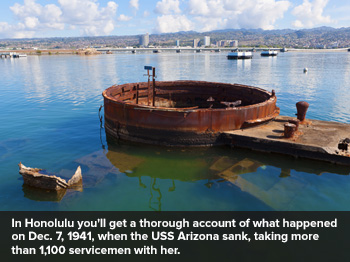 Get some perspective on Oahu's iconic Diamond Head by climbing the dormant volcanic cone, on a paved trail with handrails. At the top, apart from a couple of old bunkers, there's nothing but a nearly 180-degree view of the southern half of Oahu, from Koko Head in the east to the Waianae mountains, far in the west.
The climb can be hot and dry, so take a short ride to the Diamond Head Market & Grill for an updated version of the Hawaiian plate lunch and a big drink to go. Then head to the sea. Anywhere along the ocean side of Kapiolani Park is picnic perfect, with plenty of shade from a mix of ironwoods, banyans and coconut palms. And if you want to swim, walk east to spacious Kaimana Beach, where you can also watch surfers at play.
Finish your day at the off-the-tourist-radar sushi spot Tokurri Tei. For a classic dessert, go down the road to Leonard's Bakery, which has been delighting local families with its Portuguese malasadas since 1952.
DAY 5
Well-Preserved Eastern Oahu
One of the island's greatest assets is the Hanauma Bay Nature Preserve, at Oahu's southeasternmost point (808-396-4229). Because of its protected nature, the bay is teeming with tropical fish. You can rent snorkel gear on-site or bring your own. Get there early to avoid the crowds that gather later in the day.
After a morning of snorkeling, nothing tastes better than a massive burger, fries and a chocolate shake at Teddy's Bigger Burgers. Walk it off on the trail to the scenic Makapuu Lighthouse, where you can watch paragliders mingling in the breeze with frigate birds along the rugged shoreline. If you're there between November and April, you'll almost certainly see humpback whales and their calves.
Polish off your day at Roy's, an upscale eatery serving seasonally focused Hawaiian fusion cuisine.
DAY 6
Explore the North Shore
In winter, the North Shore is known for its towering waves. By springtime, though, the surf has usually settled enough for those who prefer to spend their day lolling, snorkeling and jumping off the big black rock at Waimea Bay. If you're burned out on the beach, walk the paved trails at Waimea Valley. When you reach the park's waterfalls, you can float in a deep freshwater pool.
For lunch, pop into Waialua Bakery in Haleiwa for a turkey-cranberry sandwich. Save room for a treat at Matsumoto Shave Ice.
Then browse in Haleiwa's ramshackle shops for surf gear. At the end of the day, head to the superlative Opal Thai Food for dinner.
DAY 7
Do Downtown Honolulu
On a tour of Iolani Palace, you'll see the only palace in the country to be used as a residence by reigning monarchs. The place has an intriguing history: The last queen of Hawaii was held prisoner there after she was forced to abdicate her throne in 1895.
A short walk away, take in works by Hawaiian artists at the Hawaii State Art Museum. Even lunch is a work of art at the museum's restaurant, Downtown (250 Hotel St.; 808-536-5900; lunch for two, $55).
After strolling through the business district, you'll enter the city's diminutive Chinatown. Check out the cacophonous marketplace, where you might pick up some fun silk tchotchkes. For dinner, order dried string beans and Singapore rice noodles at Little Village Noodle House. The end of a week on Oahu doesn't get any better.
THE DETAILS
Bishop Museum: 1525 Bernice St., Honolulu; 1.808.847.3511; bishopmuseum.org
Aiea Bowl: 99-115 Aiea Heights Dr.; 1.808.488.6854
Pearl Harbor: nps.gov
Mariana Sailing Club: 50 Sand Island Access Rd.; 1.808.848.2800
Waikiki Beach Boys: 1.808.388.1510; waikikibeachservices.com
Duke's: 2335 Kalakaua Ave.; 1.808.922.2268
Waikiki Rigger: 1.808.922.2210
House Without a Key: Halekulani Hotel; 2199 Kalia Rd.; 1.808.923.2311
Kalapawai Market: 306 S. Kalaheo Ave.; 1.808.262.3354
Hawaiian WaterSports: 167 Hamakua Dr.; 1.808.262.5483; hawaiianwatersports.com
Hoomaluhia Botanical Garden: 45-680 Luluku Rd.; 1.808.233.7323
Pinky's Pupu Bar & Grill: 970 N. Kalaheo Ave.; 1.808.254.6255
Diamond Head: hawaiistateparks.org
Diamond Head Market & Grill: 3158 Monsarrat Ave.; 1.808.732.0077
Tokurri Tei: 449 Kapahulu Ave.; 1.808.732.6480
Leonard's Bakery: 933 Kapahulu Ave.; 1.808.737.5591
Hanauma Bay Nature Preserve: 1.808.396.4229
Teddy's Bigger Burgers: 7192 Kalanianaole Hwy.; 1.808.394.9100;
Roy's: 6600 Kalanianaole Hwy.; 1.808.923.7697
Waimea Valley: 59-864 Kamehameha Hwy.; 1.808.638.7766; waimeavalley.net
Waialua Bakery: 66-200 Kamehameha Hwy.; 1.808.637.9079
Matsumoto Shave Ice: 66-087 Kamehameha Hwy.
Opal Thai Food: 66-460 Kamehameha Hwy.; 1.808.381.8091
Iolani Palace: 364 S. King St.; 1.808.522.0822; iolanipalace.org
Hawaii State Art Museum: 250 Hotel St.; 1.808.536.5900
Little Village Noodle House: 1113 Smith St.; 1.808.545.3008
NOTE: Information may have changed since publication. Please confirm key details before planning your trip.