The ski areas in Summit County sprawl across entire mountains—a lot of territory to sift through in a single ski vacation. Over the years, skiing with the locals has taught Lassen a lot about these mountains. Here are her time-tested suggestions for how to make the most of every vacation day.
KEYSTONE
Two words: Outback Shuttle. If you can handle ungroomed black-diamond runs, do yourself a favor and arrange for a snowcat ride up the saucer of snow that's not served by Keystone's chairlifts. This will give you access to the top of North Bowl, where you can find above-treeline terrain like Outer Limits and make your way down through islands of trees. You can boot pack up the bowl too—but why punish your lungs at 11,000-plus feet?
Terrain-park enthusiasts should definitely head for the expansive A-51, one of the nation's top-rated facilities. It's filled with rails, boxes, kickers and other well-built features designed for a variety of skill levels.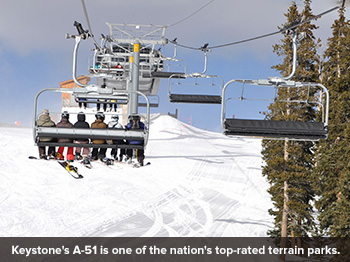 BRECKENRIDGE
If you're staying in town, you can walk or shuttle to the QuickSilver or Beaver Run chairlift, which will get you up on Peak 9 or 10 quickly. Long intermediate cruisers, like Briar Rose, are a lovely way to start the day. Families will find beginner areas, kids' adventure zones and small terrain parks here too.
The black-diamond upper bowls at Breck draw advanced skiers, and for good reason. Happily, this means that fewer people head for the terrific advanced runs like Devil's Crotch, off the E chairlift. Traverse through the trees, figuring out where to scoot between the trunks, and you'll discover some great hidden spots in shady north-facing glades.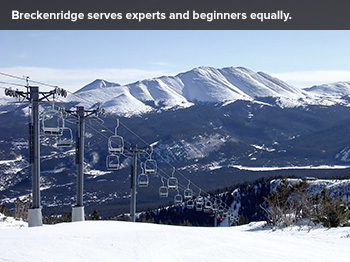 COPPER MOUNTAIN
If your skills permit, head immediately for the advanced runs at the peak. You'll lose any base-area crowds and probably—unless it's a windy day—find the best snow conditions. There's terrific skiing and riding in Union Meadows to skier's left (the resort's west end), descending through an open bowl and into the trees. The Storm King T-bar is a good way to reach the upper-mountain runs on skier's right, since many people avoid surface lifts.
Those who crave powder should look for where the chairlifts aren't operating. Copper Mountain's runs are so well laid out that it's easy to move laterally around this mountain. On my most recent visit, in late spring, I found that the Timberline Express chair wasn't running midweek, but the terrain around it was still open. Accompanied by a local skier, I happily gorged on untracked, knee-deep powder runs, catching a groomed cat track at the base and gliding back to the American Flyer chair over and over again.
In a few days on the slopes, you're sure to uncover some great finds of your own. I'd tell you more, but I can't give away all my secrets!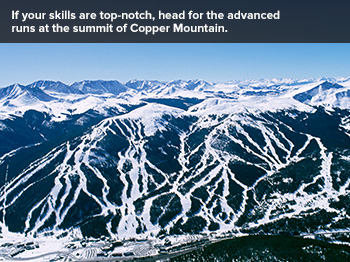 THE DETAILS
Keystone: 800-328-1323; keystoneresort.com
Breckenridge: 1599 Ski Hill Rd, Breckenridge, CO 80424; 970-453-5000; breckenridge.com
Copper Mountain: 209 10 Mile Cir, Frisco, CO 80443; 970-968-2318; coppercolorado.com
NOTE: Information may have changed since publication. Please confirm key details before planning your trip.