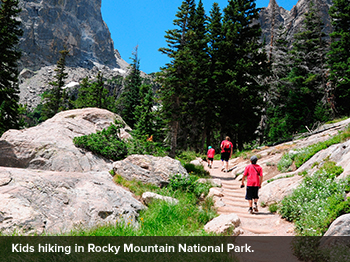 Anticipating spring's arrival demands extra patience in Grand County, Colorado, wedged high against the western flank of the Continental Divide. Here seasons are measured not so much by calendar dates as by vertical feet. Down in Denver the fairways and baseball diamonds may be turning green in April. But it's often well into May before the warmth creeps up and over that high backbone of peaks, welcoming wobbly foals to the ranches, dissolving ice into brilliant blue alpine lakes and transforming mountain snows into tumbling streams.
Judging exactly when to go can be tricky, but hit it right and it's a great time to visit—when you can explore the iconic western landscapes of the Fraser Valley and the alpine beauty reemerging in Rocky Mountain National Park before the busy summer season kicks in.
WINTER PARK
From Denver, I-70 makes a beeline for the mountains, quickly leaving the suburbs behind for the forested Front Range. In 40 miles Highway 40 splits off from the interstate at the old mining town of Empire and begins climbing in earnest. It snakes up and over the Continental Divide at Berthoud Pass, at an elevation of 11,307 feet.
From the pass it's a quick 10-mile descent to Winter Park Resort, one of Colorado's oldest alpine-ski areas. The resort has expanded over its 70-plus years to more than 3,000 acres of skiing and a base village of shops and restaurants.
After the snow melts, Winter Park becomes a summer-activity area complete with chairlift rides, hiking, an alpine slide and other family-friendly amenities. It also ranks as one of the premier mountain-biking destinations in the Rockies, offering 600 miles of trails. Winter Park Resort's trails are clearly marked, designated for users of varying abilities and accessible by chairlift.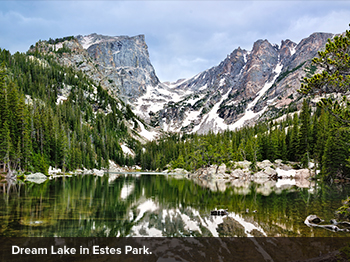 FRASER VALLEY
A few miles north of Winter Park, the land widens into the Fraser River valley. Highway 40 follows the river north, linking the communities of Winter Park, Fraser, Tabernash and Granby.
Fly-fishers can hardly do better than the cool and clear Fraser, a trout stream that harbors populations of browns, rainbows and cutthroats. Access is plentiful thanks to national forest and other public lands along its banks. Pick up a license and tips from locals at the Fraser Fly Shop, or sign on for a day of guided fishing with the store's outfitter business, Winter Park FlyFisher.
The melting snows of spring bring a flush of white water to area rivers. Local rafting companies, like Red Tail Rafting and Adventures in Whitewater, begin running trips on the nearby Colorado in late May. Half-day and full-day trips go through Little Gore Canyon, navigating Classes I, II and III rapids.
Near Granby, Sombrero Ranches leads horseback rides through meadows, forests and old homesteads on the 5,200-acre Snow Mountain Ranch. The YMCA property also has pony rides, wagon rides and farm animals. At Devil's Thumb Ranch, you can set off on trail rides and even learn to cut, move and pen cattle with a wrangler on the Rancher's Ride, then soothe any sore spots at the property's Ranch Creek Spa.
Golfers, too, get their due in the Fraser Valley. High-rated courses, like Pole Creek Golf Club and Grand Elk Ranch & Golf Club, make the most of the valley's expansive views.
GRAND LAKE
Silver mining drew the first settlers to Grand Lake, which is 15 miles northeast of Granby on Highway 34. But what people come for now is the lake itself: Fed by mountain streams and filling a glaciated valley, Grand Lake is Colorado's largest and deepest natural lake.
Water projects in the mid-20th century added two nearby flowages, Lake Granby and Shadow Mountain Lake. Together with Grand Lake, these interconnected waterways form the largest lake system in Colorado and an immensely scenic hub for high-altitude boating.
During one-hour boat tours from Headwaters Marina, narrators relate the region's history. Early residents erected lakeside lodges and lodgepole cabins, then established a town along Grand Lake's northern shore. Elegant estates came next, and the nation's highest yacht club, at 8,300 feet.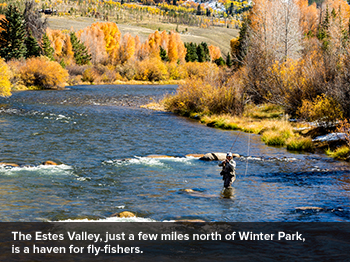 ROCKY MOUNTAIN NATIONAL PARK
Straddling the Continental Divide, Rocky Mountain National Park protects some of America's highest real estate, including more than 60 peaks that reach more than 12,000 feet. From Grand Lake, Trail Ridge Road winds up and across the park for 48 miles to the eastern boundary of Estes Park. Topping out at 12,183 feet above sea level, America's highest continuously paved highway offers rare access to a high-alpine tundra environment usually experienced only by mountaineers.
The road typically opens for the season on Memorial Day (depending on snow). Allow at least 3 hours for the drive to Estes Park so you can enjoy the observation points and a trail or two.
Earlier in spring there's still plenty of park to explore at the lower elevations, from the Grand Lake entrance to the winter gate about 10 miles north, at Many Parks Curve. Start at the Kawuneeche Visitor Center, near the entrance, to get maps and information on current trail conditions.
The park road wends its way north through the Kawuneeche Valley, where hiking trails spin off through marshy meadows bright with the chartreuse shoots of new grasses. At dawn or dusk, moose sometimes emerge from the woods to graze (if you're really lucky, with gangly spring calves in tow). Herds of elk are plentiful in the valley, where you'll see them foraging along the roadside.
Trails on the west side of the road lead down to the Colorado River—here just a stream of fresh snowmelt corkscrewing down from the Never Summer Range. Someday these droplets may course through the Grand Canyon and on toward Mexico. But right now, splashing past leafing-out trees and enticing the season's first wildflowers, the waters feel as fresh and new as a Colorado spring.
NOTE: Information may have changed since publication. Please confirm key details before planning your trip.